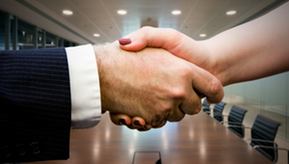 George Siedel, Williamson Family Professor of Business Administration & Thurnau Professor of Business Law
In my role as a professor at the Ross School of Business at the University of Michigan, I have taught a course on Negotiation and Dispute Resolution for many years. This course originated during a lunch meeting in New York City with Walter Wriston, then CEO of Citibank, who felt that business students should be grounded in alternative dispute resolution. Over the years, I have taught the course around the world to business leaders, entrepreneurs, attorneys, physicians, athletic directors and judges.
When the Office of Digital Education & Innovation (DEI) asked me to consider developing a Massive Open Online Course (MOOC) in partnership with Coursera, I was delighted because the course provided an opportunity to create new teaching material while reaching a worldwide audience. The course (Successful Negotiation: Essential Strategies and Skills) launched in October 2014, attracting over 59,000 learners from 198 countries. Given the success of this offering, DEI and Coursera converted the course to an on-demand format that has already attracted over 100,000 learners.
Developing and teaching the MOOC has been especially gratifying for two reasons. First, my course at the Ross School of Business is directed toward future business leaders. Because the MOOC reaches individuals who are highly educated with substantial business experience, it provides an opportunity for immediate impact. Eighty percent of the learners in the initial offering were college graduates; they included PhD (4%), professional school (5%), and Master's program (36%) graduates. Many of the learners were CEOs and other business leaders who reported that the course saved them millions of dollars. For example, an American CEO for a manufacturing company in Asia used a planning checklist from the course to save $4 million in a negotiation that also benefitted a supplier. Several of my colleagues have jokingly suggested I should teach the course on commission!
The second reason why the course has been gratifying is that it encouraged me to create new teaching materials that benefit my students on campus. As a result of stories like the one from the CEO in Asia, I developed a Negotiation Planner, a mobile app that includes the planning checklist mentioned above along with several other tools designed to improve success in negotiations. These negotiation tools enable my students to improve their understanding of the course material while at Ross and to apply the learning in their future careers after graduation.
I especially appreciate the support provided by members of the DEI and by the Coursera Partnerships team. Their technical expertise, advice and encouragement resulted in a course that benefits current business leaders from around the world and Michigan students who are the leaders of the future. Because of its worldwide impact, the course has also extended the reputation of the University of Michigan to parts of the world where it might not be well known. In the words of one learner, "I didn't know anything about University of Michigan but now … it stands aligned with well-known schools (at least in Ukraine) like Cambridge, Oxford, Harvard and MIT…."
http://ai.umich.edu/wp-content/uploads/negotiation.jpg
164
289
adlev
http://ai.umich.edu/wp-content/uploads/AI_logo_header.png
adlev
2015-05-07 09:00:58
2015-09-03 15:58:39
Developing & Teaching a MOOC: Successful Negotiation