The Academic Innovation Initiative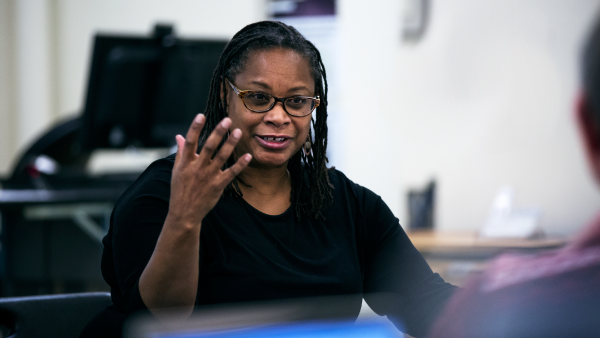 Dear Colleagues,
Since our founding nearly 200 years ago, the University of Michigan has led the way in shaping higher education and been a model for the public research university. We are excited to invite you to participate in the next stage in the evolution of U-M's leadership in higher education.
This fall, we will launch an Academic Innovation Initiative to consider how U-M will lead the way for higher education through the information age and further strengthen our impact on society. We will examine how teaching can be enhanced by ubiquitous access to digital content, by unprecedented opportunities for connection, and by an explosion of data about learners, educators, and their interactions… Read more
In organizing this effort, Academic Innovation will work closely with the Academic Innovation Initiative Steering Committee. During the 2016-17 academic year, we will:
Launch a set of rich and interconnected experiments to explore the future of education at the University of Michigan, on and off campus, in formal and informal environments.

Assess the constraints that inhibit academic innovation and explore ways to overcome them.

Propose designs for structures and systems that enable ongoing academic innovation across the U-M.

Recommend investments and solutions by which the designs can be realized and made available to the entire U-M community.

Propose a transformational approach for leveraging academic innovation to shape the future of education and further realize our mission.
Faculty-led design groups will help guide the community's exploration of the following themes and propose experiments and pilot projects to push the boundaries of how U-M can meet the needs of pre-college, residential and global life-long learners.
Fostering broad and enduring participation at U-M
Sue Alcock (LSA)
Gautam Kaul (Ross)
Joanna Millunchick (COE)
Exploring innovation in the residential experience
Barry Fishman (SI/SOE)
Liz Gerber (Ford)
Anita Gonzalez (SMTD)
Melissa Gross (Kinesiology)
Mika LaVaque-Manty (LSA)
Creating catalysts for academic innovation
Arun Agrawal (SNRE)
Tim McKay (LSA)
David Mendez (SPH)
Caren Stalburg (Med)
James DeVaney, Associate Vice Provost for Academic Innovation
James Hilton, Vice Provost for Academic Innovation and Dean of Libraries
Sarah Moncada, Program Coordinator
Rachel Niemer, Director of the Gameful Learning Lab
Academic Innovation Initiative Steering Committee
Anita Gonzalez (SMTD)
Arun Agrawal (SNRE)
Barry Fishman (SI and SOE)
Caren Stalburg (Med)
David Mendez (SPH)
Gautam Kaul (Ross)
Joanna Millunchick (COE)
Elisabeth Gerber (Ford)
Mika LaVaque-Manty (LSA)
Melissa Gross (Kinesiology)
Sue Alcock (LSA, Office of the President)
Tim McKay (LSA)