The Academic Innovation Marketing and Strategy team provides analyses, promotion, and strategic guidance for Academic Innovation initiatives. Faculty who are creating teaching and learning initiatives supported by our Academic Innovation Fund are invited to collaborate with the Marketing team to explore which capabilities may apply to their project.
Develop a comprehensive marketing plan that highlights the unique value of your initiative to increase awareness, engagement and enrollment. This comprehensive marketing plan will help you articulate your initiative's benefits to students, differentiate your initiative from others in the market, and help to raise awareness of your initiative to new, relevant audiences.
Innovation Landscape Analyses
Competitive Analysis
Explore how other innovators are approaching solutions in the area of your innovation that target similar users, surround similar content areas, and come from peer institutions. This analysis explores key design choices that (depending on the initiative) may include length, effort/week, content mix, learner experience, assessment strategy, delivery mode(s), and more. The end product of this analysis includes summaries of direct, partial, and indirect competitors, along with insights from the broader education innovation landscape that may be useful as you scope, design, and differentiate your initiative.
Pricing Analysis
Learn what kind of pricing benchmarks and strategies exist in your field. Our analysis looks at pricing structure (timing/frequency), course lengths, and time commitment in order to standardized pricing across different course/series structures to allow for comparisons. A spreadsheet is created containing this information.
Social Media Analysis
Explore the popularity and common associations of the language you are considering for your initiative. Publicly accessible social media posts are used to identify the recent popularity and top associations of different keywords. For some analysis, reactions to keywords and acronyms will be crowdsourced from your target audience(s) through online surveys. The findings of this analysis are organized into an easily shared report.
Course Framing Analysis
Learn how online searches surrounding the words used to describe your initiative are trending, and how the general public responds to different titles for your initiative.  Having a data supported recommendation for a title change can lead to better alignment with online search habits, which in turn will attract more potential learners to explore your initiative.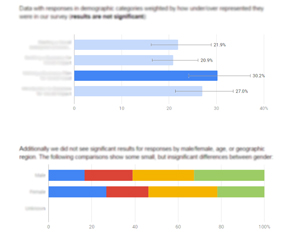 Web
Showcase your motivations and share knowledge about your initiative with a page on the Academic Innovation website: ai.umich.edu/portfolio. Your initiative page will include a summary of your innovation, will feature all initiative faculty leads, and will host related videos and news. Contributing to the Academic Innovation Blog provides another opportunity to share insights with U-M faculty and other relevant audiences: ai.umich.edu/blog. Initiatives open to global learners will also be included in the Learn With U-M portal: ai.umich.edu/learn-with-u-m.
Social Media
Utilize social media to build a community of learners and to expand the reach of your initiative. This approach often includes leveraging Twitter (@UMichiganAI) to promote initiatives and connected learning opportunities, events, news, blog posts and more. Other efforts can include coordinating social media efforts with other schools, colleges, and groups across campus to increase impact. You will be equipped with the tools and best practices to build your own social media presence and elevate your initiative.
Email
Feature your initiative in our large and growing email subscriber list to quickly grow awareness. Inclusion in Academic Innovation's monthly newsletter, which highlights new initiatives, blog posts and press releases, helps increase awareness among those with high potential interest. Additional email approaches are available to highlight upcoming events and global learning opportunities.
Press Releases
Explore opportunities to promote your initiative (especially if it applies learning methods or technologies in a new way) with a press release that other media outlets both on and off campus can easily find and use. This format of communication can help significantly increase awareness for your initiative in a short amount of time.