A Look Inside the Video Production Techniques Behind the University of Michigan Teach-Out Series
Cy Abdelnour, Instructional Media Specialist
In the popular Sleep Deprivation: Habits, Solutions, and Strategies Teach-Out, the media production team utilized almost every production technique we've deployed to date. This included both sitting and standing one-on-one interviews, sitting two-on-two interviews, Lightboards, roundtable discussions, demonstrations, location shoots, teleconferences and "person on the street" interviews (among other techniques). We filmed and edited these within a four-week timeframe. After looking over the variety, as well as the content and quantity involved, I developed the aesthetic treatment.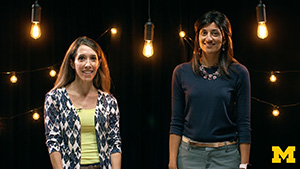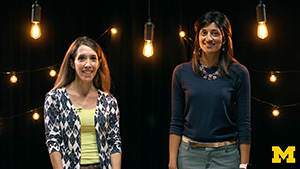 I've learned from my academic and professional background in cinematography that visual elements should always reflect the story. When I was reflecting on dreams and sleep I thought about the old vintage lights from the movie, "The Illusionist." I wanted to make it unique, but the trick was coming up with a solution that wouldn't conflict with the logistics for other productions. Based on the dimensions of our largest studio, as well as the number of people present in some shoots, I had to create a lighting situation which would work across all shoots and allow for a simple set-up process. We developed a solution by using light bulb strands that could hang on light stands, as well as lights that could hang from the ceiling.
Prior to beginning the project, I tested the footage. I knew I wanted to color grade the footage, and I also knew I wanted to change color temperatures. I went with the well known tungsten color temperature bulbs, and lit faculty and instructional presenters with daylight-balanced lighting instruments. We used Kino-Flo lights (fluorescent lights) to light the presenters. I experimented with multiple lights, and ultimately used lighting from above with louvers. Louvers help direct the light onto the talent by using a honeycomb design to focus the light to make it less diffuse. I eventually used another daylight balanced instrument to alleviate the shadows. As a finishing touch, I used some backlights to help separate them from the background.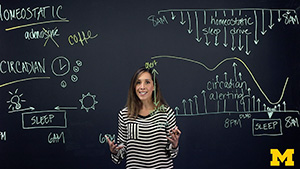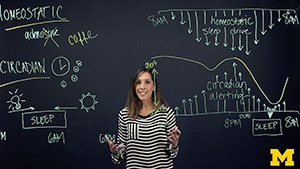 There were slight tweaks between setups for the other shoot, but all of the lights and elements remained the same. Large apertures were used for these shoots so the images would have nice contrast while coping with the low light. The purpose of this was to enhance contrast, as well as the dark, softly lit mood.
Given the rapid deployment of this Teach-Out, I completed the color grading fairly quickly, while still focusing on removing video grain. I then worked to make the color contrast more drastic, accentuating teals and oranges. I wanted to be tasteful with color by being careful not to over saturate, since these videos were used for educational purposes (not a movie).
Thanks to everybody involved in this Teach-Out for helping to make this a successful, and visually appealing end-product. None of this would have been possible without the work of project managers and the instructional team.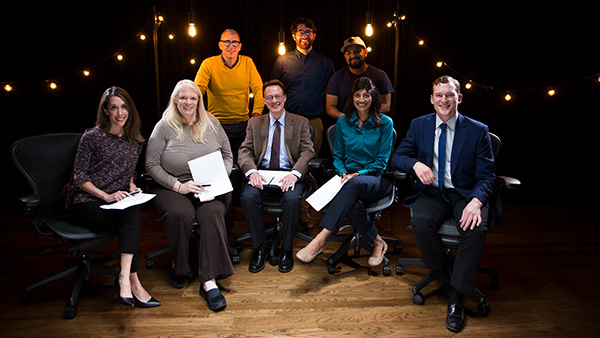 ---
The Sleep Deprivation: Habits, Solutions, and Strategies Teach-Out is available on Coursera through November 14, 2017.
See examples of Cy's work for the Sleep Deprivation: Habits, Solutions, and Strategies Teach-Out in these photos.