Posts
https://ai.umich.edu/wp-content/uploads/news.png
165
290
Eric Joyce
http://ai.umich.edu/wp-content/uploads/AI_logo_header.png
Eric Joyce
2018-08-03 09:37:09
2018-11-10 07:43:38
What Colleges Must Do to Promote Mental Health for Graduate Students
This article was originally posted on 3/6/2018 on Inside Higher Ed
James DeVaney, Associate Vice Provost for Academic Innovation
@devaneygoblue
Six years ago, inspired by a big idea to democratize higher education, the University of Michigan (U-M) became a founding partner of Coursera. Massive open online courses (MOOCs) were born. While the issuance of MOOC death certificates by skeptics is only rivaled in frequency by those filed by South Park writers for Kenny, MOOCs consistently find ways to survive and indeed thrive in nurturing environments.
MOOCs are far from dead. Rather, they appear to hatch derivatives. Sean Gallagher of Northeastern University's Center for the Future of Higher Education and Talent Strategy refers to this as "the new ecology of credentials", a landscape transforming rapidly as we move from the early knowledge economy to the digital, AI, Gig economy. Which leads those of us close to the action to reflect often upon the original big idea for MOOCs. Typically stating a goal to "democratize" is followed by "access to" something. In hindsight, it's clear we hadn't fully considered the potential of what we might be democratizing. What, in fact, are we scaling? Is it content and courses? Curriculum and credentials? Communities and college towns?
With today's announcement, we are now much closer to saying "all of the above". MOOCs may have initially provided learners an opportunity to simply peer into the university. Now MOOCs and MOOC derivatives (e.g. Teach-Outs, specializations, MicroMasters, MasterTrack, etc.) are helping universities to expand how they think about engaging with the world. For U-M, this is entirely consistent with top institutional priorities around academic innovation, diversity, equity, and inclusion, and public engagement. We are the global, inclusive, public research university.
The real innovation of the MOOC era is not the unbundling of academic degrees that first captured massive attention, but rather the re-bundling that results from serious academic R&D – the creation of new communities and credentials for all levels. In announcing Michigan's new degrees this morning at the Coursera Partners Conference, Coursera CEO Jeff Maggioncalda contextualized these latest innovations as evidence that, "the future of work and the future of learning are converging."
Today U-M announced the intent to design two new fully online master's degree programs and a new online cohort-based pathway to advanced degrees and career advancement called the MasterTrack Certificate. Let's consider this latest re-bundling effort within the broader context.
U-M seeks to address global problems in pursuit of a more equitable world. If we can agree that global problems do not fall neatly into the academic disciplines, it should follow that the increasingly diverse needs of learners would be difficult to address through a set of unmalleable academic offerings. If we are serious about diversity, we need to be equally serious about inclusivity as we design new programs, and laying a foundation for learners with vastly different starting points, learning styles, and learning objectives.
So in 2012 we began to adopt 'unbundling' as part of our language. Many chose the fear narrative and heard unraveling. We chose the opportunity narrative and have been re-bundling ever since with an evolving mix of learner-centric offerings. Because experiments regularly fork into new experiments, it is easy to lose focus. As we move at a rapid speed, we find it is critical to anchor in our vision for a preferred future – one that points U-M in the direction of expanding access, designing for inclusivity, personalizing at scale, and reimagining two-way public engagement. We took a major stride toward this future today by announcing two new degrees and pioneering the MasterTrack offering. Along with our MOOC portfolio, our expanding Teach-Out Series, and our MicroMasters programs, learners have more opportunities than ever to be a part of a Michigan learning community.
We're just getting started. And the world future of work and future of learning show no signs of slowing down. Given what is known and all that is uncertain, our goal is to build a global, inclusive, public research university that is future proof!
As we move toward this future, it's clear that there is a time for acceleration and a time to struggle through experimentation – advancing learning and recording failure along the way as only Universities do.
And now, an adorable tangent on barriers to entry, speed and pace.
My six-year-old daughter is beginning to love soccer. Before each practice, I ask her how she will train today. She pauses predictably, smirks and tilts her head to the right, and with one eye visible responds, "like a cheetah-rocket!" Never heard of one? Well, for those who haven't spent time with a six-year-old lately, these are two things that are, like, really fast. So when you put those two things together, it would stand, that you get something even faster.
When my daughter first showed signs of doubt that she could compete with the "big kids" (seven and eight-year olds are Goliath to a six year old David), we focused on getting in the game. She needed to belong. We talked about the way she would enter the pitch. After some epic brainstorming, she refused to choose between 'like a cheetah', and 'like a rocket'. "A cheetah-rocket would be faster, Dada," she stated decisively. She's now in the game. She wants to try and she know she can. She's ready to learn.
I think about our learning curve on the soccer pitch often as the higher education industry evolves with competing narratives of opportunity and fear.
At the moment, I'm helping my daughter to gain confidence. Soon I'll need to help her understand that learning is hard and that part of the human experience is to struggle through new lessons. We'll need to slow the game down to understand each component. Speed and learning don't often go well together.
We are steadily lowering the barriers to entry in higher education. We unbundle to grant cheetah-rocket speed to all. Access, belonging, opportunity, personalization. As we re-bundle, we need to create new opportunities that advance learning rather than enable the tyranny of convenience. This will take serious experimentation in order to establish the best mix of learning opportunities and credentials for the economy ahead.
With my daughter, I need to help her slow down and understand the fundamentals at her own pace in order to lay a sound foundation for learning. Similarly, MOOCs provide a foundation for self-paced learning. As we continue to experiment, we need to make sure this foundation is flexible.
Importantly, for universities in this moment, it turns out that speed as a lever goes in multiple directions. Universities need to continue to gain comfort with good risk taking. A burst of cheetah-rocket speed now and then can help us to accelerate experimentation in pursuit of our ultimate goals. Yet we also need to apply good methods and R&D principles to make sure we pace ourselves when appropriate and ultimately reach our desired destinations. Do we have the confidence to set the right pace and embed good pedagogy as we continue extend our reach? We have made significant progress in expanding our reach, but we haven't yet cracked the code on embedding good pedagogy at scale. This will be a primary focus in the next wave of experiments.
For U-M, we've envisioned a preferred future that allows us to be more global, more inclusive, more public. Many ways in. Several ways through. Clear outcomes and value.
Today we took another step forward in the great re-bundling and it is clear that there is a long road ahead. Good things take time. As we continue to experiment and design learner-centric programs and learning communities, we intend to make design choices that support informed decision-making for learners, increase affordability, increase acceleration, increase frequency and quality of feedback, and replace a capstone mindset with project-rich learning experiences throughout.
Experimentation is far from over. As we launch this latest set of programs, several questions are on my mind:
Given what we expect in the future of work, can we create pathways to continuous competency?
How will our evolving product mix fit together for different kinds learners?
Is there tension between access/on-ramps and deep learning?
How should we incorporate real-world projects into rich, rigorous, and agile curricula?
How will employers evaluate sub-degree credentials?
What are the best ways to engage learners and employers in the design of learning experiences?
Are we addressing the audiences that need us most?
So what are we democratizing? It turns out for U-M, our efforts are focused on scaling the great public research university in pursuit of a more equitable world. Neither MOOCs nor degrees are dead. Instead, we have entered an era of experimentation that will result in a new collection of credentials needed in a future where, as Mark Searle, Arizona State University Provost said so memorably in his keynote this morning, "universities are known for who we include not who we exclude".
https://ai.umich.edu/wp-content/uploads/James-Blog-Post-3.7-1.png
338
600
Eric Joyce
http://ai.umich.edu/wp-content/uploads/AI_logo_header.png
Eric Joyce
2018-03-07 15:48:21
2018-03-07 15:48:21
Reflecting on the Original Big Idea for MOOCs
Eric Joyce, Marketing Specialist
@ericmjoyce
Last fall, accessibility and universal design experts from University of Michigan shared their insight into ways to enhance access to course content for residential students and U-M learners around the world.
The discussion was held during an Innovation Hour, a gathering hosted by the Office of Academic Innovation two times per month featuring a different theme each session, and featured the following accessibility experts from across campus:

Jane Berliss-Vincent, Assistive Technology Manager at Information Technology Services

Jack Bernard, Associate General Counsel and Intermittent Lecturer in Law at the Gerald R. Ford School of Public Policy

Stephanie Rosen, Associate Librarian and Accessibility Specialist at the University Library

Scott Williams, Web Accessibility Coordinator at the Office of Institutional Equity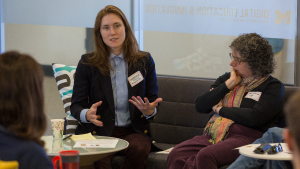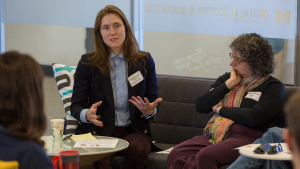 These experts discussed methods to integrate accessibility and universal design principles into organizational policies, the potential for cost and time savings from constructing accessible environments and the imperative to build inclusive learning experiences for all learners. Read a full recap of the discussion here.
We followed-up with a few of these local experts to gather additional insight into accessibility best practices for faculty, students and staff at U-M:
What are the distinctions between accessibility and universal design?
Jane Berliss-Vincent: Accessibility generally refers to items that are designed to be usable by individuals with disabilities, with or without additions to the standard product configuration. For example, visual impairment exists on a continuum. Some low vision users need hardware or software additions to a computer ("assistive technology") so that they can access a website, while others won't need any modifications if the site is thoughtfully designed–e.g., reasonable default print size and color contrast (no yellow text on a lime background, thank you).

Universal design expands this idea to include the needs of a much broader audience. The Center for Universal Design defines it as, "The design of products and environments to be usable by all people, to the greatest extent possible, without the need for adaptation or specialized design." On our campus, this might include ensuring usability by disabled individuals, individuals who speak English as an additional language (EAL), individuals with limited prior technology experience, elders, and other contingents.
Why are the areas of accessibility and universal design becoming increasingly important in higher education?
Stephanie Rosen: These areas are becoming increasingly important because with the shift to digital, there comes a new possibility for "born accessible" content, tools, and learning environments. Whereas a print book would have previously been remediated for a student with print disabilities—read aloud to them by a person or, later, scanned and converted to an electronic file then read aloud by a machine—now an electronic book already has the capacity for remediation built into it (as long as it's built right). Along with the shift to digital, there is a simultaneous shift in content creators. Faculty are now not only curating learning materials (in the old form of the syllabus reading list) but also designing and creating them, or seeing them designed and created by other entities of the University.

The old model of accommodations, where a dedicated office would remediate materials for students with disabilities, is giving way to a model of universal design, where materials are built to work for everyone from the beginning. This is very exciting, but it presents challenges because the expertise of universal design needs to be disseminated among whole new populations of content creators.
What aspects of accessibility and universal design are commonly overlooked or misunderstood? How should schools, colleges, departments and units approach these practices?
Jane Berliss-Vincent: The biggest myth is that accessibility/universal design exists in a vacuum–that it only benefits certain groups. In reality, it benefits a majority of users. For example, there is a proliferation of everyday things that have their roots in designs to accommodate people with disabilities–typewriters, TV captioning, text messaging, even football huddles. When mobile devices came along, the designers incorporated as a standard features that had long been used as assistive technology, such as touch screens, virtual keyboards, Zoom capabilities, word prediction, and so on.

The best approach, then, is to do away with labels–"this is for disabled students, this is for EAL speakers"–and put the focus on what just works well. There's a lot of stigma around using technology that signals "difference"–my friend Jim Tobias wrote an exquisite short essay on this some years ago, and it's still true. I've worked with students who are reluctant to use assistive technologies or strategies that could save them significant time and effort simply because they don't want to be perceived as less competent than their peers.

The flip side is that U-M has a license for a software program called Read & Write Gold (the license covers both Windows and Mac) that is on all public Sites machines and that we can also distribute for free to every current student, faculty, or staff member. It was designed and is marketed as a kind of Swiss Army Knife of features for individuals with learning disabilities, but many of these features have universal appeal. The two most unusual are a homonym checker that helps you make sure you're correctly using confusable words like "there," "their," and "they're," and a set of virtual markers that let you highlight text and then easily extract it to a Word file–the Windows version will also insert any bibligraphic information. Who wouldn't want those? Any current operating system is also stuffed with assistive features, some of which are not necessarily identified as such. A personal favorite is the Windows setting that lets you change all the system icons so they open with one click instead of two. Much easier on all index fingers, and invaluable to anyone who can't remember, never learned, or doesn't want to bother knowing when double clicking is necessary.
Stephanie Rosen: The most common and most harmful misunderstanding about digital accessibility is that it is a matter of compliance that can be managed as a last minute checklist. Unfortunately, this resembles the way that accessibility is managed in architecture, as Jos Boys point out in Doing Disability Differently. Checking for accessibility compliance at the last minute can easily result in unnecessary delays and expenses — and can in the best of cases only result in a compliant resource. Alternatively, when accessibility and universal design are considered up front as design constraints, they may spark creativity and innovation that result in real advances in design possibilities for users.
How can faculty design online courses or adjust their residential courses to follow accessibility/universal design best practices and standards?
Stephanie Rosen: In the classroom, faculty can look to resources already available on campus such as the SSD Office's 10 Instructional Accessibility Tips, the CRLT Resources on Inclusive Teaching, and workshops regularly provided by the CRLT and by the Library.
In the online space, faculty can create more accessible syllabus documents by learning from the Accessible Syllabus project and using the SALSA tool, and can make Canvas content more accessible by following General Accessibility Design Guidelines.
Are there any tools available to help faculty, students and staff make their content more accessible to learners?
Jane Berliss-Vincent: A few years ago, several of us put together a set of Instructional Accessibility Tips that represents a variety of needs. Scott Williams' website is a gem, and he also runs the Web Accessibility Working Group, which has monthly meetings and a listserv. Scott, Stephanie, myself, and the staff of the Office of Services for Students with Disabilities are always happy to be resources around any questions that U-M community members might have.
Stephanie Rosen: I mentioned that accessibility is too often "checked off" at the end of a project, but there are many "checker" tools that are useful at any stage of a project:
Beyond checkers, there are also tools that support the creation of more accessible content, such as:
There are new tools and projects all the time. I recommend following the #a11y (short for accessibility) hashtag on Twitter to keep up with developments, and paying attention to what people are doing in the academic field of Disability Studies. This field helps us understand our own ideas about disability (where our ideas come from, how they're changing, how they affect different bodies) and, most importantly, gives voice to the knowledge produced by people with disabilities, who are constantly creating innovative ways to be in a world not designed for them.
Scott Williams also shared a list of resources faculty, staff and students may find helpful when constructing accessible learning environments and user experiences:
---
Join us during the next Innovation Hour! View our list of upcoming events to learn about future Innovation Hour discussions.
https://ai.umich.edu/wp-content/uploads/accessibility-qa-featured-image-600x338.png
338
600
Eric Joyce
http://ai.umich.edu/wp-content/uploads/AI_logo_header.png
Eric Joyce
2017-03-08 11:34:56
2018-03-22 05:39:21
Accessibility and Universal Design - A Q&A with U-M Experts
Portfolio Items