12may9:00 am12:00 pmEvent CancelledMaxine Greene: Sounds and Stories of Lives Lived in the Pursuit of Aesthetic Social Justice Education - POSTPONED9:00 am - 12:00 pm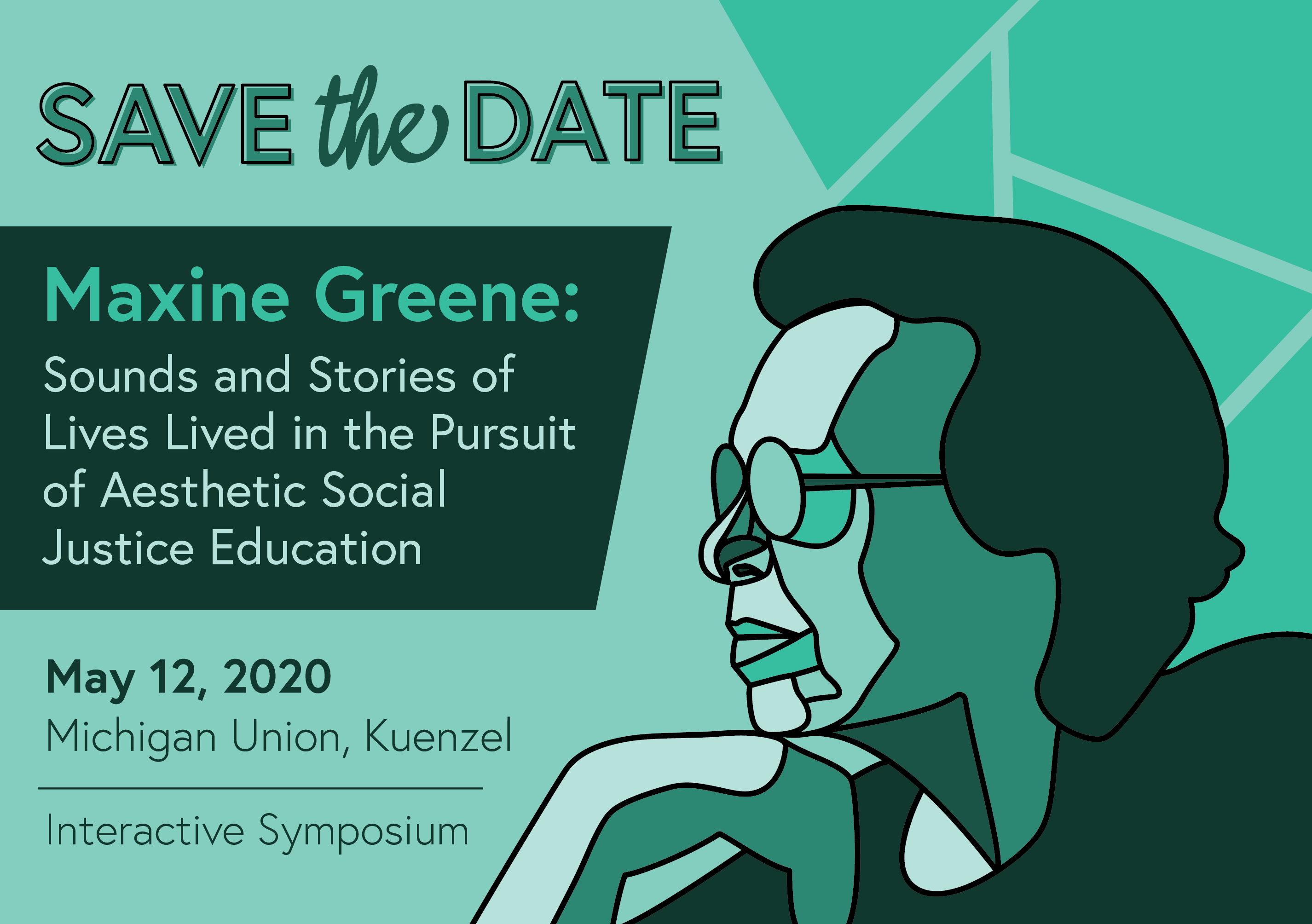 Event Details

***EVENT UPDATE: Nothing is more important than the health and safety of our students, staff, and guests. As we all work together to minimize the spread of the COVID-19 disease brought on by coronavirus, the Center for Academic Innovation is postponing all upcoming in-person events. We are evaluating each event for potential adjustments in format and date and will reach out again when decisions have been finalized. This particular event has been postponed until Fall 2020. 

We appreciate your understanding during these difficult and uncertain times. We apologize for any inconvenience. You can see the latest information on the status of all upcoming events on our events page.  

If you have any questions, please do not hesitate to reach out to us at academicinnovation@umich.edu. 

For more information about how the university is addressing the risks of coronavirus, please visit the U-M announcements page. ***

Join us on Tuesday, May 12 for Maxine Greene: Sounds and Stories of Lives Lived in the Pursuit of Aesthetic Social Justice Education. This event will focus on the life and work of the late philosopher, Dr. Maxine Greene (1917-2014) and her dedication to the arts and social justice through aesthetic education. Greene has inspired generations of educators, students, artists and social justice advocates across the globe. In her lifetime, Greene was many things to many people; she was a distinguished scholar, a 'philosopher queen', a writer, a lecturer, an activist, and an impassioned arts advocate, to name a few. Without a doubt, a robust and meaningful conversation on the state of arts education and transformative pedagogy cannot be properly discussed without acknowledging Greene's impact. Advancements in arts-based inquiry, the aesthetic approach to the arts, and the virtue of the imagination can all be attributed to Greene's belief that these are the pathways to social change for a world in need. Please register below if you plan to attend. 

The Dr. Maxine Greene Symposium expects to feature: 

Morning (Michigan Union, Wolverine Room)
Film screening of "On Being Greene,"

a 30-minute documentary that consists of interviews conducted with Dr. Greene towards the end of her life. This film was showcased at an invited session at the American Educational Research Association (AERA) in 2018. The film was co-created Dr. Karyn Cooper and her doctoral student Alison Mann from the University of Toronto as part of a nationally funded research project. We will invite Alison Mann to share her film and participate in a question and answer session following the screening, facilitated by Noni Korf, Director of Learning and Media Design at the Center for Academic Innovation. 

Panel discussion with three scholars who knew Dr. Greene and were influenced by her work.

Panelists to be announced soon.

 
Afternoon (Center for Academic Innovation Event Space)
Aesthetic Creation Workshop that is premised on Dr. Greene's theme of "Being Wide Awake."

A hands-on aesthetic creation workshop that will allow participants who are pre-service teachers, School of Education (SOE) graduate students, or in-service teachers to explore aspects of Greene's philosophy and writing through tangible means of expression.
Time

(Tuesday) 9:00 am - 12:00 pm
Location

Michigan Union

530 S State St