Anatomy XSeries
Comprehensive Study of Functions Between the Major Organ Systems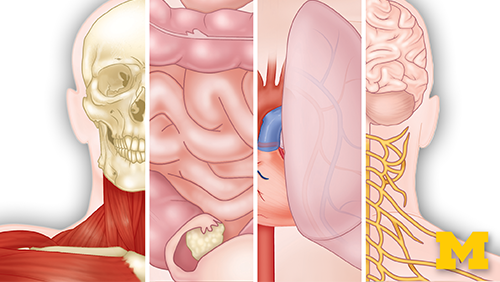 B. Kathleen Alsup, Lecturer III

Glenn M. Fox, Lecturer III

Kelli A. Sullivan, Lecturer IV
Tags:
Access and Affordability
,
Excellence and Discovery in the Health System
,
MOOC
Motivated to create a streamlined framework to guide students through a more modular approach to learning human anatomy, Professors B. Kathleen Alsup, Glenn M. Fox, John Stribley and Kelli A. Sullivan partnered with AI to design and develop the Anatomy MOOC series. This four-course series is designed to collectively teach the foundations of basic human anatomy, as well as the major functions and relationships between every major organ system. The individualized anatomy content facilitates individual learners' own educational trajectories through the integration of either singular modules or the entire series as a resource for learning about the different anatomy systems. The four-course series will incorporate the creation of a highly visual multimedia library, including photos, illustrations and videos, that will provide accurate anatomical models for a global audience who would not otherwise have access to these original materials. This MOOC series is intended to provide a comprehensive study on system-based human anatomy for a diverse range of learners including undergraduates, medical students, residents, and healthcare professionals, in addition to serving as a preparatory tool for pre-admission tests and licensure exams. Digital assets created for the MOOC series will be used to build a robust online learning environments for U-M undergraduates as well as medical and dental students.
Other Similar Initiatives