Instructional Methods in Health Professions Education
Growing a Community of Educators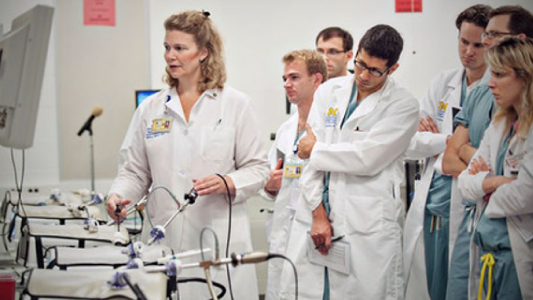 Caren Stalburg, Division Chief, Professional Education, Clinical Assistant Professor of Learning Health Sciences, and Assistant Professor of Obstetrics and Gynecology
Tags:
Access and Affordability
,
Excellence and Discovery in the Health System
,
MOOC
The Instructional Methods in Health Professionals Education course was designed by Professor Caren Stalburg to equip health professionals to teach others on proper health care practices and methods. Healthcare professionals who take this course will obtain, expand and improve their teachings skills through an interactive and interdisciplinary mode of learning. The MOOC provides information on educational theory and applied teaching techniques so learners can match instructional methods to desired educational outcomes through the use of successful teaching strategies. Throughout this course, students learn intentional, instructional interventions to serve as the core of their teaching repertoire and for use in a variety of contexts. Additionally, the use of these techniques enables members of the health professions to teach patient care more successfully, thereby ensuring proper care for their patients.
Other Similar Initiatives