Jeremy Nelson, Director of the XR Initiative
@Jernel_Umich
Dr. Courtney Cogburn, Associate Professor at the Columbia University School of Social Work, kicked off our Winter 2020 AIM XR Speaker Series on Friday, Jan. 31. Dr. Cogburn gave a powerful presentation about the work she and her team are doing to address day-to-day racism facing Black Americans. Her work, "1000 Cut Journey," focuses on a unique use of virtual reality to immerse participants in three seminal moments in the life of a Black male named Michael Sterling: as a young child, an adolescent, and a young adult.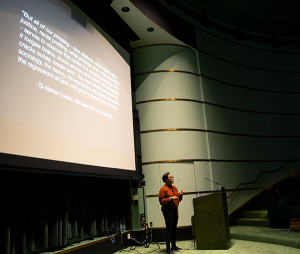 The event was highly engaging and featured a live demonstration of the VR experience by our colleague Rachel Niemer, PhD, Director of Outreach and Access at the Center for Academic Innovation, as well as a discussion with Dr. Cogburn and Professor Sara Blair, PhD, Vice Provost for Academic and Faculty Affairs and Patricia S. Yaeger Collegiate Professor of English at the University of Michigan.
I couldn't have been happier to have Dr. Cogburn start the series. To me, her work demonstrates the power of extended reality (XR) technologies to help transform the way we view and address issues. There is a lot of talk about how creating these types of XR experiences is multi-disciplinary, and her work truly exemplifies this and even pushes it to be transdisciplinary. To have someone in a non-STEM, non-gaming field create an experience that is impacting so many people on so many different levels is amazing. Social work historically hasn't been a field to lead in technology innovation, and Dr. Cogburn's work is exactly what we need right now.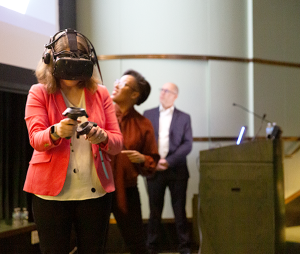 Some of the most interesting information for me during this talk was around the topic of the type of data that can be collected, and how the qualitative experiences of each person is different each time.
Her team has been able to collect data about which people look up or down during an encounter with the police and has categorized that by race, age, and gender. She shared stories about how people were able to take agency in this VR experience in a way that they never were able to do in real life. Additionally, there was discussion around how this technology could induce trauma or memories and the responsibility we have to create a code of ethics around how to use XR.
After Rachel's live VR experience, there was a thoughtful discussion with Professor Blair around what it means to create a critical voice around uses of this technology. She taught a class in the fall of 2019, ENG 313 Virtual Realities: The Novel and Digital Worlds, in which students read novels and explored XR experiences. One of the opportunities in this class was for all students to experience "1000 Cut Journey." There were some limitations to accessing the VR equipment, but it was interesting to hear about how these limitations helped enhance the experience for students. There were 18 students in the course and only six VR headsets, and that encouraged the students to work in groups. They were able to develop social norms and rules for engaging and supporting one another. This ranged from how you would like to be notified if you were going to hit something, to if and where it was okay to touch the other person if they were in danger.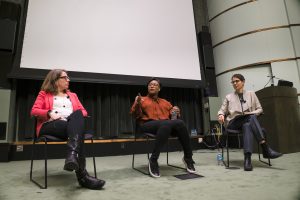 The event concluded with an engaging Q&A session with the audience where attendees shared their experiences and the impact of watching Rachel go through the VR experience. One of the main takeaways for me was when Dr. Cogburn had a clear issue in mind that she was trying to tackle. Her innovative abilities were shown when she was able to use technology as a vehicle to creatively solve that problem.
She also had a willingness to explore and experiment and learn from others. Her team was often constrained by time or the limitations of the technology and still created an exceptional experience. Her work will continue with ways to explore multiple points-of-view and perspectives within a VR experience, and we look forward to taking this journey with her.
A recording of the talk can be found here.
---
Please join us for our next XR Speaker Series event on Friday, Feb. 21 where we'll welcome Kavya Pearlman, founder of non-profit XR Safety Initiative (XRSI), the very first global effort that promotes privacy, security, and ethics and develops standards and guidelines for XR. Kavya's keynote will explore the potential threats in XR systems, how to mitigate them, and how to better protect end-users and enterprises moving forward. Following Kavya's talk, Florian Schaub, PhD, Assistant Professor of Information and of Electrical Engineering and Computer Science at the University of Michigan School of Information, will sit down with Kavya for a fireside chat.
REGISTER HERE