Eric Joyce, Marketing Specialist
@ericmjoyce
Last fall, accessibility and universal design experts from University of Michigan shared their insight into ways to enhance access to course content for residential students and U-M learners around the world.
The discussion was held during an Innovation Hour, a gathering hosted by the Office of Academic Innovation two times per month featuring a different theme each session, and featured the following accessibility experts from across campus:

Jane Berliss-Vincent, Assistive Technology Manager at Information Technology Services

Jack Bernard, Associate General Counsel and Intermittent Lecturer in Law at the Gerald R. Ford School of Public Policy

Stephanie Rosen, Associate Librarian and Accessibility Specialist at the University Library

Scott Williams, Web Accessibility Coordinator at the Office of Institutional Equity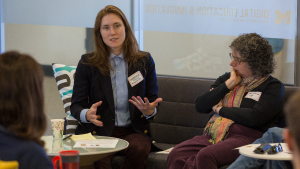 These experts discussed methods to integrate accessibility and universal design principles into organizational policies, the potential for cost and time savings from constructing accessible environments and the imperative to build inclusive learning experiences for all learners. Read a full recap of the discussion here.
We followed-up with a few of these local experts to gather additional insight into accessibility best practices for faculty, students and staff at U-M:
What are the distinctions between accessibility and universal design?
Jane Berliss-Vincent: Accessibility generally refers to items that are designed to be usable by individuals with disabilities, with or without additions to the standard product configuration. For example, visual impairment exists on a continuum. Some low vision users need hardware or software additions to a computer ("assistive technology") so that they can access a website, while others won't need any modifications if the site is thoughtfully designed–e.g., reasonable default print size and color contrast (no yellow text on a lime background, thank you).

Universal design expands this idea to include the needs of a much broader audience. The Center for Universal Design defines it as, "The design of products and environments to be usable by all people, to the greatest extent possible, without the need for adaptation or specialized design." On our campus, this might include ensuring usability by disabled individuals, individuals who speak English as an additional language (EAL), individuals with limited prior technology experience, elders, and other contingents.
Why are the areas of accessibility and universal design becoming increasingly important in higher education?
Stephanie Rosen: These areas are becoming increasingly important because with the shift to digital, there comes a new possibility for "born accessible" content, tools, and learning environments. Whereas a print book would have previously been remediated for a student with print disabilities—read aloud to them by a person or, later, scanned and converted to an electronic file then read aloud by a machine—now an electronic book already has the capacity for remediation built into it (as long as it's built right). Along with the shift to digital, there is a simultaneous shift in content creators. Faculty are now not only curating learning materials (in the old form of the syllabus reading list) but also designing and creating them, or seeing them designed and created by other entities of the University.

The old model of accommodations, where a dedicated office would remediate materials for students with disabilities, is giving way to a model of universal design, where materials are built to work for everyone from the beginning. This is very exciting, but it presents challenges because the expertise of universal design needs to be disseminated among whole new populations of content creators.
What aspects of accessibility and universal design are commonly overlooked or misunderstood? How should schools, colleges, departments and units approach these practices?
Jane Berliss-Vincent: The biggest myth is that accessibility/universal design exists in a vacuum–that it only benefits certain groups. In reality, it benefits a majority of users. For example, there is a proliferation of everyday things that have their roots in designs to accommodate people with disabilities–typewriters, TV captioning, text messaging, even football huddles. When mobile devices came along, the designers incorporated as a standard features that had long been used as assistive technology, such as touch screens, virtual keyboards, Zoom capabilities, word prediction, and so on.

The best approach, then, is to do away with labels–"this is for disabled students, this is for EAL speakers"–and put the focus on what just works well. There's a lot of stigma around using technology that signals "difference"–my friend Jim Tobias wrote an exquisite short essay on this some years ago, and it's still true. I've worked with students who are reluctant to use assistive technologies or strategies that could save them significant time and effort simply because they don't want to be perceived as less competent than their peers.

The flip side is that U-M has a license for a software program called Read & Write Gold (the license covers both Windows and Mac) that is on all public Sites machines and that we can also distribute for free to every current student, faculty, or staff member. It was designed and is marketed as a kind of Swiss Army Knife of features for individuals with learning disabilities, but many of these features have universal appeal. The two most unusual are a homonym checker that helps you make sure you're correctly using confusable words like "there," "their," and "they're," and a set of virtual markers that let you highlight text and then easily extract it to a Word file–the Windows version will also insert any bibligraphic information. Who wouldn't want those? Any current operating system is also stuffed with assistive features, some of which are not necessarily identified as such. A personal favorite is the Windows setting that lets you change all the system icons so they open with one click instead of two. Much easier on all index fingers, and invaluable to anyone who can't remember, never learned, or doesn't want to bother knowing when double clicking is necessary.
Stephanie Rosen: The most common and most harmful misunderstanding about digital accessibility is that it is a matter of compliance that can be managed as a last minute checklist. Unfortunately, this resembles the way that accessibility is managed in architecture, as Jos Boys point out in Doing Disability Differently. Checking for accessibility compliance at the last minute can easily result in unnecessary delays and expenses — and can in the best of cases only result in a compliant resource. Alternatively, when accessibility and universal design are considered up front as design constraints, they may spark creativity and innovation that result in real advances in design possibilities for users.
How can faculty design online courses or adjust their residential courses to follow accessibility/universal design best practices and standards?
Stephanie Rosen: In the classroom, faculty can look to resources already available on campus such as the SSD Office's 10 Instructional Accessibility Tips, the CRLT Resources on Inclusive Teaching, and workshops regularly provided by the CRLT and by the Library.
In the online space, faculty can create more accessible syllabus documents by learning from the Accessible Syllabus project and using the SALSA tool, and can make Canvas content more accessible by following General Accessibility Design Guidelines.
Are there any tools available to help faculty, students and staff make their content more accessible to learners?
Jane Berliss-Vincent: A few years ago, several of us put together a set of Instructional Accessibility Tips that represents a variety of needs. Scott Williams' website is a gem, and he also runs the Web Accessibility Working Group, which has monthly meetings and a listserv. Scott, Stephanie, myself, and the staff of the Office of Services for Students with Disabilities are always happy to be resources around any questions that U-M community members might have.
Stephanie Rosen: I mentioned that accessibility is too often "checked off" at the end of a project, but there are many "checker" tools that are useful at any stage of a project:
Beyond checkers, there are also tools that support the creation of more accessible content, such as:
There are new tools and projects all the time. I recommend following the #a11y (short for accessibility) hashtag on Twitter to keep up with developments, and paying attention to what people are doing in the academic field of Disability Studies. This field helps us understand our own ideas about disability (where our ideas come from, how they're changing, how they affect different bodies) and, most importantly, gives voice to the knowledge produced by people with disabilities, who are constantly creating innovative ways to be in a world not designed for them.
Scott Williams also shared a list of resources faculty, staff and students may find helpful when constructing accessible learning environments and user experiences:
---
Join us during the next Innovation Hour! View our list of upcoming events to learn about future Innovation Hour discussions.