Ricky LaFosse, Compliance and Policy Lead (@rglafosse); Cait Hayward, Associate Director, Research & Development (@chcholman); Rachel Niemer, Director, Outreach and Access; Trevor Parnell, Events and Marketing Specialist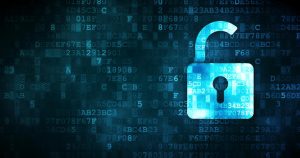 This post and the embedded videos contain some discussion of legal concepts relating to data privacy and security. All information is for general informational purposes only. The content featured in this post and the embedded videos does not, and is not intended to, constitute legal advice
After postponing this year's AIM Research event for Data Privacy because of COVID-19 concerns, several Center for Academic Innovation team members took up the task of reimagining the planned in-person event for a virtual audience. Discussion topics were also changed in response to COVID-19. The intended broad conversation about data privacy in the context of higher education instead became a more focused conversation around data privacy and security for working, teaching, researching, and learning from home.
Ricky LaFosse, Compliance and Policy Lead at the Center for Academic Innovation, conducted interviews with three panelists, which appear below.
Interview with Sol Bermann, Chief Information Security Officer at the University of Michigan and Executive Director of ITS Information Assurance.
Interview with Dr. Florian Schaub, Assistant Professor of Information at U-M's School of Information and of Electrical Engineering and Computer Science at U-M's College of Engineering; & Dr. Paulette Vincent-Ruz, Research Fellow, Physics, College of Literature, Science, and the Arts
To summarize and reflect on just a few themes that emerged from these conversations:
We would do well to remember that working, teaching, researching, or learning from home are far from new concepts. The vulnerabilities, while amplified at a time when far more individuals may be engaging in these activities than ever before, are nothing new. The University of Michigan has made resources and policies available that directly address these situations, and they were created long before COVID-19 came along. What has changed from these months of physical distancing and quarantine (we hope), is that the U-M community, and higher education more broadly, will now be more aware of these off-campus data security risks and mitigation practices.
Faculty can and should seek opportunities to create more engaging and inclusive remote learning environments. If recording class meetings or integrating third-party learning or communication tools that will collect personal information from users, caution should be taken to address privacy issues that may be implicated through such practices. Namely, be wary of free software and always consult Information Technology Services before adopting a new tool. Moreover, "simple" is often better and more inclusive.
There are federal, state, and international laws impacting individual rights to privacy that can be implicated through various remote or online instructional practices (as well as additional legal frameworks for human subjects research). However, being an ethical steward of someone else's personal information—behavior that need not and really should not be solely motivated by legal mandates—can go a long way toward compliance. We do not all need to be experts, but we do all need to do our part. When in doubt, there are numerous resources available to help us all along the way:
Please, please, please do not fall for phishing scams.
Our special thanks to our panelists: Sol Bermann, Dr. Florian Schaub, and Dr. Paulette Vincent-Ruz (@STEMxicanEd). Thank you for devoting your time and energy to educate the U-M and extended higher education community on these significant topics during this challenging period.