Inspiring Democratic Engagement at Michigan in this Moment
James DeVaney, Associate Vice Provost for Academic Innovation and Founding Executive Director, Center for Academic Innovation
@DeVaneyGoBlue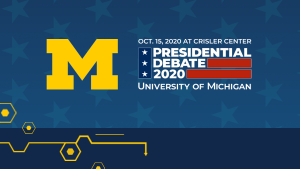 What should a presidential debate look like when hosted by a great public research university? How should a university community leverage such an occasion to understand and celebrate the free exchange of ideas, what it means to participate in a democratic society, and what democratic engagement looks like from a global perspective?
In any environment, hosting a presidential debate provides a rare opportunity to inspire engagement in the democratic process. But when you combine our mission with this particular moment, what is an institution like Michigan uniquely positioned to do? What if we could go beyond the event itself to create widely accessible opportunities for teaching and learning across multiple platforms, removing barriers of time and space, and engaging all voices and modeling inclusive dialogue? 
A democracy thrives when its citizens engage with these issues every day. That is why U-M is launching the Democracy & Debate Theme Semester, a universitywide academic initiative launching this year as the University of Michigan prepares to host the nation's second of three presidential debates this fall.  We believe an informed, equitable, and empowered society depends on all members of that society adopting a learning lifestyle. So naturally, when the University was selected to host a presidential debate, we saw an opportunity to extend our mission. We aim to create programming that will connect our campuses and neighbors with people across the nation and across the globe.  
Submit a Proposal
The Center for Academic Innovation is proud to be a key partner in the Democracy and Debate Theme Semester. To support this initiative on campus and beyond, we will be launching a series of online learning opportunities, educational materials and digital assets through Michigan Online that will be free and accessible to campus and the public. This is consistent with our mission to extend academic excellence, expand public purpose, and end educational privilege.  Today, we are launching a call for proposals for faculty contributions to the Democracy & Debate Collection. The Collection will include short-form lessons, curated content from special events and talks, Teach-Outs and massive open online courses (MOOCs). These learning resources will be hosted on Michigan Online and made available to our campus community, U-M alumni, as well as learners across the state of Michigan and around the world. We hope these learning experiences and materials will support residential and online courses, student organizations, alumni chapters and affinity groups, community partners and more. Anyone who seeks to level up their understanding of democratic issues of the day will find a helpful resource in our new Collection.
Faculty proposals are due by May 15, 2020. Faculty whose proposals are accepted will receive a stipend and project support from the Center for Academic Innovation. 
Engaging Beyond the Day of the Debate
We are excited to start this open community learning experience well before the Oct. 15 Presidential Debate and to create learning experiences and materials of lasting value that will extend well beyond.  We hope to bring a wide range of perspectives on important topics impacting our state and our world with an emphasis on an interdisciplinary approach so that learners can engage with a dynamic suite of materials on the emerging issues that are most important to their lives.
Faculty are encouraged to submit proposals on one of two tracks – a short form content track or a massive open online course track. This unique opportunity allows faculty to teach across multiple platforms and engage all voices and perspectives in an inclusive form of learning and dialog. Discussion of facts and ideas across a wide range of perspectives is what an engaged democracy is all about. 
Our Center is honored to be a partner in the Democracy & Debate Theme Semester because we can't think of anything that is more reflective of our values. We believe that an informed, equitable and empowered society needs to satisfy the needs of today's learners, and that educational institutions must advance learning, facilitate problem-solving, foster equity and inclusivity, and increase access and affordability to education.  
We want to ensure everyone has access to these materials, and that everyone is part of the conversation.
The Democracy & Debate Theme Semester
To learn more about the Democracy & Debate Theme Semester, visit https://debate2020.umich.edu/.