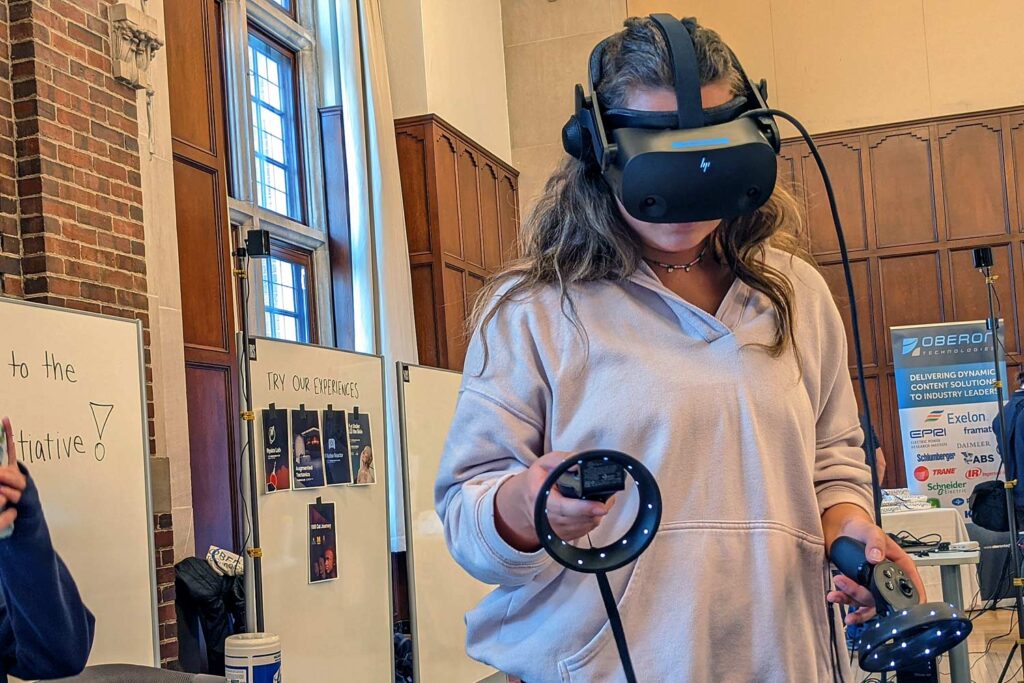 Center offering consultations to faculty interested in submitting XR project proposals
Sean Corp, Center for Academic Innovation
The Center for Academic Innovation is accepting proposals from University of Michigan-Ann Arbor faculty to incorporate extended reality experiences into U-M's residential and online coursework.
Interested faculty are asked to schedule a consultation meeting with the center to discuss potential proposals and ideas for use of extended reality in education. Selected proposals will receive funding and in-kind support from center leadership, instructional designers, project managers, media producers and XR developers that advance multidisciplinary learning and teaching. Funded projects are eligible for up to $10,000 in hardware and software purchases, technical service support and other related project needs.
The center is prioritizing projects that utilize augmented and fully virtual reality in the following schools and colleges: Ross School of Business, School of Education, School of Kinesiology, College of Pharmacy, School of Public Health and Gerald R. Ford School of Public Policy. The center is also looking for proposals that incorporate the ability to evaluate the use of XR in education.
Proposals are due by Dec. 9, and all proposals submitted by faculty with appointments to the Ann Arbor campus will be considered, including ones not aligned with the listed priorities. The new call for proposals is a continuation of the center's longstanding support of faculty innovation projects.
The center works with faculty across the spectrum of potential extended reality experiences, including augmented, virtual and mixed reality technologies. Each type of experience offers potential immersion and educational benefits. However, every approach must also factor in creating accessible experiences and that technology requirements do not burden learners.
"We work with faculty across U-M's 19 schools and colleges and look to match the right technology with the desired learning objectives," said Jeremy Nelson, senior director of XR, media design and production. "At the foundation of these immersive experiences, we are focused on understanding the learning goals and objectives and researching how well these solutions support learners."
The center is currently prioritizing augmented reality, consisting of graphics superimposed on top of real-world environments that learners view through a mobile device and virtual reality with headsets and computer browsers that put learners into a fully immersive environment.
"Since establishing the Academic Innovation Fund in 2014, we've been able to support hundreds of faculty innovators who saw opportunities to extend U-M's mission and increase our impact through innovation," said James DeVaney, founding executive director of the center. "Our collaborations around extended reality have led to new and exciting opportunities across disciplines through immersive learning, workforce development, clinical preparation, building empathy and other human skills, DEI, and more."
Interested faculty should visit the XR call for proposal page on the Center for Academic Innovation website and request a consultation with XR staff at the center to discuss potential projects.
Center staff will aid faculty with appropriate project guidelines and work with faculty to ensure an understanding of XR project needs and timelines. After the consultation, interested faculty should be equipped to submit a complete project proposal.
The center has previously collaborated with 13 schools and colleges on 25 XR projects. Learn more about those projects and advances in incorporating extended reality technology in classrooms and online on the XR webpage.