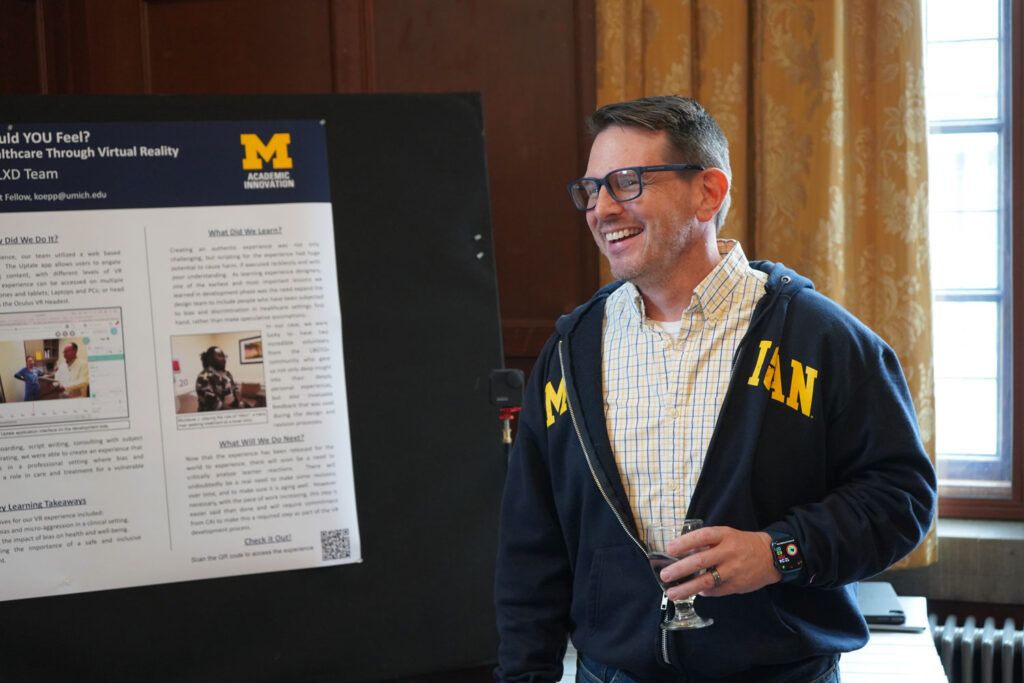 Sean Corp, Content Strategist 
The Center for Academic Innovation recently welcomed 26 new Student Fellows, joining 18 current Student Fellows working across the center to enhance student success and equity and build learning experiences for lifelong learners. The Student Fellowship provides students throughout the University of Michigan the opportunity to gain valuable professional skills in various disciplines and mentorship and career development resources.
As the center has expanded over the years, the Fellowship program has also grown. In the fall semester, more than 250 applicants sought a position as a Student Fellow at the center. Roderick Simmons, student experience and engagement lead, says this is a sign of the quality of the experience and work at the center and its reputation among students across campus.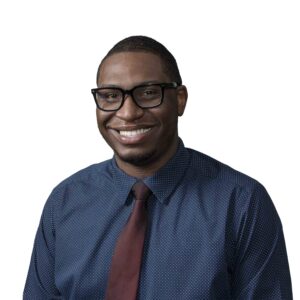 "Students at U-M really connect with our mission," Simmons said. "When we talk about increasing access, removing barriers, and working to improve education in service of lifelong learning, you can see students' really light up and speak passionately about the importance of our work."
Those perspectives are also critical to helping inform the work of the center and furthering its mission, said James DeVaney, associate vice provost for academic innovation and founding executive director of the center.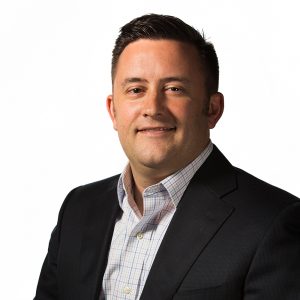 "To achieve our mission of creating equitable, lifelong educational opportunities for all learners, we collaborate with schools and colleges across U-M. The best innovations depend heavily on contributions from students. CAI's student fellows are co-designing the future of higher education. They are providing catalytic contributions as students and are taking these experiences with them to become positive change agents in many fields and sectors after graduation," DeVaney said.
New Perspectives, New Energy
The Fellows hail from nine of U-M's 19 schools and colleges. A third are current undergraduates, and the remaining are in Master's or Doctoral programs or working in a postgraduate status. The roles are as varied as the work of the center itself. They will work within and across teams with behavioral scientists, project managers, learning experience designers, educational researchers, extended reality producers and artists, and educational technology developers.
Equally various are the schools the Student Fellows hail from, representing schools and colleges such as Information, LSA, Engineering, Education, the Ross School of Business, and Music, Theatre, and Dance.
"Our Student Fellows come in and always inject a fresh perspective from their own lived experience, and contribute to the great work at the center," Simmons said. "They are excited for the opportunities to grow professionally, and oftentimes it helps inform their own career path as they take on new projects and are exposed to new collaborative experiences."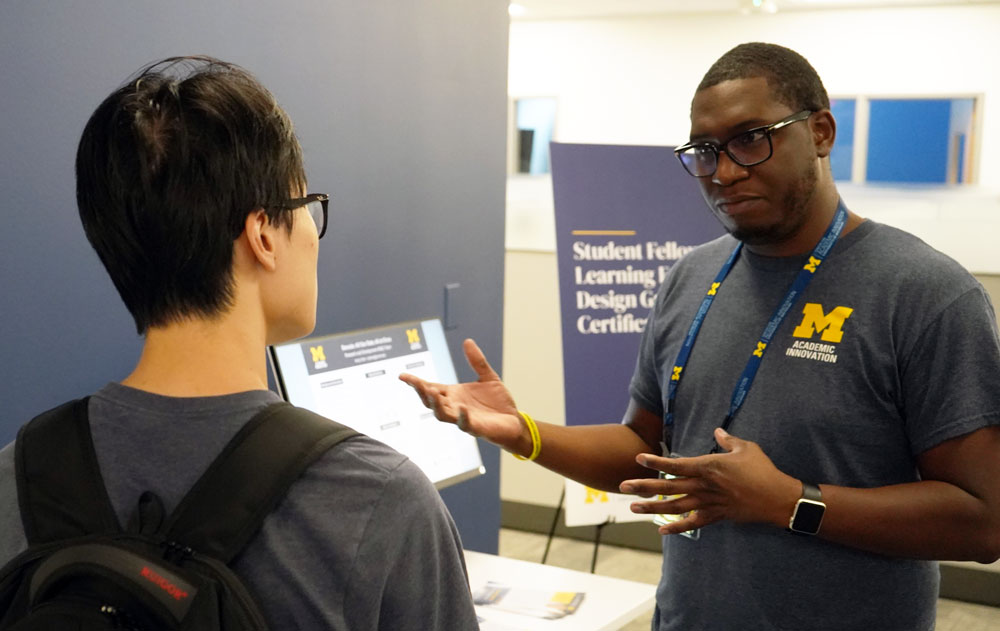 From 13 to 350 Student Fellows
The Student Fellowship program dates back to 2015. What began as a small cohort of 13 user experience and software development students as the academic innovation initiative was in its early days has now grown into a robust fellowship program of more than 350 Student Fellows since the founding of the program.
It is an opportunity for students to do professional work not commonly found on campus. There aren't many other places to conduct user testing, build 3-D environments, or focus on the intricacies of copyright law.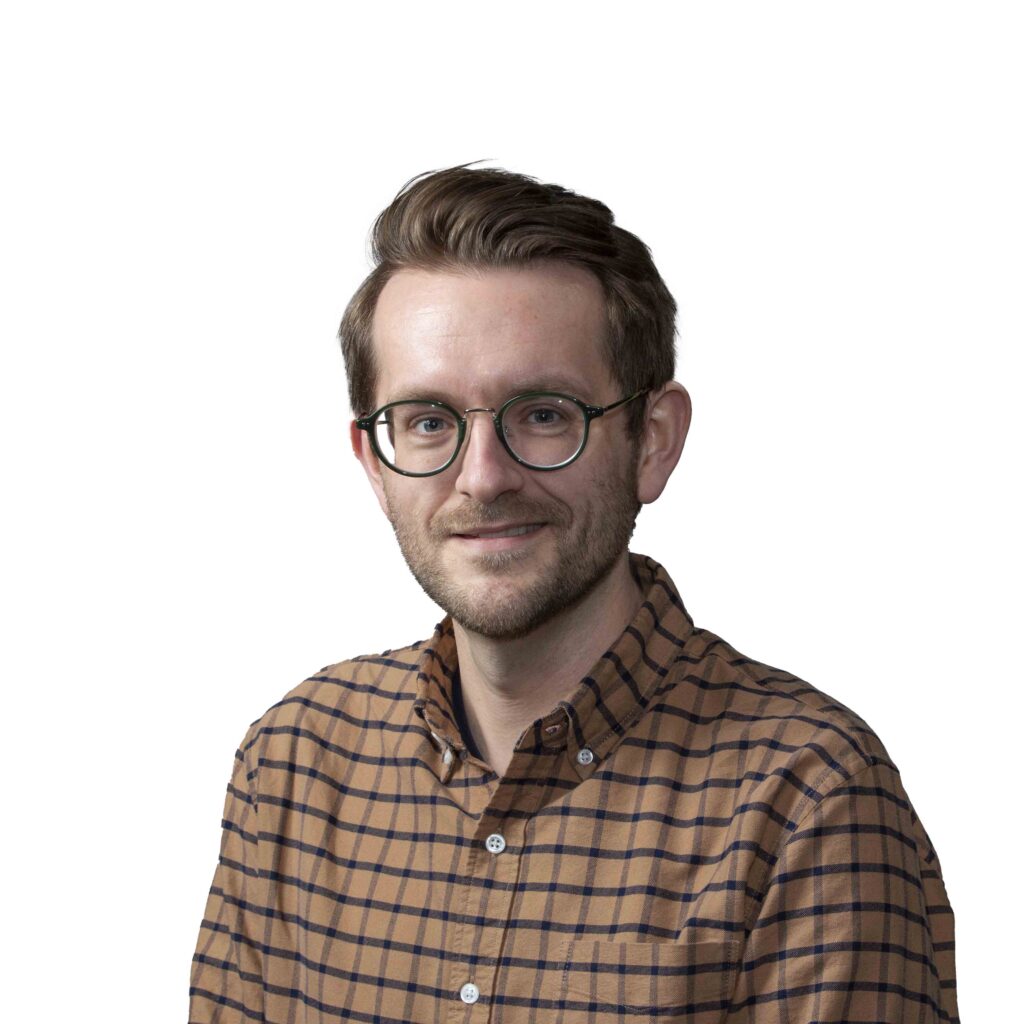 "Students find our culture really compelling. They want to be a part of our organization because it doesn't feel like other places on campus," said Nate Cradit, a research scientist on the educational research and data analytics team, a team that regularly employs student fellows to help on research projects.
For Cradit and the staff at CAI, it is a chance to leverage the skills and passion of Student Fellows on the common goal of creating equitable learning experiences. It is a chance to mentor future leaders in their fields.
"I get to dig deeper on exactly what our student fellows are interested in, or addressing a challenging problem until we figure out a way to understand it," said Cradit, who left his career as a professor in higher education to work at the center in 2021. "I'm still teaching qualitative research methods, but now I'm able to do it on a small team or one-on-one basis."
Staff also appreciate how working with Student Fellows can help them as they look to continue their career toward more leadership and supervisor roles inside the university, Simmons said.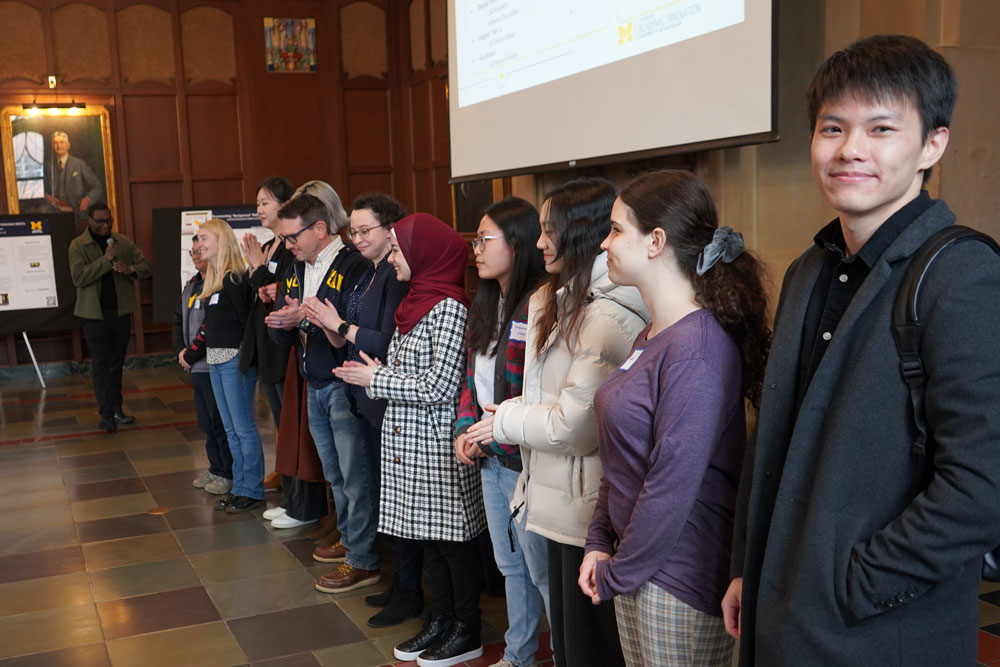 Creating a Community
With the center's new centralized office, where nearly all full-time and Student Fellow staff are based, Simmons and other leaders at the center are focusing on continuing to create a community. Simmons is working to develop connections among the Student Fellows as a group and also to ensure that Student Fellows feel connected to all the work at the center.
"We want students to feel like they are a part of our culture," Simmons said. "They are a big reason we can do what we do at the center. My role is to connect them to the center and think about their holistic development – personal, professional and academic.
"My job, and the larger purpose of our Student Fellowship program is to help students identify who they are and who they want to be. We work to identify their strengths, to look for opportunities for growth, and to help them prepare for the next step in their journey, whatever that might be."