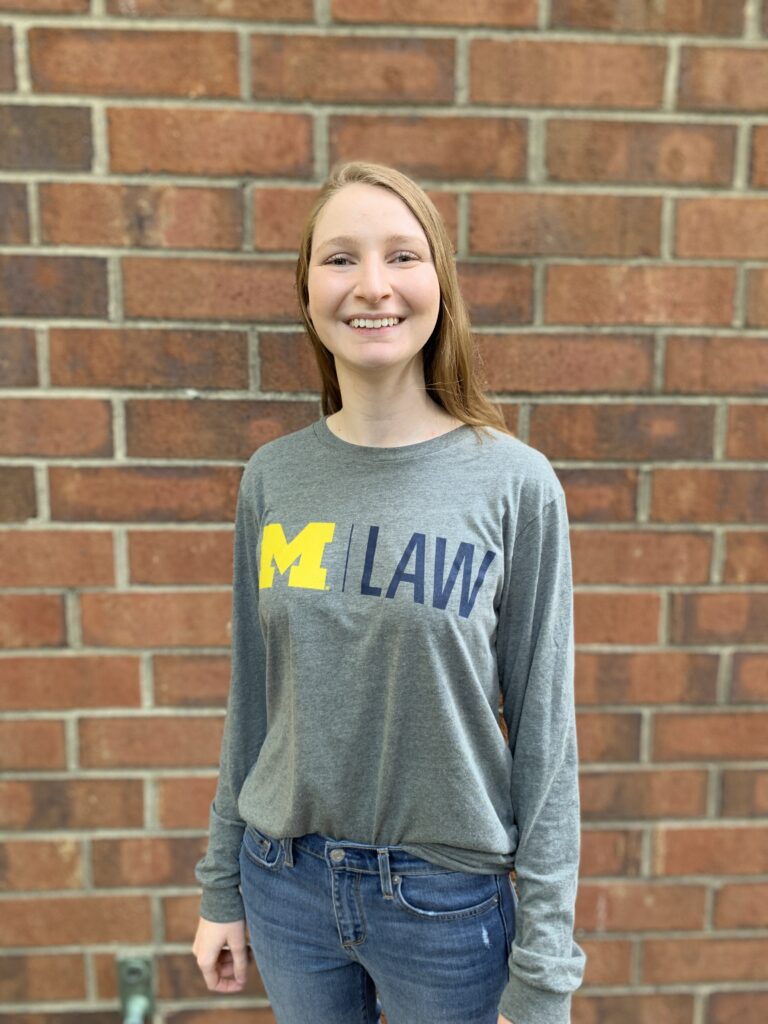 Corinne Fombelle is a Copyright Fellow at the Center for Academic Innovation. At the center, Corinne is tasked with copyright protection and helping ensure the correct, fair use of materials made available to a worldwide network of learners. This means that she has to be familiar with the copyright statutes of multiple countries and work with instructors and designers building online courses so that learners everywhere have open access to instructional material and reading assignments.
Currently in her final year of law school at the University of Michigan, the Decatur, Illinois, native studied saxophone performance and cognitive studies at Vanderbilt before entering law school at U-M. Corinne sat down and answered some questions about her experience as a Copyright Fellow at the center.
What is your role at CAI and what kind of projects have you worked on?
I am a Copyright Fellow, and I have been able to work on many interesting projects in the last year and a half at CAI. During my first summer, I conducted research on the copyright statutes of thirteen different countries to compile a comparative resource of fair use and educational provisions so educators can navigate various copyright laws in a globalized online learning world. I also helped to draft a section of an in-progress Copyright Guidebook that exhibits and analyzes requirements for copyright protection. On a typical day, I also review PowerPoint slides from university courses to ensure that they comply with copyright law.
What has been something unexpected or exciting about your work at CAI?
I find it very exciting to be able to work on projects that will hopefully help educators more confidently create dynamic content without fear of copyright law. Being part of a team that is invested in improving awareness and understanding of the legal framework has been extremely valuable.
How do you think your fellowship is preparing you for your future career?
I have been able to get a real-world grasp on copyright law, which is a branch of law that will be one piece of my future career as an intellectual property lawyer.
What is something you like to do in your spare time?
I enjoying playing the saxophone since that was my major in college. Improvising along with pop songs and dusting off old classical pieces is one of my favorite hobbies.
What is one you thing you know now about being a student at U-M that you wish you could go back in time and tell yourself your first day as a Freshman?
Although I did not attend undergrad here, I would tell myself on my first day here to be open to learning new subjects even if they are unexpected. Remember to rely on your peers because there is always someone who will be willing to support you!