Deirdre Lee, Communications Writing Fellow
Amid family barbeques, summer classes, and festivals, about 30 University of Michigan undergraduate and graduate students dedicate their summer to innovation working as student fellows in the Office of Academic Innovation.
While they are in the office, they frequently interact with each other either on a professional or personal level, ranging from cross-team collaboration to chatting while coffee brews. 
Marissa Reid, Student Program Coordinator at Academic Innovation, works closely with the fellows to foster a sense of community and engagement among student innovators. In order to build a sense of community, Reid coordinates multiple social events each month for fellows.  
For the month of June, fellows gathered to paint the "Rock," located on the corner of Hill Street and Washtenaw Avenue in Ann Arbor. Painting the "Rock" is a well-established University of Michigan tradition among many student organizations on campus after it was originally placed in 1932 as a monument to commemorate the bicentennial of George Washington's birth.  
Reid said none of the 15 fellows in attendance had previously painted the "Rock."  
"The 'Rock' painting was [a social event] because if you're not in Greek life or part of a large social organization, you may not have done it," she said. "If you've never painted it, you get to come together as a social group."
Reid described the experience as "organized chaos" — in a good way. She said fellows socialized and talked about topics outside of their work in the office among the flurry of masks, gloves, and spray paint in the air.
"During that time, the students were just talking to each other [about] their days, life, [and] projects. It was a more socializing event," Reid said.
Shaelyn Albrecht, School of Information Senior and User Experience Research Fellow, said she enjoyed painting the "Rock" because she could socialize with other fellows in a stress-free environment outside the office.
Albrecht said she has worked as a fellow for Academic Innovation during both the academic year and summer. She said her summer fellowship has been more social than the academic year since scheduling constraints caused her to balance her fellowship, class schedule, and other student involvements, prompting her to focus more on the core functions and responsibilities of her fellowship and less on social opportunities.
"I was less inclined to be social [during the academic year] because I was only here [at the office] for a certain amount of time and had academic obligations," Albrecht said.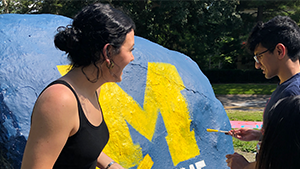 Marcus Hall, Ford School of Public Policy and School of Information Graduate Student Senior and Design Management Fellow, said time expectations are different for the academic year and summer.
"More during the [winter] semester I was working ten hours, and more during the summer, closer to full time hours, or full time hours themselves," he said.
With this increase in hours, Hall also said summer fellowships experience an increased frequency of contact among fellows and full-time staff working in the office, which allows for more collaborative opportunities.
"That community has helped me kind of move forward with a lot of projects and initiatives that I was thinking about," Hall said.
Hall's latest project is called the "CRP triad" — an unofficial term coined by Hall and an acronym for "concept, reminder, practice." The triad consists of an instructional video that teaches ideas and practices about inclusion and accessibility for Teach-Out content directed toward guest experts, an infographic related to the instructional video, and pre-filming training focusing on awareness and skill-building.
Hall said his supervisor encourages cross-team collaboration to bring awareness to the project but also to have him learn about the different teams.
"The multidisciplinary, or cross-disciplinary nature of working across different teams, I think, has been really, really important, and the reason I say that is because…when people talk about working across teams [we're] putting on a cap from a different perspective [and] learning how to get into the mindset of someone from a different team," Hall said.
Hall said several significant learning experiences he has had included facilitating and organizing meetings and collaborating with the different Academic Innovation teams.
"I think that the cross-disciplinary nature of [Academic Innovation] helps…that people like to work with each other on different teams," he said. "So I think that that cultural ethos helps somebody like myself come in and say, 'Oh, I have this idea… I think you have expertise in this. Can we meet so I can talk through this a little bit more? Are you interested in reviewing this for me?'"
 If you are interested in our fellowship program, there are various positions open for the upcoming academic year. We're looking for well-rounded, innovative, responsible, driven, and flexible fellows to help us design and develop digital applications that facilitate engaged learning at the University of Michigan.
Our fellows include undergraduates, graduate students, doctoral students, and recent graduates. U-M student fellows are appointed for one academic term with the possibility of extending to multiple terms. Visit our student opportunities page for more information.