Benjamin Morse, Design Manager
Jeff Butler, Media Designer
You're at home listening to a breaking news story — a hurricane or a political event. Things are developing so quickly that you can't keep all the details straight. You have a laundry list of questions about the topic, but no one to help you find the answers. You don't know where to start looking. You want to reach out to people within your community to discuss what is happening and learn more about their perspectives on the issues, and you want to transcend the echo-chambers and toxic environments that social media can sometimes create. This is the scenario the Teach-Out Series, specifically the rapid response Teach-Outs, was designed to address.
Teach-Outs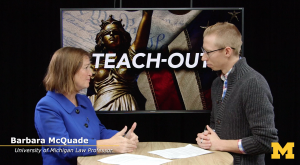 Teach-Outs bring participants together from all over the world to learn about and discuss salient social topics and consider actions to take within their own contexts (more at TeachOut.org). The rapid response version of the Teach-Out model still adheres to these goals, but the topics they address are often extremely pressing, time-sensitive topics and frequently require a quick or 'rapid' response. We leverage expertise here at the University of Michigan and within our networks to create learning opportunities where broad audiences of non-experts can come in and make sense of the changing and chaotic world around them, feel supported by experts and peer learners, and have the opportunity to share their own personal expertise on a topic.
Since March 2017, the University of Michigan has created 29 Teach-Outs, and out of these, four of them have been rapid response Teach-Outs.
Hurricanes: What's Next?
The first Teach-Out, Hurricanes: What's Next? Teach-Out, originally ran in September 2017 in response to the 2017 Atlantic Hurricane season. This Teach-Out was developed and launched in six days and included a few updated videos over the several weeks it was live on Coursera that addressed new hurricanes and emerging news.
Crisis at the Border
The second rapid response Teach-Out was the Crisis at the Border Teach-Out, which was in response to the Trump administration's implementation of a "zero tolerance" immigration policy to detain migrant families seeking asylum in the United States and separate children from their families. This Teach-Out was created in eight days.
Preventing Gun Violence in America
The third rapid response Teach-Out was the Preventing Gun Violence in America Teach-Out, which was developed in response to the two mass shootings in El Paso, Texas, and Dayton, Ohio, in early August 2019, and featured an interdisciplinary and timely discussion about gun violence and safety in the United States. This Teach-Out was created in nine days.
Understanding Impeachment
Finally, the most recent and fourth rapid response Teach-Out was the Understanding Impeachment Teach-Out, which focused on providing context into the current impeachment inquiry by exploring the legal and political processes of impeachment, the history of impeachment in the U.S., and the implications impeachment may have on the U.S. moving forward. This Teach-Out was developed and launched in nine days.
Many people ask how we are able to design and launch Teach-Outs in such a short amount of time. There are a lot of moving parts, but there are a few key areas we focus on when developing rapid response Teach-Outs. Using the Understanding Impeachment Teach-Out as an example, we will explain the process.
Design Insights: Benjamin Morse, Design Manager
Impeachment was identified as a potential topical fit for the Teach-Out model because it is a timely topic of societal importance with ample opportunity for learners to engage in the learning experience. We considered possible frames we could apply to provide learners with nuanced and in-depth perspectives on the topic. We recognized that impeachment of any elected official can be a hyper-partisan event, one that often splits along party lines or is wrapped up in deeply rooted personal and political ideals. To that end, we wanted to create this Teach-Out as a learning experience where everyone, despite political opinion, could join and have a productive and respectful conversation.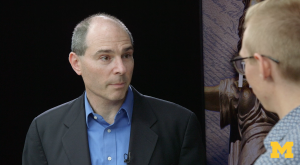 This approach helped us frame our outreach to potential contributors across U-M and beyond. For this Teach-Out, we identified experts in law, politics, political science, and journalism. In an effort to keep our design as iterative or agile as possible, we tried to set up pre-interview conversations with each guest to align ourselves with what we hoped to accomplish in the Teach-Out. As part of this conversation, we drafted interview questions and created expectations of what the media production process looked like. At the same time, we were drafting discussion prompts and thinking about different ways learners would engage and contribute to a conversation about impeachment after the Teach-Out launch.
Another important stage is filming the segments, which in this case was a series of interviews, and then assembling those pieces together into a cohesive learning experience. Once we had guests in the studio, we were able to make "real-time" iterations, such as tweaking interview questions, adding or discarding questions, and reframing responses to fit within the scope of the Teach-Out.
Every Teach-Out is different, so it is important to remain flexible when designing something this quickly and to keep in mind that the goal of this type of learning experience is to bring people together to learn about, engage, reflect and consider action on a topic of social importance. One of our guest experts for the Understanding Impeachment Teach-Out, Abdul El-Sayed, former Democratic gubernatorial candidate in Michigan, summarized the value of the Teach-Out: "This is a defining moment in American history, and unfortunately, though traditional media have done a great job keeping us up to speed on the proceedings, they've been less focused on providing context. This Teach-Out was a great opportunity to do that. It's a necessary public service."
Design Insights: Jeff Butler, Media Designer
When it comes to Rapid Response Teach-Outs, it's all about speed. Obviously, it says that in the name. Of course, we could always send questionnaires to the experts, they could send them back, and we could give those to the learners. That would be the fastest way, but the important thing isn't speed. The important thing is creating engaging content given the limitation of time. When doing Rapid Response Teach-Outs, it's important to remember that although the learner may already know what the topic is (for instance, impeachment), they may not know the implications, processes, or history.
With that being said, time dictates what we are truly able to do. In a full fledged Teach-Out, we might have location shoots or do some animations. We have the flexibility to be more creative with our decisions about content. Due to the nature of a Rapid Response Teach-Out being a reaction to the news or hyper-relevant to what is going on in our society, something different happens. There is an energy our experts exude when on camera, purpose behind their words and passion in their voices. In cases like this where we have people giving an emotional yet expert analysis on impeachment, simple is better.
Using the interview setup where two people can have a simple conversation is enough. In fact, very little coaching goes into working with the experts.
WE WANT THEM. We don't want their information because we could do a quick Wikipedia search and get the same info. We want them, their passion, their voice and their expertise.
PERFECTION ISN'T NEEDED! Of course, we want their content as perfect as possible. What I mean by this is that they need to feel like they can make mistakes and have an opportunity to correct themselves. The moment you make someone do a monologue over and over again is the moment they check out. You no longer have that confidence, which is something the Rapid Response Teach-Out needs. Have them redo that one line and move on.
MAKE THEM COMFORTABLE. Odds are, your guest will do a couple things over the course of the interview that might warrant a quick word. For instance, you don't want someone on camera nodding in agreeance constantly the whole time they're on camera. Most of the time these are ticks that come from nervousness. You remove the tick, and it will manifest itself into their speech. Of course, you will mention it to them but approach it softly. Something like, "HEY! Quit bobbing your head!" isn't going to work. Something like, "Real quick, you're doing great! You're nodding your head a bit while they're talking to you, though." They'll probably make a self-deprecating joke and move on. Eighty-five percent of the time that works. The other 15%, just move on. The last thing you want to do is make them uncomfortable and repeat the thing they keep doing.
One thing to make sure of when going through this process as a Media Designer is to stay on top of edits. Make sure that you are working on edits the day of the shoot or the first moment available to you. Sometimes, we might only have one week to turn a Rapid Response around. Creating a checklist for graphics, using templates from projects in the past, listening to videos at double speed, a lot of copying/pasting, and a few cups of coffee later, you'll have a Teach-Out. Always stay one video ahead, and you won't have to catch up.
P.S. Having the coffee machine right outside of my office also helps.
---
As we continue to explore new modes of teaching, learning, and connecting in an increasingly digital society, rapid response Teach-Outs allow us to connect scholars with engaged citizens and bridge the gap between digital and physical communities. Barbara McQuade, former U.S. attorney for the Eastern District of Michigan and professor from practice at the U-M Law School, articulates the value of this type of learning experience in saying, "an informed electorate is essential to democracy. The Teach-Out is an effective way to provide important information about impeachment to a large number of voters." This approach also enables the academe to respond to breaking news stories and engage with the public around timely issues in ways that didn't exist a few years ago.
To enroll in the most recent rapid response Teach-Out, the Understanding Impeachment Teach-Out, please go to https://www.coursera.org/learn/impeachment/home/welcome.
As part of this Teach-Out, we will also be broadcasting a live question and answer segment on November 4 at 12:00pm EST with Barbara McQuade, former U.S. attorney and Professor from practice at the U-M Law School, and Richard Primus, Theodore J. St. Antoine Collegiate Professor of Law at the U-M Law School. The conversation will be live on YouTube at this link.