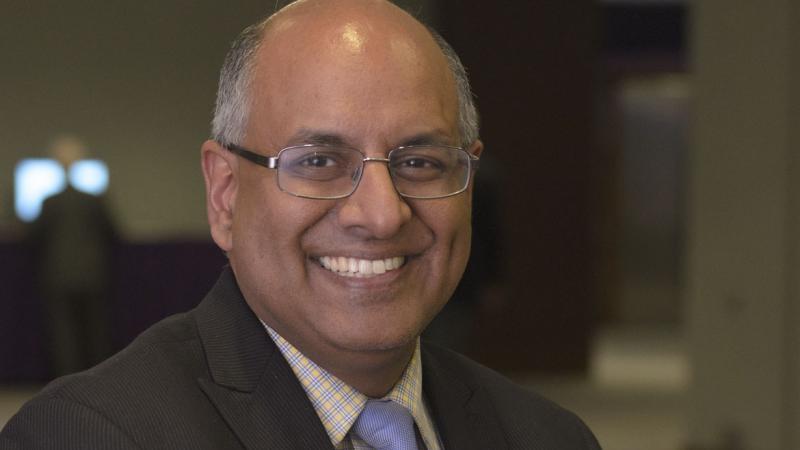 Sean Corp and Hannah Triester, Center for Academic Innovation
Dr. Rajesh Mangrulkar is joining the Center for Academic Innovation as a Faculty Innovator in Residence. In this role, Mangrulkar will focus on innovating education to improve health outcomes. He intends to build a community of practice of education innovators working in this space, bringing together faculty and collaborators through innovation networks, development activities, and interdisciplinary work.
Mangrulkar comes to the center with extensive experience in collaborative, transformative education as Associate Dean for Medical Student Education for the past 10 years, and previously as Assistant Dean for Innovation in the Medical School. He is also the executive director of RISE (Research. Innovation. Scholarship. Education.), an innovation unit he founded within Michigan Medicine.
He will also serve as the director of the Michigan Center for Interprofessional Education (IPE). By integrating traditional and online courses, clinical and field experiences, and service learning, IPE aims to foster collaborative practice to improve health of patients and communities.
Mangrulkar recently sat down with the Center for Academic Innovation to talk about his mission to improve health, and why he's excited for the role CAI can play in making a difference for both residential and global learners.
The following has been lightly edited for length, grammar and clarity.
Center for Academic Innovation: Throughout your career, you have focused on the importance of collaboration as a key to unlocking progress and innovation. Can you talk about why that's so important? And how you have utilized collaboration throughout your career?
Rajesh Margulkar: Yeah, I mean, first of all, it's personally important to me. As a leader, I think it's important to know who you are. And in my leadership roles over the past 15 years, I began to understand that I thrive in teams, that's just the way I'm wired. My hypothesis is that collaboration, especially with people who are different than each other, brings about greater creativity and impact. I'm always inspired by Scott Page's work in his book, the Diversity Bonus, which talks about the power of diverse teams who are cohesive and work well together.
I think the best example for me was in my last 10 years as the associate dean for the Medical School, transforming the curriculum, resulting in probably one of the biggest changes in medical student education at Michigan in some 50-75 years, both in the structure, the outcomes, and in the lived experience of the student. That was not an easy task, but it happened through collaboration, community building and community engagement.
CAI: What do you think it is about bringing people together that allows them to make great progress or think in new ways?
RM: I think the thing that helps build cohesion in those communities is being able to allow people to express themselves and create a culture where people actively listen to each other. I think there's a power in amplifying voices and what people long for. And then I think there's a power in doing shared work together. You can't just bring people together to talk theoretically. I think you have to have people working on something together towards a goal, even if it's a small pilot, or a small initiative, or if it's something bigger. I don't think that energy comes from just having an animated debate, but in the "doing".
CAI: How can bringing these people together from various backgrounds and professions lead to something you've dedicated your career to, which is having an impact on people's health?
RM: I sometimes ask myself, 'Why did I go to medical school?' I didn't go to medical school to be a dean or to be an innovator. Students who are 18 or 21 years old apply to health professional schools to make a difference in patients' lives. And that means improving their health. What I've tried to do is remember that mission for me, throughout my career as a faculty member, as an academician, as an educator, and now as an educational leader.
I think people are motivated by improving health. We recognize that many health outcomes are terrible in this country. And it's not that we don't have good health care. But when you look at health outcomes, we're usually at the bottom of the Western industrialized nations in terms of chronic health outcomes, life expectancy, maternal mortality after pregnancy, child mortality, infant mortality. But we spend the most. So in my mind, those health outcomes should be the primary motivating factor that forces us to ask the question, "What needs to be different about education?" In order to help solve this problem, it has to be our problem. Schools and educational institutions are the way everyone becomes a practitioner, whether you're a nurse, a physician's assistant, a physical therapist, a physician, a pharmacist, a social worker, you're all going through these educational programs, often in university settings.
For students going into health care, we need to improve the part about health outcomes that we have control over. In my mind, that should drive how we innovate education; aligning our innovations with the big societal health problems. Immersing students in innovative experiential settings that teach them the power of teams and how health can improve. I will also say that health is more than just health care. Health is about the social determinants, which includes K-12 education, occupational exposures, exposure to pollution, poverty, policies. The list goes on. I think the opportunity here is that we frame improved health as driving education innovation, allowing many different schools and colleges at UM to say that they can contribute to improvements. But we have to start clearly drawing that link and making that case, and bringing people together around this goal. So far, we haven't done that. But I'm eager to start.
CAI: How do your roles at the center, at RISE, and at C-IPE, work together toward your goals of improving health outcomes? How do those organizations play into the concept of health as a "social good" which you have talked about as a key concept before?
RM: I think health is one of many social goods that we as a university have committed to. I'm always mindful, and really attracted to the fact that we are a great public university. And I emphasize us being public, not just because we get a little bit of funding from the state, but because of our duty and responsibility to serve society and the public good. Our hospital is the county hospital for Washtenaw County. We provide hundreds of millions of dollars in free care to the population. At the university, we tackle big problems in poverty, climate change, access to education. CAI has been built on this principle, which is really inspiring.
So health to me as a public good, and a societal good, feels natural for us to take on as an innovation initiative, in all three units. I know I am wearing three different hats, but I really hope that while it is three roles, those roles will be serving one mission: innovating education to improve health. I think CAI, C-IPE and RISE can fit together cohesively. RISE focuses on health science education innovation, serving education for MDs and PhDs and the master's degree students in the Medical School in Michigan Medicine. We think about health care delivery as a place for innovation.
The Center for Interprofessional Education fits in the interprofessional innovation zone. How do we bring learners from 10 different schools on 3 U-M campuses that are involved in health care education together in unique and experimental, experiential environments that can actually make a difference in practice and outcomes? We can transform how teams come together to take better care of patients, ensure that learners understand how to be part of these teams, and work collaboratively with the public health workforce to improve the health of populations. That is the true promise of innovating IPE.
I think CAI then provides us the broader interdisciplinary lens that focuses on health, not just healthcare. Here we can collaborate with the College of Engineering, the School of Education, Ross, Ford, SEaS, and so many other schools and colleges that can see themselves as being really critical to improving health. Through this work, we can start to build a portfolio or what I hope will be a community of practice of faculty and staff and learners who care about this mission.
CAI: How do you see online education helping your mission of improving health outcomes and improving access to learning opportunities for a global network of learners?
RM: I see CAI as such an inspirational force because of its commitment to making education at a top notch school accessible to the globe. And that is a profound public good. I think that online digital learning can sit with residential experiential learning in powerful ways. I think we have spent too much time in classroom settings and in other areas where digital learning can not only fill that need, but enhance that experience. And then we can improve and actually increase the in-person experiential learning in meaningful ways. In the medical school, for example, we are using tools that have come from CAI, like the MOOC on health policy, or the MOOCs on anatomy, so that we can increase the amount of experiential learning for our students.
In addition, I think if we have an educated patient population through digital and accessible learning, that itself can make health better. Think about the fact that an informed patient become more of a partner with providers, with the public health infrastructure and with everything else that relates to their pursuit of well-being. Think of the challenges we face now with our pandemic and a misinformed segment of our public. Enhanced access to powerful learning tools for the public would make a huge difference, I think.
Finally, digital online accessible learning can be interprofessional. It can extend into different professional educational spaces. Physical therapists, critical members of the healthcare team, can access the same anatomy digital courses as other professional students, like medical and nursing students. Now imagine them working through a case together, simulated or real; someone with shoulder pain. That's a powerful discussion, because now they're not only accessing the same learning, but they're able to discuss their respective roles in that setting, and do shared, purposeful work together.
CAI: Can you recall a time like the first memory you have of being like a visceral memory of seeing a doctor or being impacted by a health professional that's really stuck with you?
RM: I think it was one of the most important reasons why I became interested in health. When I was a child, I had pretty debilitating migraine headaches. And in the late 70s when I grew up, migraines weren't really well understood. My pediatrician was my guide and my navigator. I was 8 years old, and I just remember that he was so kind, and had such a calming presence for me and especially my parents who were bewildered by how debilitating it was for me.
This condition took me out of school for prolonged periods of time, repeatedly. And for six years, it became sort of a centerpiece of my developmental life. My pediatrician was my shepherd during that time. He was a great explainer. He had an ability to reach a 8-year-old, and a 38 year old in the same room, my parents, and that's what I remember vividly. I remember I could just be mesmerized by him. It's almost like he was my first medical school teacher. He could explain what was going on, what we knew, what we didn't know. Yet he was very comforting and reassuring for a very worried family. I'll never forget him because I became drawn to the health professions from that moment on.