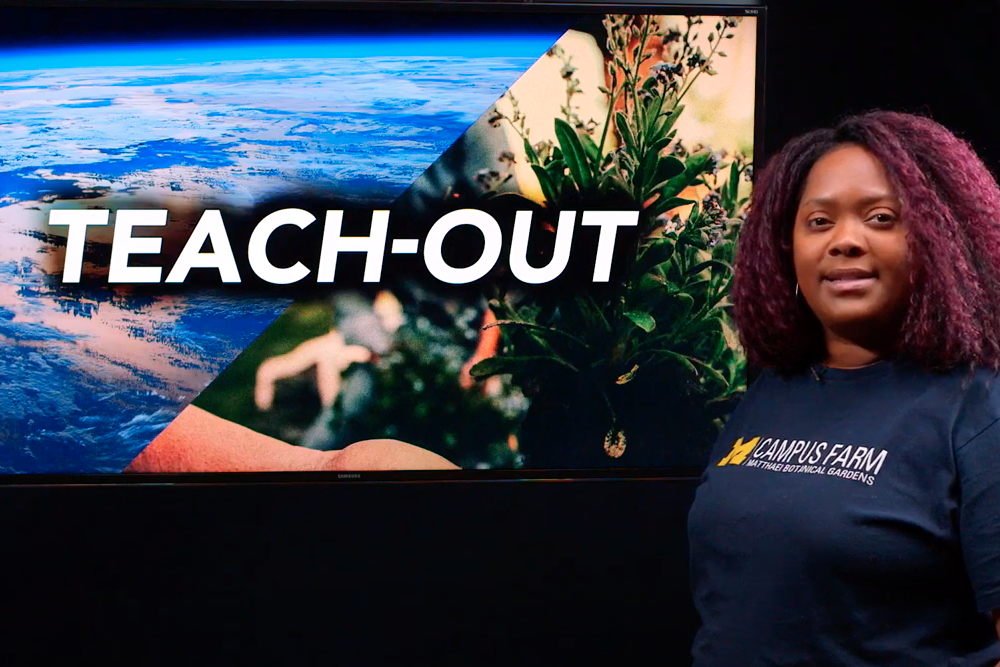 Julia Maxwell, Design Management Teach-Out Fellow, and Annie Sadler, Design Manager
There is often an assumption that online spaces are not ideal environments for multi-faceted, nuanced conversations. Many feel the structures of our online conversations lead us toward polarized or binary arguments, and that it can be hard to find spaces online that are not persuasive or leading in their design.
The University of Michigan's Teach-Out model is designed to create space for nuanced and dynamic conversations around salient social issues. Often, we have an expert or group of experts leading that conversation – helping us, as learners, to deepen our understanding of a complicated issue.
The more informative, unique perspectives you can provide, the better the understanding and dialogue will be surrounding these complex issues. Creating space for these conversations across disciplines allows learners to explore natural intersections — how STEM and the arts overlap, or how the past and the future are connected.
In the Earth Day at 50 Teach-Out, we took a unique approach toward creating a space for conversation. For the first time, we put out an open call for folks to be involved in the Teach-Out as a part of our design process. This call resulted in the broadest disciplinary range to ever take part in a Teach-Out. Our guest contributors span from community activists to astrophysicists, from historians to dance professors. The Teach-Out does not guide learners to a specific point of view, but instead collectively unpacks a 'wicked problem' like imagining how a sustainable future looks.
The Teach-Out does what we often wish could happen in physical spaces but doesn't due to schedules and logistics. The Earth Day at 50 Teach-Out places experts from different disciplines in conversation and then asks the learner to draw connections between how a computer scientist thinks about the power grid and how rural communities play a role in renewable energy. The online space that the Teach-Out creates affords learners a place to imagine a future while drawing on the threads of a complex issue.
Hearing the perspectives of diverse experts allows learners to make unique connections that may not be as clear from a standalone perspective.
In all of our Teach-Outs, we create opportunities to engage with learners while the Teach-Out is live. In this way, we invite learners to drive the conversation, including through our Connecting Conversation sections. We ask learners to draw out the interactions, questions, and connections between rural and urban perspectives on energy and how equity forms the basis of both a systems designer and an artist's work on sustainability. We then bring those experts back to have a conversation on the connections learners brought up.
Using the online medium in this way, learners can be a part of a non-polarizing conversation and can make essential connections. The practice of connecting experts from multiple disciplines and perspectives gives learners a model for enlightening discourse within the Teach-Out space. They are free to explore relationships, conflicting viewpoints, and unique insights from a digital space designed explicitly for those discussions.