Hannah Triester, Communications Fellow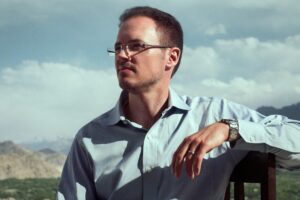 Matthew Bengtson is an Assistant Professor of Piano Literature at the University of Michigan School of Music, Theatre and Dance, where he teaches studio piano and fortepiano, and courses and seminars in piano repertoire, history and culture. Critically acclaimed as a "musician's pianist," Bengtson has a unique combination of musical talents ranging from extraordinary pianist, to composer, analyst, writer, scholar of performance practice, and educator. Recently, he translated this range of skills into Michigan Online's three-part course series "Exploring Piano Literature: The Piano Sonata," only on Coursera. 
Learn More | Telling the Story of the Piano Sonata in New Three-Course Series
Though we offer a deep dive into his online course series here, we wanted to know a little bit more about Matthew Bengtson as a musician, his favorite pieces of music and how the 2,500-year-old game Go and music composition are similar.
What are you most excited about with the release of the Exploring Piano Literature: The Piano Sonata series online?
I feel this is a major publication on a large-scale topic in the area of Piano Literature, using modern learning methods with a very broad accessibility across the globe. I don't think there's anything quite like it, so I am eager to see how people will respond to it. I think it could be appealing to a very wide range of music lovers.
What is the first piece of music you remember falling in love with and why?
There were a few pieces I can remember enjoying as a kid. I grew up in a family of church musicians, so the Widor Toccata was an early favorite. Cassette tapes were the way to listen to music in my youth, and in my tape recorder, Holst's The Planets, Mussorgsky's Pictures at an Exhibition, and Mozart's Eine Kleine Nachtmusik followed me around. All are exciting pieces in their own way, and they all stimulate the imagination. With piano music, it would have been Liszt's Hungarian Rhapsody no. 2, which I first encountered on Looney Tunes cartoons. 
Your piano sonata course explores the sonata throughout history using recordings of older and rarer instruments, like early pianos, harpsichords, and clavichords. Which instrument was your favorite to play, and what exactly makes it unique?
Each instrument has its own unique voice. Each one will always give a sensitive musician important insight about the composer's world and the way that their music really wants to be played and heard. All the instruments we used in the course are of very high quality, in excellent condition, and very fine examples of their kind. 
Do you have any guilty pleasure songs you absolutely love?
If I felt guilty listening to it I wouldn't consider it good music, and then I probably wouldn't enjoy it. Some pianists feel guilty about liking flashy, virtuosic piano music; I sometimes enjoy these kinds of pieces and sometimes I don't; it really depends on the piece and how it's played. If you are curious about non-Classical genres of music, I am certainly a fan of jazz and I enjoy listening to great jazz pianists like Art Tatum, Oscar Peterson, and Bill Evans, for their sense of rhythm, their mastery of the instrument, and their keen harmonic sense.
You are listed as the president of a group dedicated to the strategy game Go. What is it you love about Go, and is there any connection to the gameplay or strategy of the game that you respond to that is the same to the way you respond to or approach musical composition?
Yes, there is certainly a connection. In ancient China there were four "accomplishments," which were music, painting, calligraphy, and go. All of these are extremely rich and artistic activities, which expand and offer new challenges as your level improves and you know them more fully. Go, like the piano, takes very simple elements (lines, intersections, patterns of white and black) and makes a seemingly infinite variety of combinations. It takes a great deal of training to appreciate the subtleties of how these patterns evolve and how to apply them effectively. In both music and go, there is an element of balance to consider between extra attention in one area, and the effect it has on the whole. The history of both music and go is filled with colorful figures with unique styles of their own, who influenced subsequent generations. It is not surprising that music is attractive to many go players.