Ellen Kuhn, Public Engagement Specialist
How do social justice and personal storytelling connect? Who has the power to tell their stories — and, more critically, who doesn't? Do we have a right to tell our stories?
Barry Checkoway, PhD, Arthur Dunham Collegiate Professor of Social Work in the School of Social Work and Professor of Urban Planning in the Taubman College of Architecture and Urban Planning, believes these are fundamental questions that we need to address as a society. He also believes young people are the key to engaging with these questions.
Young people in the United States must navigate a country that is both increasingly diverse and increasingly segregated. They observe instances of prejudice and discrimination in their own lives and are keenly aware of these divisions, yet too often, they are not able to discuss these critical issues. They may be eager to hold these important conversations but often lack the power or skills to speak up.
The Public Engagement team at the Center for Academic Innovation is currently working with the School of Social Work and the Program on Intergroup Relations to develop a sustainability plan for the Youth Civil Rights Academy and Summer Youth Dialogues programs. So, when Barry approached us asking for help piloting a new youth empowerment program, we jumped at the chance to contribute. Drawing on our previous experiences with storytelling training and youth programs, we were excited to work collaboratively with Barry to connect social justice and personal storytelling. What was even more exciting was the opportunity to also collaborate with the Alumni Association of the University of Michigan and offer this pilot program at Camp Michigania, a camp located on Walloon Lake that is owned and operated by the Alumni Association.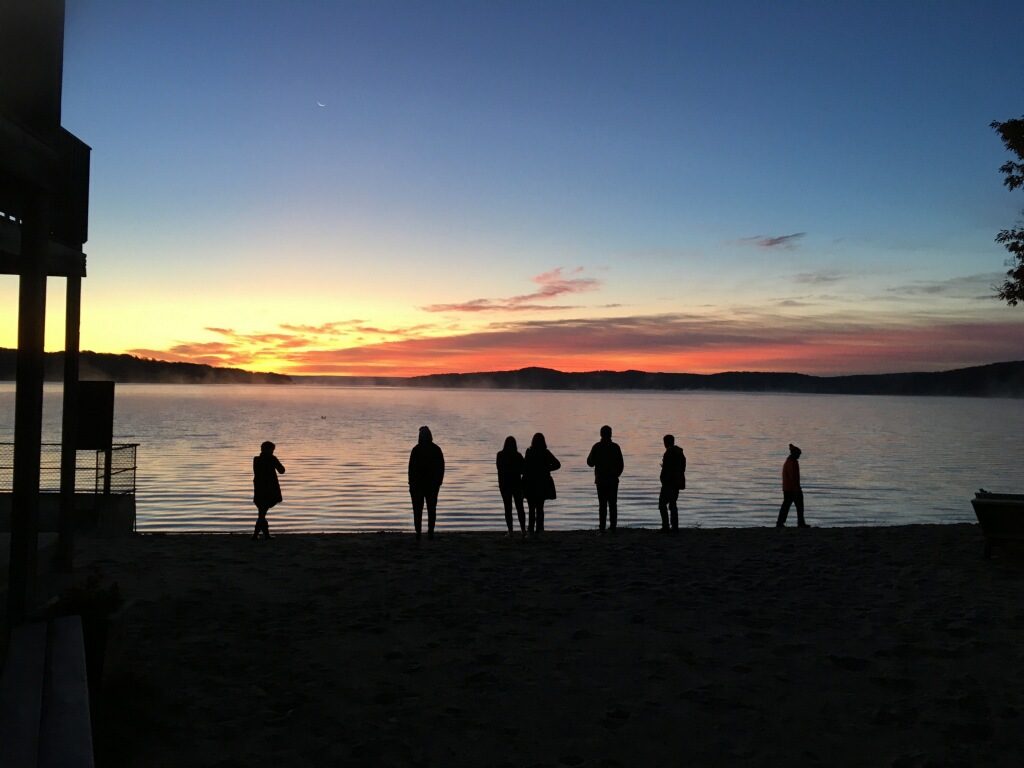 In October 2019, 14 students from different high schools throughout metropolitan Detroit gathered at Camp Michigania for the pilot Youth Civil Rights Leadership Camp. The students spent three nights and four days exploring civil rights issues that they experience in their everyday lives while learning how to tell their own personal stories related to these issues — all while enjoying the setting and activities afforded by Camp Michigania. Ultimately, the pilot project aimed to prepare a new generation of civil rights and social justice leaders who are committed to diversity, equity, and inclusion.
The weekend's curriculum wove together civil rights and social justice issues, personal storytelling, and camp activities into a retreat-style experience. Students first identified a social justice issue that they are passionate about, such as immigrant rights, climate change, and discriminatory school policies. They then brainstormed moments in their own lives that were related to these larger issues. Finally, the students worked collectively to identify a theme for the weekend – "Lucha: Progression of Society and Self" – that connected their individual stories into a cohesive whole. This theme focused on the ways in which individuals must fight against the surface assumptions that society often imposes upon them. As the students articulated, "It requires bravery to be who you are."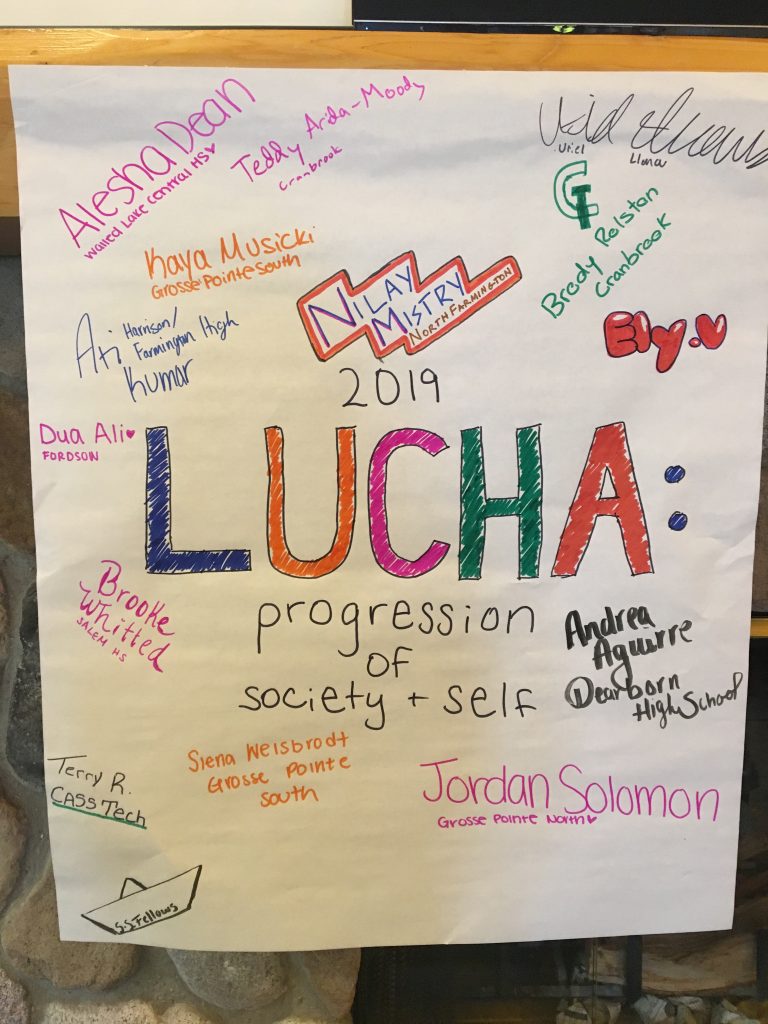 Through active learning exercises that we helped develop, the students learned about storytelling techniques and worked to flesh-out their individual stories related to the "Lucha" theme. In parallel, other sessions helped the students think about ways to enact change in their own communities — whether through grassroots organizing or combatting bigotry in the moment. Additionally, the students enjoyed camp activities throughout the weekend, including archery, walks, bonfires, and boat rides. The weekend culminated in a storytelling presentation and final session in which the students brainstormed ways to work on civil rights projects in their own communities.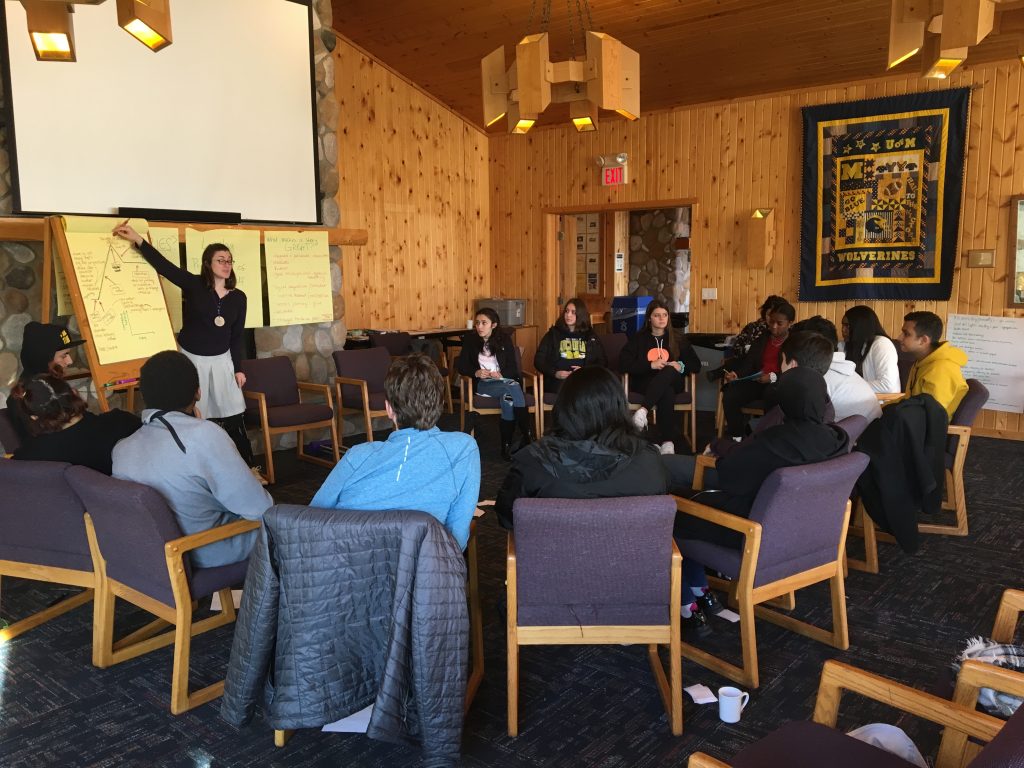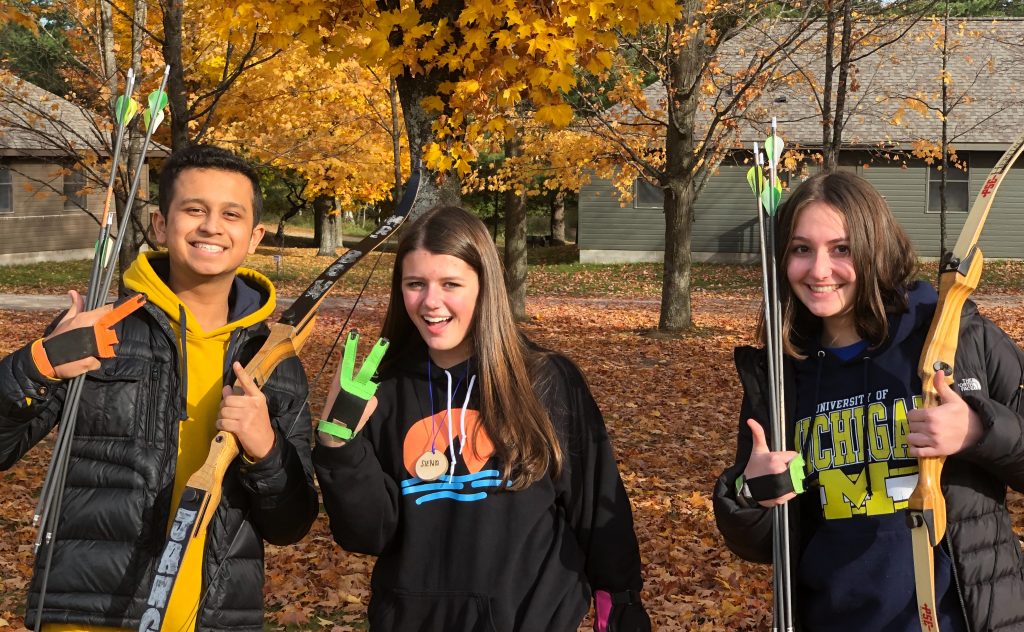 In general, the students were enthusiastic about their experiences in the pilot Youth Civil Rights Leadership Camp at Camp Michigania. Along the way, we filmed reflective interviews with them that we then compiled into a short video. This video demonstrates how the students connected the larger ideas of social justice and personal storytelling through their experiences at Camp Michigania.
Because this was a pilot version of the Youth Civil Rights Leadership Camp, we're not sure how the program may expand in the future. What we do know, however, is that 14 students from southeast Michigan are now more empowered to tell their stories and work for social justice in their own communities.