James DeVaney, Associate Vice Provost for Academic Innovation
@devaneygoblue
Syed Amaanullah, Senior Product Manager  
@syedamaanullah
Vishal (Vish) Chandawarkar, Product Management Fellow
What does product management look like in an educational context? What does it mean to explore the connection between a digital product and its manifestation in the physical world? What does it look like to co-create new products to solve real problems faced by learners and learning communities? How do can universities empower students to explore new knowledge and skills and enable student-led innovation?
As we foster a culture of innovation in learning at the University of Michigan, the Office of Academic Innovation builds products with faculty and learner communities, not simply for them. Remarkable breakthroughs happen at research universities every day. Yet the strength of the research enterprise doesn't necessarily translate to educational product development and innovation. Bridging the gap between early-stage innovation and widespread adoption is a challenge that institutions know all too well.
I sat down with Syed Amaanullah, Senior Product Manager, and Vishal (Vish) Chandawarkar, Product Management Fellow and current MBA student in the Ross School of Business, to demystify product management in an educational context. We talked about Michigan Online – one of our signature initiatives – and how we think about product development, student-led innovation, and the connections between online, hybrid, and residential learning.
Q: Syed, What is Michigan Online and how has the product evolved over the last eleven months since launch? What factors are contributing to its rapid growth trajectory?
Michigan Online is the destination for online learning experiences created by the University of Michigan. With a growing portfolio of courses and programs in emerging fields like design, data science, leadership, and technology, we're quickly becoming the go-to resource for students, professionals and lifelong learners to equip themselves with the knowledge and skills that are relevant in today's world. A significant part of our core value proposition is based on extending the University's mission of developing leaders and citizens who will challenge the present and enrich the future, and we're proud to be able to offer Michigan Online as a free resource for all U-M students, staff, faculty, and alumni. The value of the University of Michigan community extends far beyond the time that students spend on campus, and through Michigan Online, we're able to support the learning needs of Wolverines throughout their careers and lives.
A lot has transpired since we first launched a year ago, from simply getting the technical infrastructure in place needed to aggregate courses from both Coursera and edX, to facilitating free access specifically for the U-M community, and recently completing work on a site redesign that made significant improvements to the discoverability of content and overall user-experience. Learners will find Michigan Online to be a welcoming and intuitive platform that gives them access to a broad range of learning experiences. As with many new products, the biggest hurdle for us to surmount has been awareness, and so we've worked very closely with on-campus and alumni groups to get the word out that this incredible resource exists. And as more and more learners come to Michigan Online and engage with our courses and content, we're finding that they share this information and recommend the platform to their peers, which has really driven the rapid growth of our user base.
Q: Vish, when did you first learn about Michigan Online? What was your first impression  as a grad student? What possibilities did you see?
I first learned about Michigan Online from a university-wide email announcement from Provost Philbert about the product launch last spring. As an incoming grad student at the time, I saw the opportunity to take free online courses as an amazing way for me to get a head start on learning subjects I have always been interested in, but did not have access or bandwidth to pursue. I am pivoting from a career in brand management to one in product management, and courses like "Introduction to SQL" and the "Python For Everybody" series were extremely helpful in supplementing my creative background and MBA curriculum with a more technical skillset. Gaining access to the wide range of learning opportunities provided through Michigan Online, I saw an opportunity to fill an important gap faced by business students which led me to found the Michigan Code Academy.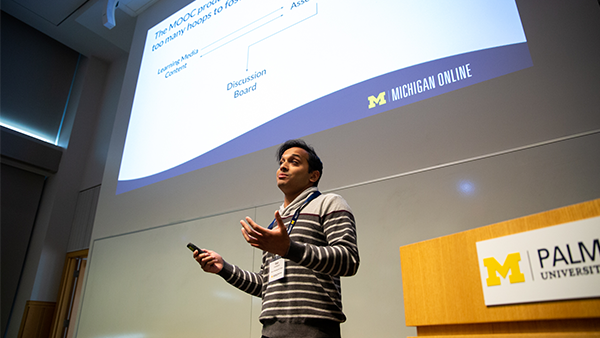 Q: Syed, when you approach product management in an educational context, how do you think about engaging learners and users in product development?
Building educational products requires a balance of leading with what we know, and adequately exploring what we don't know. Given that our courses and programs are developed through a collaboration of expert faculty and our own highly-skilled Learning Experience Designers, we have a strong sense of what it takes to design and develop effective online learning content. Where we benefit from engaging deeper with our users is in understanding what types of content are most valuable to them, how they want to discover and engage with that content, how they might want to interact with their instructors or fellow learners, and what their expected outcomes might be. One way that we ensure that we're incorporating the voice of users into product development is by building meaningful relationships with our users that go beyond the important, but transactional touchpoints of usability-testing and user-feedback-surveys. At the University of Michigan, we have a unique competitive advantage by virtue of our thriving campus of nearly 50,000 students. We've been able to leverage that advantage by working deeply with student, staff, faculty, and alumni groups to understand and address their needs as learners. It doesn't hurt that we're able to bring on talented students like Vish, as student fellows, to work as members of our teams and undoubtedly ensure that the voice of the learner is heard each and every day.
Q: Vish, tell us about the Michigan Code Academy (MCA). What problems are you trying to solve?
The Michigan Code Academy is a learning community that empowers U-M Students to activate, advance, and apply practical technical skills. Employers now expect candidates to not only have business acumen and leadership skills, but also technical skills to navigate an increasingly data-intensive workplace. I started the club last fall because a significant proportion of MBA students, including myself, were interested in advancing their data analysis skill set but did not have a formalized way to do so during their core curriculum.
I found the Michigan Online coursework to be extremely valuable in addressing this need and decided to partner with Academic Innovation to translate relevant online learning experiences into engaging peer-led, in-person bootcamps. By forming a community around extracurricular learning, we are breaking down the barriers and intimidation that comes along with exploring new, unfamiliar subjects like programming and data science. What we've created with Academic Innovation as our sponsoring organization has provided an amazing outlet for student-led learning which is a great complement to the awesome learning experiences we have at Ross.
Q: Syed, why is it important to support and incubate both unique and abstract use cases when creating a successful educational product?
It's important for product teams to avoid being overly prescriptive with how a product might evolve. Although it is necessary to establish a sound product identity, the early stages of product development provide a tremendous opportunity to nurture a broad spectrum of potential use cases that could grow and evolve into valuable product features. The reality is that today's users are very adept at manipulating a product beyond its intended purpose in order to get the value that they desire. As product leaders, we need to pay close attention to the way our users are behave because it often uncovers an underlying problem that is worth solving. With Michigan Online, we've been able to leverage user behavior to better understand how to engage learners with different motivations. We're learning about the nuanced ways in which a learner looking to upskill and develop themselves professionally might differ from a learner who needs to reskill and change careers. And although we're committed to serving all learners, we want to ensure that our content and features reflect the specific needs and use cases that our learners demonstrate through their behavior.
Q: Vish, after launching the initial MCA activities, what new opportunities emerged? What might we see next from the MCA team?
Because the core MBA curriculum is very structured, MCA found opportunity in providing first-year MBA's with flexible extracurricular learning experiences to accelerate their learning.
For example, the MBA1 experience culminates in Multidisciplinary Action Projects (MAP), a capstone seven-week component of the program where students consult with companies and organizations around the world to solve real business challenges. MCA wanted to ensure students were equipped to take on any large datasets or databases they encounter. The Michigan Code Academy conducted a very successful 50-person Pre-MAP SQL training session for MBA's. We applied Academic Innovation learning experience design expertise to make the session interactive and engaging. The student response was overwhelmingly positive and we received feedback that many MBA's wished they had this kind of training earlier in the school year. One of the founding members of Michigan Code Academy and Ross student, Connor Nickell, attested that he immediately applied his understanding of database sets to help a hospital client assess and size transfusion markets using nationally syndicated data.
We will expand the scope of our activities into a larger bootcamp. We are now partnering with Business Analytics Club and Data Analytics Consulting Club to design and run a full-day training available to all incoming MBAs on data querying and visualization this August.
Q: Syed, why is it important to explore the connections between your digital products and its manifestation in the real world?
I believe that this goes back to building a deep understanding of user needs and behaviors in order to effectively provide value to them. Although digital products often live exclusively in the digital world, our users don't necessarily adhere to the borders and boundaries of that space, and are very comfortable in bringing things like online learning content across the divide and into the real world. Seeing a self-organized learning community like the MCA utilize our content for in-person trainings and bootcamps is really powerful and serves as a great example of how providing broader access to U-M expertise and networks helps Ross to create data-fluent and tech-savvy leaders. Supporting such real-world use cases can lead to the germination of interprofessional and interdisciplinary communities of early-adopters that have the potential to shape the future of our product. So, we're excited to continue working with the MCA to co-design experiences, tools, and resources that would benefit them and other similar learning communities. If we had put our heads down and focused solely on user analytics within the platform itself, we might have missed this opportunity.
Q: Vish, what kind of work have you been focusing on as a Product Management Fellow at Academic Innovation. What are you doing this summer?
Because Academic Innovation is very much like a start-up and moves quickly, the Product Management team has exposed me to a wide range of projects over the past few months. I conducted competitive analyses as part of our product discovery initiative. I helped ensure the Michigan Online web redesign launched on time by defining acceptance criteria for our QA process. Currently, I am working on a feature prioritization exercise to determine what features should be added to the product roadmap in the next development cycle.
This summer I'll be working at LinkedIn as a Product Marketing Intern on the Consumer Growth team. I'll conduct quantitative analysis on LinkedIn product usage data and providing recommendations on how the organization should re-prioritize the ecosystem to drive user engagement. I'm very excited to apply the skills I learned from Michigan Online and through the SQL and "Statistics with Python" courses to query and analyze large data sets.
Q: Syed, what might we expect to see next with Michigan Online?
Now that we've established a strong baseline for Michigan Online as an online learning platform for students, professionals, and lifelong learners, we're committed to growing our catalog of learning experiences in emerging content areas like FinTech, AR and VR, Mobility and Product Management to provide the most relevant learning experiences for today's world. Beyond an aggressive content strategy, we're actively working toward personalization features that would not only provide a holistic overview of learners' progress and achievements, but could also make intelligent recommendations and learning pathways based on the interests and motivations of the learner. And of course, we're committed to working very closely with our learners to ensure Michigan Online has the tools, features, and resources to support their lifelong and life-wide learning needs.