Amy Homkes-Hayes, Lead Innovation Advocate
@amynhayes
Sharing the Curricular History of U-M
Academic Reporting Tools (ART 2.0) has lived in the Office of Academic Innovation since 2015. During its time with us, faculty champion and ART 2.0 evangelist Dr. August Evrard, Arthur F. Thurnau Professor of Physics and Astronomy, and the ART 2.0 team have iterated on what we show the U-M community. Since March 2016, CourseProfile has enabled students to view course history on things like enrollment in a course by school or college and pre, concurrent, and post course selections. In addition, CourseProfile shows a subset of Student Evaluation of Teaching (SET) data on topics like how much or little students wanted to take the course, or if it increased their interest in the subject. Starting in November 2016 the InstructorInfo deck was added, enabling students to view a subset of SET questions on U-M faculty spanning topics from clarity to creating a respectful classroom environment. In Fall 2017, we released MajorMetrics, which includes a timeline of how many students have graduated with a particular degree (referred to as majors for undergraduate students) in the last 10 years, as well as statistics on joint degrees (co-majors) and minors.
In each iteration of ART 2.0 we revisit our original vision and mission of the tool to promote a deep and shared U-M curricular history with our community, and to aid students in exploring, discovering, and selecting courses. We are enthused to share since fall 2017, more than 21,000 U-M community members have accessed the tool 230,000 times, demonstrating the sustained growth of the ART 2.0 service. As we look to the future of ART 2.0, we are eager to announce new features that align with our mission and respond to student feedback.
New ART 2.0 Iterations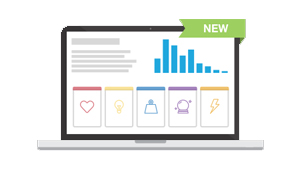 The first exciting new addition to ART 2.0 are grade distributions. Now, when users access CourseProfile, they will see grade distributions for many U-M courses. In fact, of the 500 most searched for courses in ART 2.0, we have grade distribution data on 496. Showing grade distributions in a university-sanctioned tool is something students have asked for since ART 2.0 launched in 2016. Students tell us seeing grades in combination with the perceived workload of the course (something we also show in ART 2.0) helps them make decisions about their course schedule. Of equal importance, showing grades in our service helps "bust myths" about classes – or otherwise helps dispel the notion that "no one gets an A in this course." We are eager for students to use grade distribution data in addition to the other rich data in ART 2.0 to help inform their class exploration and decision-making.
The second new ART 2.0 feature worth noting is the feedback feature we have added to the tool. Now, users can tell us if they have a positive or negative experience with ART 2.0, as well as leave comments for the ART 2.0 team. We want to hear from our users, and plan on using the feedback we get when examining additional ART 2.0 features.
Finally, we have improved the ART 2.0 search functionality so users can easily toggle between searching for courses, instructors, or majors. Like all of the software we build in the Office of Academic Innovation, we took user feedback on the search experience in ART 2.0 and made improvements to it- making the process of searching less confusing and easier for our users.
Check out ART 2.0 and the new features we've added, and feel free to give us some feedback too. We will keep improving the tool in service of the university and its community.