Online course series features insight from leaders of top companies including Siemens, Ford, and Microsoft
Sean Corp, Content Strategist
It can be hard to keep pace with how technology is reshaping critical sectors of the economy. Manufacturing, in particular, has seen digital technology continually redefine every aspect of the value chain.
A new online course series from the University of Michigan explores the ways modern technology is transforming manufacturing, including the concepts behind the technologies and their practical and business applications.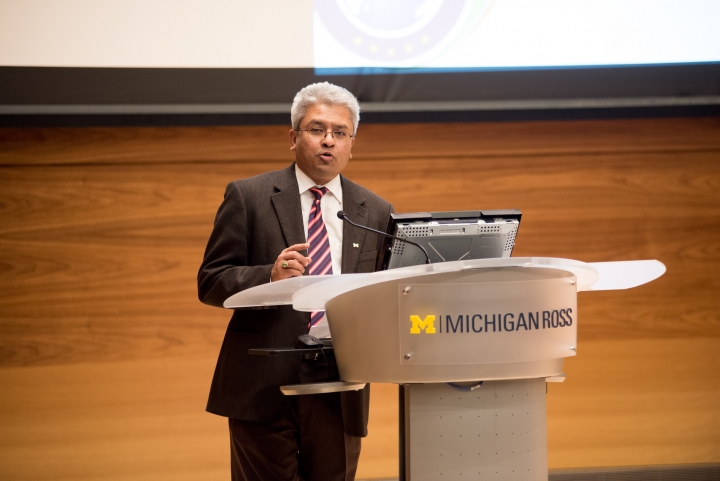 The three-course series covers the industrial Internet of things, digital twins and additive manufacturing and is part of a Future of Technology Thought Leadership series developed through a partnership with U-M and Siemens Digital Industries Software. The courses feature executive and engineering leaders from Siemens and conversations with manufacturing industry leaders from companies including Ford, GM, Microsoft.
Learn More | Digital Technologies and the Future of Manufacturing
The three-course series is taught by M.S. Krishnan, professor of computer and information systems and professor of technology and operations, at U-M's Ross School of Business. Krishnan provides the academic perspective and guides the conversations with industry leaders to get the perspective from those facing these issues every day.
"It was important to me that we get the perspective of business leaders who are confronting these challenges every day," Krishnan said. "I needed this course to represent the realities manufacturing is facing today. In order to explore how these technologies are transforming both manufacturing processes and business considerations, I wanted to get a variety of perspectives and engage leaders in thoughtful conversations."
Partnering with Siemens, a Global Leader
The opportunity to partner with Siemens was especially appealing, Krishnan said, because they are not only a global entity that faces these issues, but they are pushing manufacturing forward.
"Throughout my career, I've worked closely with many folks at Siemens, and I know the kinds of amazing things they are doing that will excite and inspire students," he said. "This is an opportunity to expose a new generation of students to new technologies — including technologies like personalization and 3-D printing that they see in their daily lives."
Krishnan worked with a team at the University of Michigan's Center for Academic Innovation, including learning experience designers, behavioral scientists, researchers and production managers while engaging closely with a core team at Siemens. The team from Siemens then connected Krishnan to engineers and leaders throughout the company for conversations featured throughout the course series.  
"Partnering with Siemens is great because they understand just as clearly as we do that the future of work is always changing and it is imperative that we provide flexible pathways for learners to evolve with it," said Lauren Atkins Budde, director of open learning initiatives at the University of Michigan center. "Learners from all over the world at various stages of their careers from undergraduates to senior leadership in industry will gain valuable insights from Krishnan, Siemens and the other business leaders featured in the courses."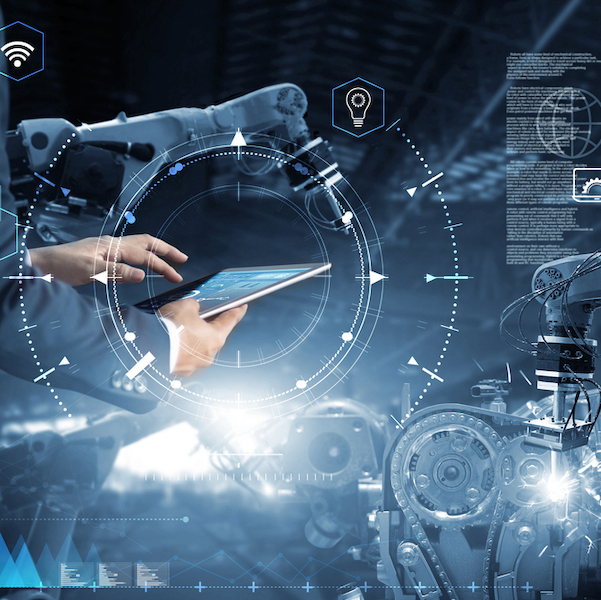 Digital Technologies and the Future of Manufacturing
The three-course series is available on the Coursera online learning platform. Individual courses within the series are devoted to:
The Industrial Internet of Things: How our interconnected and networked devices are used in the manufacturing process for data collection and analysis.
Digital Twin: Virtual representations of a product that allows for simulation, analysis and collection of real-time information on the use of products.
Additive Manufacturing: Building a product layer by layer with minimal waste, such as 3-D printing, and how it impacts design, manufacturing and inspection of industrial products.
The courses explore each technology and ask industry leaders to consider the technology's various applications in their business, explore complexity and scale issues, the business advantages and challenges of the technology, and what the future might hold.
These technologies represent a natural evolution within manufacturing, Krishnan said. "The industry is always interested in optimization and efficiency, and as technology improves, it opens up wonderful new possibilities," he said.
A perfect example is within the auto industry, which has always worked with mockups of its products. Those physical mockups eventually became digitized. Companies like Ford wanted more, however. They wanted a detailed mockup of every aspect of the vehicle.
"That mockup is actually the combination of driving behavior, of the physics of the vehicle, of the software running it, of all the sensors playing together with the physical hardware," said Stefan Jockusch, former vice president of strategy at Siemens, in a one-on-one with Krishnan found in the course. "It's an evolution that really is necessary today because every product we touch is usually a combination of sensor, electronics, and complicated mechanics."
While each course focuses on the individual technologies and applications, it also explores how the technologies intersect. In the Digital Twin course, Krishnan speaks to Nash Chakraborty, a senior director of marketing at Siemens, who talks about how a crane company used Siemens simulation software to gain insight into potential issues with the production of their products. The company carefully examined essential factors such as torque, weight, stress points, and potential hot spots. They not only learned a lot from the simulation, but they also put sensors on a physical prototype to collect a wealth of real-time information, a concept explored in the Industrial Internet of Things course. The data gathered informed how to adapt the simulation software, optimize their design and collect valuable data.
Annie Zeng, a digital innovation specialist of advanced manufacturing at Ford Motor Company, talks in one of the courses about Ford building digital twins of not only its vehicles but of entire factories. These digital representations allow the company to collect real-time information on operation, performance and any potential constraints. The company can then address issues remotely and also send employees for physical inspections more efficiently.
The "Customer of One"
Within all the courses, there are discussions of how consumers drive these changes and how global companies address diversity, equity, and inclusion issues in digital manufacturing.
Just as businesses collect more information on their customers, customers also have access to a wealth of information shaping their expectations for what they get out of their products, Krishnan said.
"Manufacturers now have to be concerned about a customer of one. They need to develop personalized experiences so that the product meets the personalized needs of each customer. It's no longer about scale manufacturing but instead about being able to meet each customer's needs," he said.
The Coursera platform allows learners to enroll in one or all three courses in the series, and the lessons are on-demand. There are opportunities for self-reflection exercises, discussion forums with specific prompts, and course operations staff at U-M to monitor learner progress and address issues along the way.