Eric Joyce, Marketing Specialist
@ericmjoyce
Earlier this month, University of Michigan accessibility experts and members of Academic Innovation Initiative Design Groups discussed ways to enhance access to digital content and tools at U-M. The discussion on accessibility and universal design focused on ways to accommodate the needs of as many students, faculty, staff and global learners as possible in order to foster an inclusive educational environment.
The following accessibility experts from across campus shared their insight into strategies and practices for creating a widely accessible community:
Jane Berliss-Vincent, Assistive Technology Manager at Information Technology Services
Jack Bernard, Associate General Counsel and Intermittent Lecturer in Law at the Gerald R. Ford School of Public Policy
Stephanie Rosen, Associate Librarian and Accessibility Specialist at the University Library
Scott Williams, Web Accessibility Coordinator at the Office of Institutional Equity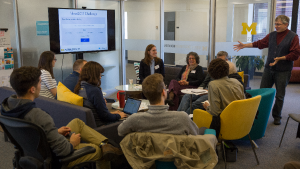 Jane Berliss-Vincent opened the discussion by urging participants to consider the concept of "universal design" in favor of "accessibility." She explained "accessibility" commonly refers to adapting or retrofitting technology for individuals with disabilities whereas "universal design" is a principle of constructing environments with a focus on multiple modalities, thereby serving the needs of individuals without the need for adaptation or specialization.
"How do we include as many people as possible?," Berliss-Vincent said.
Topics of discussion throughout the Innovation Hour included the agility required when integrating accessibility and universal design principles into organizational policies, the potential cost and time savings by constructing environments with a universal design framework and why meeting minimum standards fails to accurately reflect an inclusive learning environment.
Section 508 of the Rehabilitation Act mandates that federal agencies make electronic information accessible to members of the public with disabilities, as well as employees with disabilities. Section 508 applies to certain public colleges and universities that receive federal funding, such as through the Assistive Technology Act.
"Doing just what other people do isn't good enough," said Jack Bernard. "Accessibility is a given – not a goal."
Bernard noted some U-M students and lifelong learners have immediate accessibility needs and additional efforts to address those needs could have a substantial impact on their educational experiences. Stephanie Rosen echoed those remarks commending many Michigan instructors who are proactive in building accessible and inclusive learning experiences for residential students and online learners worldwide. She and others discussed how U-M can continue to educate faculty as well as introduce new instructors to resources and universal design best practices to craft enriching educational experiences for all learners.
"In a teaching context, providing multiple modes of engagement is a good thing…without deciding beforehand who which [mode of engagement] is for," Rosen said.
Scott Williams urged website developers to explore ways to create beautiful user experiences which are also accessible to all users without the need for potentially time-consuming retrofitting. He explained his approach when evaluating existing web interfaces for accessibility compliance.
"If you're in any way affiliated with a digital interface, unplug your mouse and move it out of sight," he said. "If you find you can't do everything with the keyboard on that interface, I guarantee there are accessibility problems that need to be corrected."
Williams and the other experts referenced a guide of 10 Instructional Accessibility Tips for U-M faculty who are interested in adapting their learning environments for all students. For additional accessibility and universal design guidelines, best practices, tools, and/or procedures, and/or to request to have your university website formally audited for accessibility, visit the Web Accessibility at the University of Michigan page.
Academic Innovation's Accessibility Guiding Principles provides the Academic Innovation team with a framework from which to operate when partnering across the University. Read how accessibility is incorporated in Academic Innovation's institutional ethos and how it is incorporated into the design process.
Do you have any ideas or recommendations to help enhance U-M's efforts to provide access to content for all learners? Submit your idea to the Ideas2017 Challenge and help shape the future of Michigan's academic environment.
Innovation Hour is hosted two times per month by the Office of Academic Innovation and features a different theme each session. Faculty, students and staff are welcome to stop by, discuss ideas, share experiences, have questions answered and meet members of the Academic Innovation team. Visit the events page to review a list of upcoming topics of discussion at future Innovation Hours.