Learn the history of the piano sonata including analyzing compositions from Bach, Mozart, Beethoven, Brahms, Chopin and more
Hannah Triester, Communications Fellow
Music takes listeners on a journey, and is a form of storytelling familiar to Assistant Professor of Piano Literature Matthew Bengtson. Bengtson wanted to bring that same focus on storytelling to building his 12-week online course series "Exploring Piano Literature: The Piano Sonata." This meant organizing historical events, major composers, forms, and styles of the music genre into a coherent, structured narrative. Layered with exclusive performances and lecture recordings, a story typically reserved for the graduate classroom has opened to a global audience on the Coursera online learning platform.
Bengtson had experience using a video format for teaching narrow, introductory topics, but he wanted to expand his subject, audience and reach with an open online course. "The MOOC space is not very populated with arts and culture at this point—it tends to be more on the side of science, social science, and computing," Bengtson said.
So he filled that open space with three courses on the piano sonata: Origins to Mozart, Beethoven and the Romantics, and Russian and 20th-21st Century Composers. And the online accessibility of the sonata series means music students and amateur music lovers alike can enjoy the course on their own respective terms. Exploring the depth of the piano sonata, music theory, and historical evolution—and listening to many of the contemporary instruments of early periods—is made easy.
An Evolving Art Form
For those who love music and want to explore it more seriously, the first question might be what exactly is a piano sonata?
"The sonata began as just a piece that you play, a wide open field. It should be a piece that's serious, one for instruments, in several movements. A 'sonata' is therefore music that is 'played' rather than a 'cantata' which is music that is sung. For much of its history it was in three movements, fast-slow-fast, and the first movement especially was often organized in a particular way. Most sonatas had a certain shape one could expect," Bengtson explained.
Enroll Now | Exploring Piano Literature: The Piano Sonata
Eventually, the style evolved as composers fought against the standard structure, and the sonata continues to change today.
"In more recent times, a sonata could once again take on any shape. Just looking at the big picture, when a sonata started with wide possibilities, and then became somewhat narrow and codified, and then opened up again — it gives a musician a certain freedom looking at a sonata, realizing it's not necessarily strange if it doesn't do what Beethoven used to do."
Making Music Education Accessible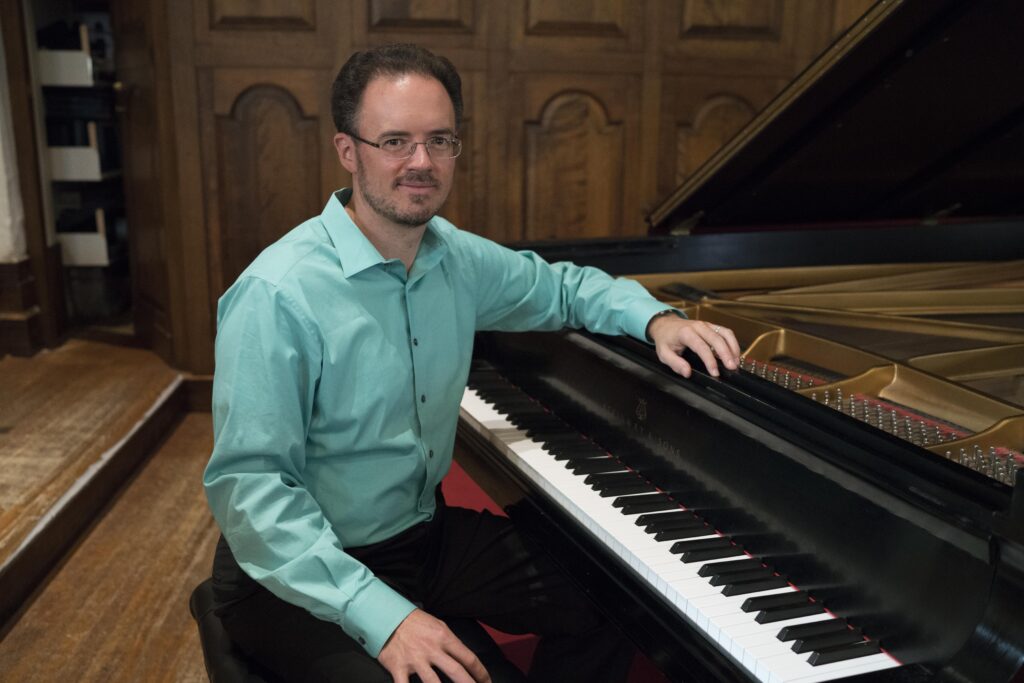 Bengtson was excited to develop a course in the online space, trading the interactivity of a typical in-person course for accessibility and allowing learners to explore the content at their own pace, which he said has "tremendous advantages."
"I would say that's the main advantage: although a MOOC can be a little less interactive, control of one's pace and broader accessibility are huge gains. A typical class will always be too fast for some and too slow for others; that's the reality of teaching multiple students at the same time," Bengtson said.
In Bengtson's courses, a learner can participate fully regardless of experience. Interest is the factor that really matters. "The more thoroughly you understand something, the more enjoyable it's going to be. But I made an effort to make things as accessible as possible for people who don't know theory in detail… the overwhelming majority of the course should be both interesting and possible to follow along for all types of learners," Bengtson said.
What does all of this actually look like? A meticulously planned, multimedia three-course series covering each historical period of the piano sonata. A narrative journey with self-paced material offering flexibility, graphics of intricate note patterns that align with recorded audio, visual performance recordings and spoken explanations, traditional readings and interactive unit assessments.
Based on experience, time constraints, and interest levels, learners dive into the piano sonata, which relies on a "several-pronged learning objective approach," Bengtson explained.
"One is getting to know important compositions; a second is contextualizing them within music history and the history of the genre; the last is analytical – understanding the nuts and bolts of how things go together."
"If you're trying to understand a specific Beethoven sonata, then you need to know how many Beethoven sonatas there are, and where does this one fit in that picture, and then where does Beethoven fit—what came before him and what did it lead to—and then what's going on in this particular piece."
The Narrative Arc of the Piano Sonata
Developing the piano sonata series meant fitting together all of these puzzle pieces with steady progression and logical structure. "The story has to be told with reference to particular pieces that had influence or illustrated certain points and trends" because "some pieces are really important on the history side, others are important to look at for how they are constructed… It's all trying to make an overall picture and have enough detail without being overwhelming," Bengtson said.
But each puzzle piece needed to be created. Graphics were designed, performances and lectures were recorded. It was a time-consuming process, but Bengtson was adamant on doing whatever the course required.
"There were some times where I realized creating a certain video or visual aid is going to be some extra work, but this is the benefit of this format: if we don't do this, then what's the point? You have to use these tools and really make things easier to understand by doing it visually and giving learners the ability to replay and reconsider your materials."
Bringing Music to Life with Period-Appropriate Instruments
Fortunately, Bengtson was able to feature real piano playing throughout the course, often with period-appropriate instruments in the various lessons. He was able to record in Watkins Hall in the Moore building on U-M's campus, and off-site instruments located in homes in the area. Learners can hear and see the harpsichord, several Viennese fortepianos, a square piano, a clavichord, and several Romantic pianos, in addition to the expected modern Steinway piano.
Learn more about and enroll in Matthew Bengtson's piano sonata series via Michigan Online. University of Michigan students, faculty, staff and alumni can enroll in the course free.
On the future of music education online, Bengtson actually envisions heightened engagement with older generations. "People always worry that the audience for classical music is old, but I think it's natural. It may be an ideal time of life to explore these kinds of artistic activities, if you didn't earlier in life," he said. As people adjust to an increasingly hybridized work environment, online resistance might finally give way to realized opportunity.
"The opportunity to learn new things is one of the great things about being alive," Bengtson said.