Parnia Mazhar, Communications Fellow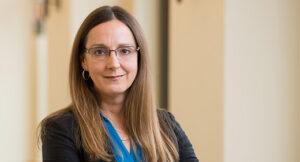 Elisabeth Gerber is the Jack L. Walker, Jr. Professor of Public Policy at the Ford School and the faculty innovator behind ViewPoint, a role-playing simulation tool. ViewPoint allows users to build customizable simulations of real-world events, where participants learn by playing the role of a character within the scenario. Created in 2016, ViewPoint was among five projects recently honored with the Provost's Teaching Innovation Prize for innovative approaches to strengthen student education. ViewPoint is used across U-M in classrooms as well as other institutions including Boston College, Georgetown, and Ball State University. The platform is also used by the Sanger Leadership Center in the Ross School of Business during its annual Leadership Crisis Challenge which attracts hundreds of participants each year. 
Learn More | Visit the ViewPoint Website
We recently asked Gerber about her journey working with the Center for Academic Innovation to develop and grow the application, as well as about what she sees coming next for ViewPoint.
What challenges were you hoping to solve through the development of ViewPoint?
I had been using role-playing simulations in my Ford School classes for many years, but as the sims got larger and more complex, I struggled to keep track of all the moving parts. I envisioned a one-stop tool to organize all of the materials needed for the simulation. But I didn't have the technical skills to build it myself.
Can you recount a time you have received feedback from a student or seen the tool used by students that let you know ViewPoint was working how you intended or in ways you didn't originally conceive?
ViewPoint simulations provide opportunities for students to learn about topics that are the basis of the simulation (i.e., processes, issues) as well as to practice and develop soft skills (i.e., collaboration, communication, empathy). I often get feedback from students who are asked to play roles that are very different from their own, who remark that through the simulation, they gained much greater insight into WHY their character had such a different perspective.
How has your previous experience influenced your views on the importance of role-playing simulations?
In 2013, I was appointed to serve on the Regional Transit Authority for Southeast Michigan, a governmental entity that was charged with creating new public transit opportunities across the four-county metro Detroit region (including Washtenaw County). I knew, intellectually, that the representatives from each county would hold very different perspectives regarding public transit, but it was not until I actually sat at the table with them and tried to work toward common solutions that I really appreciated the nature and extent of those differences, as well as the strategies that could help us bridge those gaps. Through role-playing simulations, students can get a taste of that experience — how to work with, listen to, and collaborate with others with different viewpoints. 
What does the future hold for ViewPoint? What are some of the things you are doing now to lay the groundwork for the future?
ViewPoint has been used more than 50 times in a wide range of classes and educational settings: At U-M, other colleges and universities, high schools, and nonprofit organizations. Each time an instructor uses ViewPoint in a new area or on a new topic, the CAI/ViewPoint team solicits feedback so we can continually improve the tool. Right now, much of the ongoing development is around optimizing ViewPoint to support fully online simulations.
Why do you think tools like ViewPoint are especially beneficial during the time of COVID-19?
As educators search for ways to create engaged learning experiences in their remote classes, ViewPoint supports student-to-student learning in the online environment. It can also be used outside of the virtual classroom, i.e., in student orientations or cohort-wide activities, to help create a sense of community.