Hannah Triester, Communications Fellow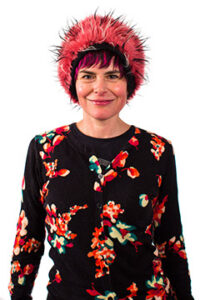 Melanie Manos is an interdisciplinary artist working in performance, video, print, sculpture and installation, as well as a University of Michigan MFA grad and a lecturer at the Stamps School of Art and Design. She is also the creator of Michigan Online's newest four-week course, "Visualizing Women's Work: Using Art Media for Social Justice."
Enroll Now | Visualizing Women's Work: Using Art Media for Social Justice
We spoke with Manos on the Visualizing Women's Work course and project, and how she translated many years of highly skilled work and passion into an accessible, paced, and engaging learning experience. She also describes art pieces of personal meaning to her, and how these impacted her gender-based activism.
What type of audience (age, artistic experience, education) do you envision engaging with the course?
We envision this course engaging a broad generational range, from high school to retirement age, and that has played out thus far in terms of our enrollee demographics. We envision those with and without any art experience who are interested in the subjects of gender studies, art/art history, and social justice, and how these topics coalesce in creative projects.
How might visual art be a starting point for discussion among these groups?
Learners will be guided in analyzing artworks – defining form, content and context to understand an artist's intentions, which usually reveals personal and/or socio-political implications. We've included artists from around the globe, and encourage learners to bring their specific cultural knowledge to the discussion.
How has your experience as an interdisciplinary artist informed the topics discussed in the course? Which mediums proved effective for communicating art history through the lens of gender?
I'm knowledgeable about performance art in particular, and give an annual lecture to the freshman Stamps class on historical and contemporary examples of performance art. As an interdisciplinary artist, I tend to be interested in artists who cross genres in order to find the materials/methods that best convey an idea. Most of the artists we discuss in the second week of the course, which introduces socially engaged artwork, are functioning in an interdisciplinary way. Regarding art media and gender studies, just about any and all – the main thing is that one often has to dig deeper to find women artists – which itself becomes a component of the discussion on gender bias.
Why is it so important to have a common language for discussing art? How does this help learners to connect visual and performance pieces with social justice issues?
It is so important! It helps us look beyond knee jerk responses of like/dislike, to probe into the choices the artist(s) made in the work which are usually very specific and convey meaning, giving space for contemplation and discussion. It also helps one feel more apt to engage in the discussion – having terms, vocabulary, and references from which to draw.
Did any of your personal projects inform the content of the online course?
Yes, in fact, my project Visualizing Women's Work is the premise of the course! VWW looks at the massive gender bias in monuments and other public historical culture, asking that we recognize this historical erasure and consider women's contributions – paid and unpaid (undervalued). It informs the content of the second/third weeks in discussing systemic gender bias and in analyzing non-traditional/non-patriarchal forms of monuments. The process of exploring ways to visualize an absence is in the fourth week of the course where we focus on the Visualizing Women's Work strategies such as augmented reality and interactive mapping.
Where did you draw inspiration for some of the creative lessons featured?
One source of inspiration is this terrific video of artist Matt Shlian on Sesame Street, working on a paper sculpture project with kids in which he has them try several types of paper to find the kind that works best. Another inspiration is my own experimentation with panty-hose, finding ways to use them (besides on my legs) to address and mock workplace gender dress expectations and hyper masculinity.
Is there a time a piece of art made a significant impact on your worldview? How did you design the course to help learners have a similar experience?
When I was an undergraduate living in Los Angeles, I visited the loft of artist Laura Howe who was creating huge charcoal drawings of historically significant women. It made a great impression on me, seeing her drawing skills used to make a socio-political statement in a visually stunning way. She and I went on to create a feminist performance group, Too Much Girl pre-dating the Riot Grrrls movement in Olympia by a year or so. We designed the course to reflect a wide range of experiences and responses of artists from around the globe who are creating surprising and non-traditional work, often in unexpected places.
Check out the course now, only on FutureLearn.