James DeVaney, Associate Vice Provost for Academic Innovation and Founding Executive Director, Center for Academic Innovation
@DeVaneyGoBlue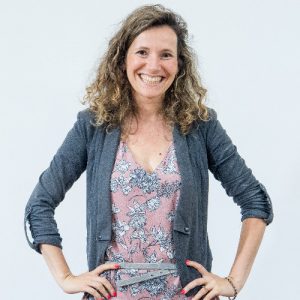 As we roll out the new Center for Academic Innovation at the University of Michigan, we aim to bring innovators and stakeholders together to advance a much needed nationwide network for academic innovation. Questions around access, affordability, and flexibility are of great importance to this growing community.
Pauline Cohen Vorms has held positions with some of the most interesting companies in the education innovation space. Tying these experiences together is a commitment to open access and affordability. In her current role, Pauline is the Director of Business Development and Partnerships at the Holberton School, a new school founded in San Francisco in 2016 to give students practical experience through a Full-Stack engineering program. They have since opened campuses in New Haven, CT, Bogotá and Medellín, Colombia, and Tunisia, and are planning for additional growth.
Pauline and I connected to discuss curricular and business model innovation at the Holberton School, removing barriers to access to education, and student demand for project-based learning and peer learning.
---
Q: You've held some very interesting positions focused on innovation in higher education. What attracted you to the Holberton School? What about Holberton sets it apart from the many organizations that make up today's educational ecosystem?
I've always been attracted to companies with the mission of open access to education to the masses. Today, college tuition at many institutions is so astronomical, that only students with money are able to afford post-secondary education without going into a massive amount of debt. Coming from Europe and Israel to the U.S., I was shocked to realize that education here, and, in fact, many places, was still a privilege when it should be a right. It's what brought me to Coursera, where we worked on democratizing access to education with innovative university partners through MOOCs and, later, through online accredited programs.
Holberton, for me, is moving the needle even further, tackling other barriers to accessibility by successfully using a blind admissions process, as well as removing upfront tuition and application fees.
Q: Many institutions talk about curricular innovation and student collaboration but they don't all mean the same thing. How does the Holberton School enable collaboration through project-based learning and peer learning? How are students responding to Holberton's model and curriculum?
By removing teachers from the education model, Holberton is a scalable, affordable, but sustainable, solution to the teacher shortage, which is especially prevalent in growing and developing economies. We are also aware of the need to equip our students with the necessary tools to teach themselves when new problems are thrown at them when they reach the workforce. We give students the tools they need to learn through hands-on and peer learning in order to replicate the workplace experience. We want our students to be able to grow and thrive and continue to learn when they walk out the doors of Holberton.
Q: Can you tell us a little more about the curriculum and how students engage with pathways?
Our curriculum aims to train Full Stack Software Engineers. To do so, we focus our first year with onsite intensive foundations of software engineering, including low-level programming, devops, and high-level modern languages. Afterward, students have the option to specialize in an emerging technology such as Machine Learning, AR/VR, C low-level and algorithms, and web stack development.
Q: What are income share agreements (ISAs) and how do they work? How is this model working for students and for the Holberton School?
An ISA is an agreement made between a student and their school, where school lends the student their tuition money in return for a percentage of their salary once they earn a salary over a minimum threshold. ISAs allow students to attend school without having to pay in advance, but rather to pay the school back a percentage of their income ONLY after finding a job, tying the success of the student to the success of the school, offering a more sustainable tuition model.
At Holberton, our students go through our two-year program without having to worry about tuition debt. In the U.S., after landing a job in the tech industry with a salary of more than $40k — the median salary of our graduates is $107k — they pay back 17 percent of their yearly salary throughout the course of 3.5 years. Rather than demanding a specific number, graduates only pay an affordable amount based on their income and unlike other students at some of the traditional universities, don't end up with a lifetime of debt that they cannot reimburse. And Holberton prices its ISA at the same amount as the upfront tuition (which is also an option for those who prefer). This is not trivial as it means that students are not charged additional fees or interest because they took a success-based payment. This being said, not all ISAs are created equal. At Holberton, again, our ISAs are capped at the amount of the upfront tuition, which means students are not repaying more than they would have paid if they could or chose to pay upfront. Some institutions are sometimes capping their ISAs at a multiple of the upfront tuition. Holberton enables students who otherwise would not be in a position to receive high-quality training and secure employment and financial stability.
Q: Do you see the Holberton model being successful in different parts of the world?
Today, there is a huge global demand for highly skilled software engineers capable of working in teams and on real problems and that demand is constantly growing. The beauty of the Holberton model is that it actually solves a lot of global issues: the shortage of teachers, lack of public funding, and need for sustainable models.
Holberton's ISA tuition model has been proven to be so effective at our U.S. campuses, we have expanded and opened schools around the world where the economy is growing, including locations in Colombia (Bogotá, Medellin, and Cali) and Tunis, Tunisia (with many more in the pipeline). ISAs are giving the under-privileged the opportunity to grow and are providing stimulus to tech industries in these areas.
Q: What do you hope more traditional research universities will learn from places like the Holberton School?
As an advocate for accessible education, my hope is for more diversity at traditional universities. Holberton has been successful with using a blind admissions process where the students' admission is solely based on the capacity of the applicant to successfully build the projects, demonstrate grit, and show an aptitude for collaboration. The process is fully automated, so demographic data or previous performance is not being taken into consideration. This process derives from our commitment to accessibility and willingness to remove possible human bias. It would be exciting to see more traditional research universities look into these new ways of selecting students. And to further accessibility, I hope to see more traditional universities investigate ISAs as a potential financial instrument for their students.