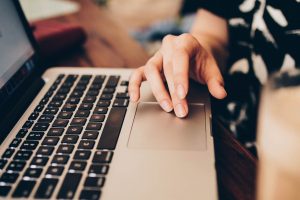 By Ricky LaFosse, Compliance and Policy Lead
As the university moves past the emergency phase of its COVID-19 response and into a longer-term outlook for online course offerings, the Center for Academic Innovation has released a new guide on this topic, "
Keep Complying: Launching New Online Courses Amid Coronavirus
." Specifically, this guide introduces academic leaders and administrators to key distance education compliance topics and unique distance education policies, procedures, and resources that exist at the university.
While the university largely remains physically closed in response to the COVID-19 pandemic, U-M's schools and colleges have sustained learning by transitioning to remote instruction and learning models. In support of these efforts, CAI, the Center for Research on Learning & Teaching, the University Library, and Information and Technology Services, along with other U-M units experienced with learning and communications technologies, have been offering assistance in a variety of ways.
Online Teaching at U-M
Resources include virtual workshops and office hours, developing "keep teaching" and "keep learning" materials, and devoting time and attention to collaborative problem solving with faculty and academic administrators. The center also launched the Online Teaching at U-M website to serve as a portal to existing resources, trainings, online courses and more.
Despite everyone's best efforts to ensure quality learning experiences through the transition to remote instruction (both at U-M and throughout higher education), there has been wide recognition that these emergency "remote instruction" courses should not be held up to the same regulatory standards as planned-from-the-start "distance education" courses. Higher education regulators and accreditors even relaxed many regulatory requirements that would ordinarily apply to online for-credit courses, at least temporarily.
This initial transition to remote learning is coming to a close, but campuses remain closed for in-person instruction (at least for spring and summer terms). We now must consider how expectations from students, regulators, and accreditors may change moving forward.
Guidance on Key Questions
The "Keep Complying" guide reflects contributions from numerous offices across U-M in addition to those from the center and may serve as a helpful starting point for this task. In addition to compiling institutional resources on numerous compliance topics that can be shared with instructional faculty, instructional and learning designers, and others directly involved in online course development, Keep Complying leads program administrators through answering five essential questions:
What, if any, restrictions on offering online courses apply?
Are there additional documentation and reporting requirements?
How should these courses be coded for enrollment management purposes?
What additional information do students need, and how can I ensure that this information is distributed?
What course-level compliance considerations should faculty and learning designers be aware of, and how can I support them in these efforts?
As academic units continue to navigate instructional modality changes during this challenging period, please know that the Center for Academic Innovation will continue to support these efforts in any way we can.
Questions about or suggestions for future topics to include in Keep Complying can be directed to ai-ohp-approval@umich.edu.