Steve Welsh, Learning Experience Designer
@SteveDotEdu
Earlier this May, the University of Michigan hosted the first Teach-Out Academy,  where ten universities came together to explore how online Teach-Out events might be utilized to engage communities in discussion around important topics of our time. Among the Academy participants was Notre Dame's Office of Digital Learning. Over the course of the Academy, an exciting collaboration emerged between University of Michigan and Notre Dame around the topic of Puerto Rico's recovery from Hurricane Maria. We decided to co-develop a Teach-Out entitled "Listening to Puerto Rico," which would prominently feature the voices of Puerto Ricans from diverse backgrounds telling their own stories.
Both institutions organized teams comprised of faculty and media producers to travel to Puerto Rico to listen and learn from people on the island. Days before leaving in late-June, we convened a two-day design jam in South Bend to coordinate our design approach and interview strategies, and then our teams were off.
The Michigan team was led by Will Potter, U-M faculty and investigative journalist, who conducted interviews with Puerto Ricans from all walks of life. We heard powerful stories of loss and recovery, abandonment and resilience, disappointment and hope. What follows is a sneak peak of what we heard from Puerto Rican residents who lived through the hurricane and its aftermath.
Before dawn on a rainy morning, our team left San Juan to drive high into the lush, remote mountain landscape of Orocovis, where we joined a group of volunteers (led by Michigan School of Public Health student and Puerto Rican native Amilcar Matos-Moreno, along with several fellow SPH students) who were pitching in to rebuild a mountainside house that had been devastated in the hurricane. Our team came hoping to assist in the rebuilding, but the rain threw a wrench in our intentions. This gave us an opportunity to talk to the residents and get a sense of the extent to which the hurricane impacted them. What our team heard from them, and so many of those we spoke to, was that the solidarity within their communities was what really rescued Puerto Ricans in the weeks and months following Maria. There was such willful, undeniable resilience evident in many of the people we talked to, alongside a heavy-hearted acknowledgment of the shortcomings of the local and federal government's response. We left Orocovis inspired by the work that Amilcar and so many community members are contributing to get their neighbors' households back to a livable state.
Near San Juan, in the Central medical district, we visited the office of Dr. Ivan Figueroa Diaz, a family practitioner. In the weeks and months following Maria, when his entire area was without power and most with the means to do so fled the country, Dr. Figueroa stayed and dedicated himself to helping his community through the very dire crisis. He took us for a ride-along tour of the neighborhood, during which he pointed out areas of the town that were hit particularly hard, and he described the scope of the public health disaster as it affected his community. The gravity of what you will see in the interview hit us in a way none of us could have anticipated.
The next day, our team secured an on-the-record interview with a Deputy Field Coordinator from FEMA. We were granted a 15 minute window with their spokesperson Justo Hernandez, a native Puerto Rican with over 20 years of FEMA service. Having researched some of his previous interviews, we knew to expect a success story of swift recovery and efficient bureaucracy. We asked the spokesman some hard questions about the disconnect between the official narrative and what we were seeing on the ground, and the resulting interview was quite compelling.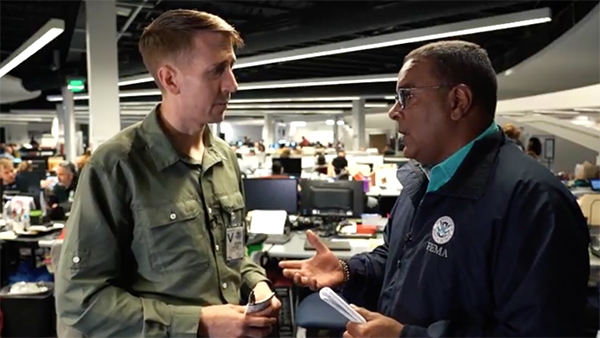 Puerto Rico is a famously Catholic island, and it celebrates many of the faith's holidays with its own particular flair. La Noche de San Juan, for instance, is a celebration of St. John the Baptist celebrated by Catholic communities throughout the world. In Puerto Rico, it's a festive night where faithful and secular alike recognize the occasion with a midnight baptism as a cleansing ritual to wash the previous year away. This year, there's a lot to wash away for the residents of the island. We trekked to a San Juan beach known to be the gathering place for locals, and talked to whomever we could persuade to speak on camera about what this year's ritual meant to them. We heard stories about hardship and resilience, about young people weighing their options in a tough job economy, often choosing to stay to support their family. Shortly after midnight, we joined them in washing away the previous year by diving backwards into the ocean. It was a joyous, but bittersweet night.
Much progress has been made to restore life in Puerto Rico back to what it was before September 20th, 2017, but there is still much to be done. We left indelibly inspired by the resilience of the island's residents, and now we want to share their stories with you. We encourage you to join us in listening to Puerto Rico.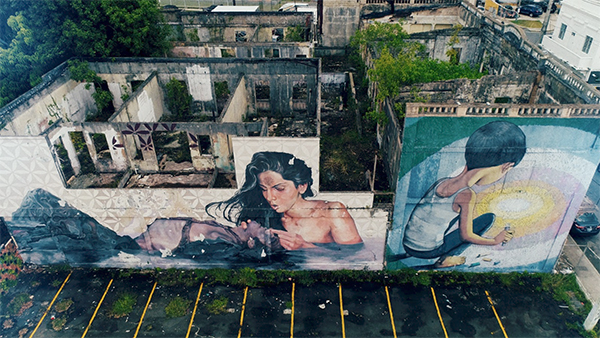 Join the University of Michigan and University of Notre Dame as we listen to Puerto Ricans discuss, in their own words, how communities have banded together in the wake of the storm to overcome enormous challenges, how the realities of the long-term recovery on the ground contrast from official reports and what everyday people like you, can do to help.
Join the discussion HERE when the Listening to Puerto Rico Teach-Out launches on Monday, August 27.