Jeremy Nelson, Director, XR Initiative
This is a very exciting time to be part of the University of Michigan community. The University has made major investments in furthering the quality and reach of a Michigan education by establishing the Center for Academic Innovation. Additionally, in September 2019, the Provost launched a 3-year initiative to seed projects and experiments to integrate Extended Reality (XR) for teaching and learning in the residential and online curricula across all 19 schools and colleges.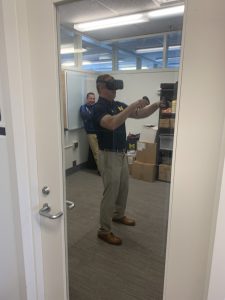 I began as the Director of the XR Initiative on Sept. 9, and very quickly learned that there was a deep interest in XR (Augmented, Virtual, and Mixed Reality) already emerging at Michigan. In 2017, a faculty steering committee formed to explore the diversity and reach of XR across the university. One of the key recommendations from that group, comprised of 11 of the 19 schools and colleges at U-M, was to create a new 12-credit Augmented and Virtual Reality Graduate Certificate Program. This month, the program was approved and will begin accepting applicants in the Winter 2020 semester. The certificate provides an opportunity to build on the interdisciplinary study of this emerging field within multiple departments and colleges on campus and capitalize on the strengths and research interests of the faculty.
One of the first things I wanted to accomplish in my new role was to gain a better understanding of the interests, areas of expertise, assets, and technologies that exist on campus today. I started down a path of connecting with faculty, staff, and students across the 19 schools and colleges to learn what was already being done, and how people are seeking to leverage XR to enhance and transform teaching and learning. In a little over 2 months, I have connected with more than 100 faculty, staff, and students engaged in XR in learning. The list grows every day. Needless to say, there is wide-ranging interest in this technology, and many faculty already use XR in their teaching. The Emerging Technologies Group at the Duderstadt Center has been a catalyst for a lot of early development and has created a number of XR experiences ranging from FTVM 150, "Introduction to Film, Television, and Media" to leadership training for senior level undergraduate and graduate Nursing students.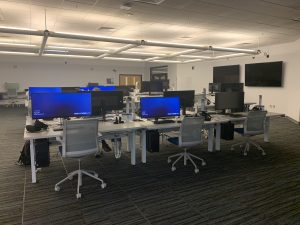 We have launched an XR Innovation Fund to seed an initial round of projects across the university to explore ways to advance multidisciplinary learning by creating scalable professional software development processes backed by research to ensure efficacy of XR in education. A first round of proposals are due Dec. 9 and we will look to award recipients starting in early 2020. Our goal is to seed a variety of projects across technologies, disciplines, and levels of complexity to build high quality experiences that can be delivered at scale. We will look to partner with other University staff as well as students to create and deliver these XR experiences.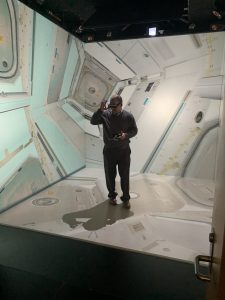 XR technologies are still in early stages of adoption and, to that end, we need to build greater awareness around emerging and best practices. I see the XR Initiative as the place to help foster new communities of learning and create opportunities for faculty, students, and staff to exchange and accelerate ideas. We will launch a new XR Speaker Series in the Winter 2020 semester to bring experts from academia and industry to share perspectives and open a dialogue on how to shape the future. To culminate the Winter XR Speaker Series, we will hold the inaugural XR @ Michigan Summit on April 14, 2020. This will be a day-long opportunity to hear from Michigan faculty and industry experts, experience demos of cutting edge technologies, and network with industry professionals, students, and researchers.
As a large public research institution, the university is uniquely positioned to help shape the future of education by creating tools and techniques to use technology to end educational privilege. Creating XR experiences calls for a multidisciplinary approach of software development, art, storytelling, and project management to deliver engaging and immersive opportunities rooted in learning experience design. I am very excited to bring my passion for technology and help others at the University of Michigan to shape the future.