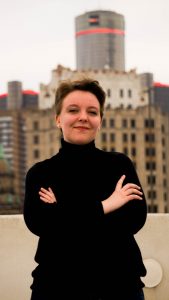 Parnia Mazhar, Communications Student Fellow
Online and hybrid education allows people with a vast range of backgrounds and career goals to thrive, especially during these unprecedented times. School of Education master's student Olivia Gorczyca has experienced the benefit of digital education firsthand.
Olivia graduated from the University of Michigan this semester with her master's in Educational Leadership and Policy and is currently an Online and Hybrid Programs (OHP) team fellow for the Center for Academic Innovation. She was already familiar with OHP because she utilized the program as a step toward completing her master's degree. Both of these experiences have opened her eyes to the value of online education for learners across the world.
Understanding the Needs of Online Learners
"A large number of students access a lot of these courses only with smartphones or cell phones," Olivia said. "So it's important to think about not just the local impact of online learning at our university, but how it's used globally as a tool for students to access quality education."
Her masters program and experience as an AI fellow allowed her to understand how crucial online learning is to help those in difficult circumstances receive the education they deserve.
Working Where It All Started
Olivia first became involved with AI when she was looking for an internship to fulfill a requirement for her master's program. After Donald J. Peurach, PhD, associate professor of educational policy, leadership, and innovation in the School of Education, connected her with the OHP team at AI, they decided the experience would be a valuable way for Olivia to apply her education knowledge in a professional setting.
Part of her role as a fellow is assisting with online discussion boards. She makes sure they are accessible to certain registered learners and are including topics on diversity, equity, and inclusion. She is also working to ensure conversations brought up in class can be addressed on these online learning platforms in real time. These experiences have given her a new perspective on online learning that she was not exposed to prior to the fellowship.
"It's one thing to conceptualize that something could be done differently, or something could be approached differently," Olivia said. "But actually laying out the plans and making the plans to put those ideas into action … all that kind of thinking that goes into the actual work – the actual heavy lifting of innovation – is something that I didn't know about."
Olivia's fellowship is informed by her personal experience as an online learner. When Olivia was starting to pursue her master's, she saw the opportunity to supplement her degree with a micromasters, or a hybrid online opportunity offered by the U-M School of Education. She was able to complete this program remotely the summer before she began at U-M, giving her a jumpstart on her degree. She finished 12 of her required credits during this time, making her master's program last for a year rather than the usual year-and-a-half.
The unique online opportunity also gave Olivia advanced exposure to much of the material she would learn in her traditional master's program. This helped her feel more comfortable with the content and allowed her to make deeper connections in class.
"We talk a lot about innovation and improvement in the micromasters, and in the traditional masters in the School of Ed, we talk a lot about leadership and innovation," Olivia said. "So, those kind of naturally meshed together. I felt that I had some learning and some information that my peers didn't."
The Flexibility to Shift Career Goals
Pursuing the hybrid online program helped Olivia recognize how online learning allows people with different workloads and schedules to get an education. When she was enrolled in the program, she also worked full time at a law firm. Online learning gave her the flexibility she needed to learn and get a head start on her degree and future career.
From starting out as an online learner and transitioning to an OHP fellow, Olivia has seen the true importance of online learning and the impact it has on the community. Working behind the scenes with AI and being able to develop the platform of a series of courses she took a year ago has been an amazing experience for her. Ultimately, it has really given her the clarity and confidence she needed to pursue a career in online learning.
"I think that more than anything, the internship along with a lot of my learnings in the Master's program has assured me that I am on the right track, that this is the kind of stuff that I want to do," Olivia said. "I knew going in that I was going to be nervous and it might be a little uncomfortable. But I think this experience proved to me more than anything that I am more capable than I give myself credit for, and that this is the kind of work not only that I like to do, but that I can do."