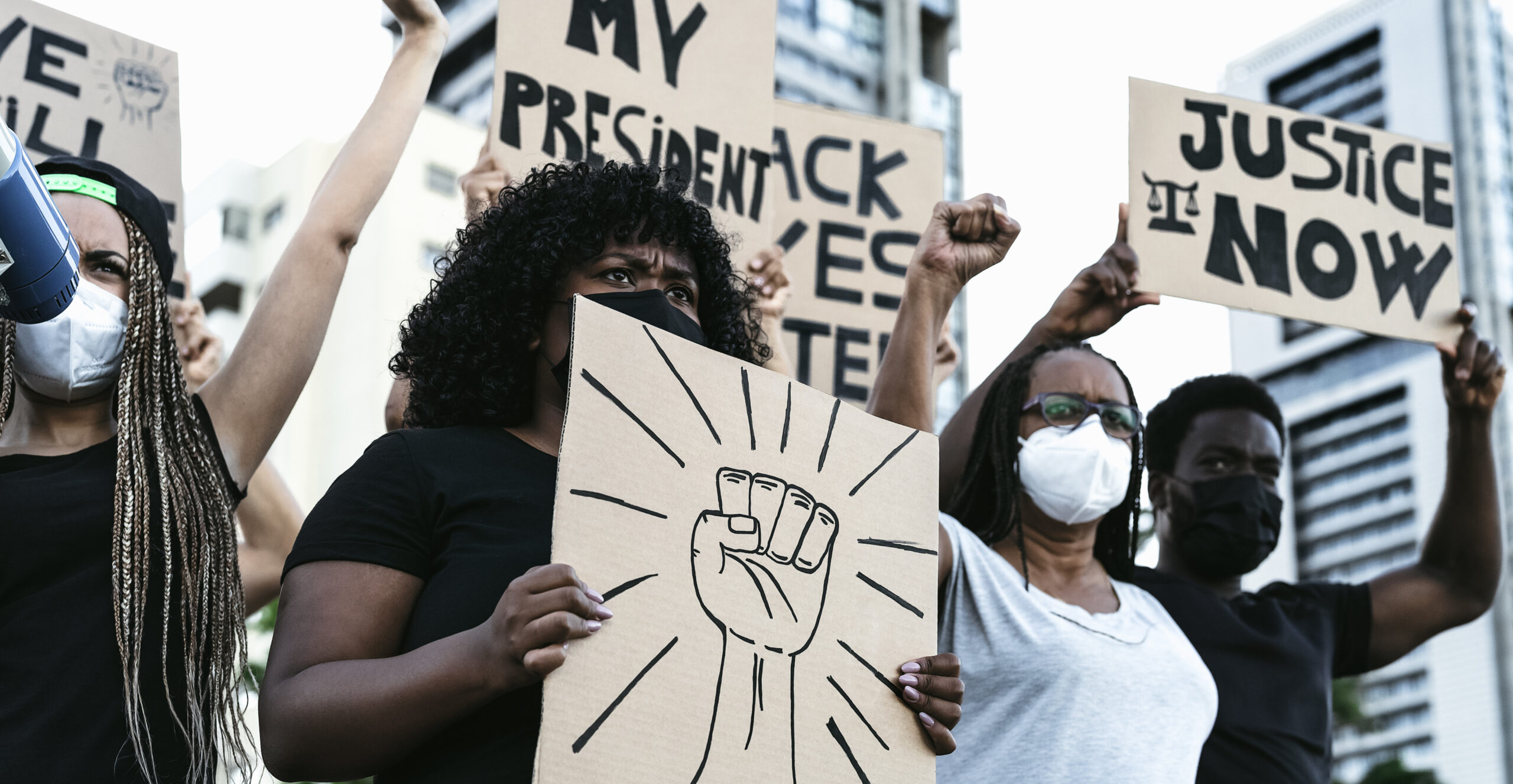 Hannah Triester, Communications Fellow
People respond to injustice variably. As the national epidemic of police brutality took center stage last summer amidst a raging global pandemic and shared uncertainty, the American masses engaged in combinations of online activism, in-person protest, and difficult discussion. Some forward-minded thinkers, however, took that time to question whether this civic momentum would last long enough for Black families and communities to see real results.
Ryan Henyard, a faculty experience designer at the Center for Academic Innovation, was asking the hard questions, and he wanted to help himself and others find answers. So, he decided to build a Teach-Out on police brutality in the summer of 2020. Henyard then adapted and added to that material in order to build a community awareness online course, keeping the conversation and learning going.
Enroll Now | Enroll inCommunity Awareness: Police Brutality in the U.S.
Ryan said that he realized the emergence of a new American reality, absent of punishment-based carceral solutions, requires a shared humanity. "Locally and nationally, so much of what's needed—in my opinion—is a broader, braver imagination," Henyard said. The community awareness course shapes learners' collective imagination because dreaming requires listening—to featured experts, to each other, to ourselves.
Developing the Teach-Out
Henyard's imagination and passion led him first to developing the Police Brutality in America Teach-Out, intended as a direct, rapid response tool to fill the gaps in traditional history lessons and contextualize the state violence imposed on George Floyd, Breonna Taylor, Ahmaud Arbery, and too many others. The Teach-Out became an effective, albeit brief forum for historical learning, personal reflection, and social engagement for thousands of learners around the globe.
But Teach-Outs are meant to achieve a narrow set of learning goals surrounding a sudden event or contemporary issue—the experience is generally limited to a four-hour commitment with an expiration date one month after launch. Ryan's Teach-Out was one of the most popular ever created at the center, but its time had come and gone by August 2020. With sidelined material for the Teach-Out on his mind, Henyard began designing a complete online course on the same subject, Police Brutality in the U.S.—this time using a community awareness model, a new form of online learning the center was exploring.
Though the topic of social justice has become increasingly popular in the past year, "the national conversation is really nascent, just beginning," Henyard said. "Putting this together is a way to make a durable, free, accessible resource for folks to better understand this [issue]."
The community awareness course is meant to establish a shared basis of knowledge, a foundation for conversations in various contexts about police violence. Henyard envisions community groups working through the course together in a local library; large and small organizations employing it as a check on the equity of their practices; international learners using the course to frame their countries' social conditions through comparison with the U.S.; and providing K-12 teachers tools for discussing the history and impact of police violence in their classrooms.
Henyard made this high level of adaptability a priority for the full course: he worked with colleagues at the center to develop facilitation guides for all sorts of interested groups, including young students for which the curriculum was matched to Michigan state and common core standards.
"In some ways [the community awareness course] is trying to help people take the express lane to that starting line of knowledge about the current state of police brutality, rather than having to hike all the way there over a decade," Henyard said. "This course makes it easier for people to get to a common discourse, a common language, to talk about the issues. It's an easier way to start having more generative conversations about the world we want to build."
Details About the Course
So what content do learners find in this online course?
Week 1 sets the stage with a history of police violence. Because the state-led marginalization of Black people is a subject largely absent from American textbooks, Henyard reasoned that some stories require retelling. "It was very important to me to make this course about the systemic issues and not the individual cases. A lot of public conversations get derailed with the details of a particular incident and a desire to make those singular and not systemic," Henyard said. Developing and implementing alternatives to policing means zooming out to the bigger picture of U.S. history, and looking into the past for what has and has not worked, Henyard said.
Learners will hear from Angela Dillard, the Richard A. Meisler Collegiate Professor in the Department of Afro-American and African Studies, History and the Residential College, on the impact of police violence on 20th century social movements. R. L'Heureux Lewis-McCoy, a professor at NYU Steinhardt, introduces the concept of abolition and institutional change, pointedly questioning the social systems we accept as givens. Henyard hopes learners might realize that "our version of the prison is not even that old as a concept."
Week 2 explores present conditions so we can dream of a different future. Shifting to the ongoing effects of policing on Black communities, U-M and community experts zoom into subjects like activism using music and the arts, the effect of systemic racism on physical and mental health, the school-to-prison pipeline, and ongoing gentrification.
"In the same way the course is looking at pieces that add up to a larger whole, this struggle [of police brutality] itself is intertwined with so many others," Ryan explained.
Week 3 adds political and economic context to the issue of policing. Barbara McQuade, professor from practice at the U-M Law School, introduces the legal doctrine of qualified immunity that often protects officers from legal consequences, and the strategy of pattern investigation to assess police department operations. These topics are followed by readings on police militarization, which was not part of the original Teach-Out. Learners will also hear from social worker-turned-officer Washtenaw County Sheriff Derrick Jackson, who attempts to help people understand an officer's job and responsibilities, because, as he posits, "how can you facilitate change if you really don't understand what you're trying to change?"
Stephanie Chang, Michigan state senator for district one, layers learners' understanding with the affordances and limitations of legislative reform. Henyard said he wanted to look at the "gap between what a lot of communities and constituents feel is appropriate action around policing versus what is legislatively possible." In week 4, her voice is complemented by a variety of industry perspectives: journalist Aaron Foley talks about Black individuals as news targets and the relationship between the media and police; politician and epidemiologist Dr. Abdul El-Sayed discusses the budget imbalance between the Detroit health and police departments; and representatives from Avalon Housing recount behavioral resources that have proven to be effective replacements for often-automatic police responses.
Education Into Action
Learners are asked to improve the lane in which they naturally find themselves, rather than attempt to start a reform initiative from ground zero. "Something should catch you at some point and let you align your life experiences with the different life experiences that we're asking you to consider," Henyard explained. For example, Dr. Armstrong's lesson on Colin Kaepernick's vilification (after he began taking a knee during the national anthem) offers new context for fans on a familiar topic in sports media. Henyard made sure to diversify the speakers in the full course so that you "can find someone whose values align with the world you want to make and collaborate with them and help them thrive."
The final and fifth week of the course cements historical knowledge and contemporary awareness into practical action. With a focus on skills required for effective community organizing, learners will think through communication styles, gathering information, and making plans. "I want people to feel more effective and less powerless," Henyard said. The ability to assess a nonprofit's budget or a police union contract proposed to a city council, for example, are local strategies made to be less daunting, Ryan said.
Learn more about and enroll in Community Awareness: Police Brutality in the U.S. via Michigan Online. University of Michigan students, faculty, staff and alumni can enroll in the course free.
"My hope is that the course inspires people to expand their sense of community, to include people that they may not have included before, and to take that sense of community and turn it into action."