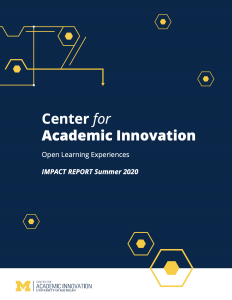 Our world is changing at a rapid pace, accelerated by a global pandemic and a social movement protesting racial injustice and systemic inequities. An informed, equitable, and empowered society depends on all its members adopting a learning lifestyle. The landscape of higher education is shifting, and the future of work is evolving.
While 2020 has brought many new challenges, one critical shift is the greater awareness of structural inequities that have long been a part of our society. While these are, in fact, old problems, we see new opportunities to transform access and create new opportunities to learn together as we step toward a better future. With this reality as backdrop, we are pleased to share our first Open Learning Initiatives Impact Report.
Guided by our commitments to access, affordability, excellence, and inclusion, we've developed learning experiences that act like the onramps, bridges, and intersections of a learner's educational journey. Onramp learning experiences meet learners where they are as they begin exploring new skills and concepts. They focus on belongingness and building a sense of community to empower learners to explore, take risks, and persist, like our upcoming Sustainability and Development MasterTrack™ certificate. We've created intersections for learners who are hungry to solve problems that require interdisciplinary thinking. These include the Impacting the Opioid Crisis: Prevention, Education, and Practice for NonPrescribing Providers course. Other learning experiences provide bridges for those learners who are looking for opportunities to connect with people in authentic ways across space, time, discipline, culture, language and generation, such as our multi-generational Earth Day at 50 Teach-Out.
This report celebrates our learners, faculty collaborators, platform partners, and team, and the learning experiences that connect us all. It marks over 11 million enrollments (and counting!) from 6.5 million unique learners. We share the stories, achievements, and impacts of the past 18 months. We invite you to get to know our portfolio of informative short-form content, interactive Teach-Outs on emerging issues, engaging massive open online courses, in-depth course series, and hybrid programs that offer pathways to credit and degrees. You'll read about our efforts to support the Michigan community at all stages of life through collaborations with the Alumni Association and Osher Lifelong Learning Institute. You will also learn about our efforts to redesign, translate, and provide greater access to our educational content, the launch of our Gamut suite of tools, and new strategic initiatives with industry partners like Siemens Digital Industries Software.
We are rapidly expanding our learning community and preparing participants in this growing and inclusive community for the future of discovery, the future of problem-solving, and the future of work. We invite you to collaborate with us so we can work together to extend academic excellence, expand our public purpose, and end educational privilege.
Go Blue!
JAMES DEVANEY
Associate Vice Provost and Founding Executive Director,
Center for Academic Innovation
LAUREN BUDDE
Director of Open Learning Initiatives,
Ce›nter for Academic Innovation