Amy Homkes-Hayes, Lead Innovation Advocate
@amynhayes
Recently we introduced Origin Stories, an Office of Academic Innovation Podcast series that features each one of our digital edtech tools. Origin Stories tells the tales of why and how our tools were born, uncovering our faculty partners' early motivations for creating teaching and learning software, and exploring what the future of these tools may look like.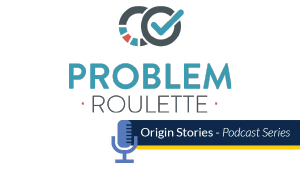 This month we welcome you to take a listen to Dr. August Evrard, Arthur F. Thurnau Professor of Physics and Astronomy, and Mike Mills, U-M alumnus and current UCLA physics graduate student, as they share the history and evolution of Problem Roulette, a "points free zone" web application for exam preparation. Learn more about Dr. Evrard's desire to help students more effectively study for courses that use multiple choice exams, while ensuring that all U-M students have access to past exam problems. Listen as Dr. Evrard and Mr. Mills discuss the early look and feel of Problem Roulette, and how much it has changed since they began collaborating with the Office of Academic Innovation. Explore with us what the future of Problem Roulette looks like including additional features like group study mode, which enables students to work with their peers on exam preparation. Click on the link below and enjoy learning more about this simple and effective digital edtech tool.