Marcus Hall, Former Design Management Fellow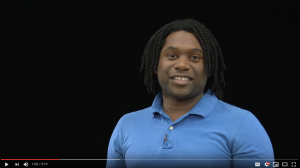 In late February, I was not sure what to expect as the Design Management Fellow at the Office of Academic Innovation since I knew I was going to be the first fellow for the Teach-Out Series. However, I saw an immense opportunity to shape my fellow experience when Benjamin Morse, Design Manager, asked me to craft learning objectives for my role. I poured over job descriptions of Learning Experience Designers and Product Designers, identifying key skills I wanted to gain. Shortly after, I held informational interviews with members of six different teams connected to Teach-Outs because I wanted to get the lay of the land for opportunities to collaborate at Academic Innovation. 
My Background in Inclusion and Accessibility 
In my previous internships, I had supported Sub-Saharan African professionals and community members living with disabilities such as blindness, mobility challenges, and deafness. This led me to think more intentionally about the learning experiences of participants living with visual impairments and certain cognitive disabilities. This, also, illuminated some challenges learners may experience when participating in Teach-Outs and provided a pathway for me to add significant value to the team by enhancing the accessibility of content in the Teach-Out Series. 
Performing "CPR"
After holding initial informational interviews and combining my previous work I found an opportunity to merge my role with the Learning Experience Design (LXD) team. Yuanru Tan, Learning Experience Designer and Accessibility Coordinator, acted as a mentor to help me to improve the inclusion and accessibility of Teach-Outs. Under Yuanru and Benjamin's mentorship, I scoped different projects, and as a result, I created the Concept, Practice, and Reminder (CPR) toolkit and training sessions. To create this, I reviewed 12 Teach-Out videos and identified potential barriers from the perspective of users living with different disabilities and identities. For example, in multiple videos, the speakers did not describe relevant details about the environment and objects around them. This means that a Teach-Outs participant living with a disability, like blindness, would miss crucial information for learning. 
I utilized multiple frameworks and guidelines in design and web accessibility, such as the "Universal Design for Learning" and the "Web Content Accessibility Guidelines," to contextualize my observations and created categories, learning objectives, and best practices that could be immediately implemented in Teach-Outs. Our final guidelines and recommendations fell into the following categories: Conversational Language, Inclusive Language, and Descriptive Language. See the image below for more details.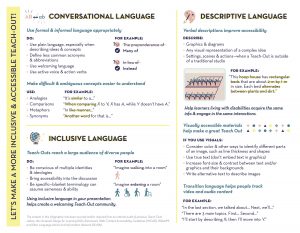 Challenges Along the Way
I realized midway through designing the plan that I did not have a working definition of accessibility and inclusion. In the online learning space, accessibility generally relates to users living with disabilities that people are familiar with, such as blindness or hard-of-hearing, while inclusion encompasses markers of identity, such as nationality, race, and language. However, a disability forms part of someone's identity. Thereupon, I integrated the two concepts because they were both equally important and influenced each other in this project. 
Another big challenge was working with the development timeline for Teach-Outs. From ideation to production, this timeline can vary from three or four months to two weeks. It is common to think about project timelines across weeks or months, but that metric is not always helpful for Teach-Outs because the frequency of planning meetings changes drastically depending on the launch date. Sometimes you might have five meetings in two weeks or three meetings in three months. This means you have less face-to-face time to train guest experts and Teach-Out hosts in inclusion and accessibility practices. The solution needed to be malleable enough so a Design Manager could use certain resources from a toolkit and training materials as needed, particularly for shorter timelines. 
Piloting "CPR"
The three deliverables in the toolkit and training, "CPR", include an instructional video, a double-sided infographic, and a pre-production training program. The five-minute instructional video introduces guest experts and hosts to Concepts in inclusion and accessibility. The pre-production training is a set of presentations for meetings leading up to production that surface prior knowledge among faculty and staff about inclusion and accessibility, along with presenting our guidelines and recommendations. The stakeholders Practice these recommendations with curated, tailored activities so they take theory and apply it to practice. Our double-sided infographic Reminds them of these practices both prior to, and the day of, the video recording.
My favorite part of my fellowship has been taking the toolkit and training program and putting it into practice. I have co-led several training sessions that include past and future Teach-Outs on concussions, LGBTQI+ pride, and the intersection of art and technology. I also co-led a session on inclusion and accessibility to visiting Teach-Out scholars at institutions from across the country during the Teach-Outs Academy earlier this summer. I've enjoyed collaborating across seven teams in Academic Innovation to inform the design and implementation of this project.
So what's the impact? Here's what Benjamin has to say:
"The toolkit and resources that Marcus created increases the Teach-Out team's ability to work closely with partners and guest contributors to bring inclusion and accessibility to the forefront of the design process."
What's Next?
We have done a lot in the area of inclusion and accessibility but there are certainly opportunities to enrich this component in the future. The team could consider collecting feedback from users about its inclusion and accessibility. User feedback could have informed our design of the toolkit and training." The Teach-Outs team could also consider efforts to write discussion questions that bring topics related to accessibility and inclusion in online conversations with future participants. I have expanded my skills in design thinking, instructional design, learning theory, and project management throughout my fellowship experience and I am looking forward to building on these skills as I pursue a career in learning experience design.