Pride Teach-Out begins June 1
Roman Christiaens, Assistant Director for Learning and Development, Spectrum Center
Mark Chung Kwan Fan, Assistant Director for Engagement, Spectrum Center
Beginning in the U.S. in the late 60s and early 70s, Pride was a radical claiming of space, self-affirmation, and dignity for Lesbian, Gay, Bisexual, Transgender, Queer (LGBTQ) communities. Over the past several decades, this phenomenon has begun to have a meaningful impact on society on a global scale. More specifically, in North America, Pride goes beyond a deep feeling of self-achievement. Pride is a celebration of visibility and rights for historically marginalized gender and sexual identities that also confronts tensions around capitalism, appropriation, and hegemony within the community.
The Pride Teach-Out, launching June 1, was created in order to explore the complexities of Pride as a celebratory event, a feeling of self-worthiness, and a virtual opportunity to uplift and highlight the stories of LGBTQ individuals. In our reflection on Pride, we wanted to name and explore how the themes of space, community, and representation are constructed and deconstructed within the LGBTQ community's conceptualization of Pride. We ensured that our exploration of Pride reflected multiple voices from the community who spoke to the nuances of Pride from their own direct narratives, expertise, and scholarship.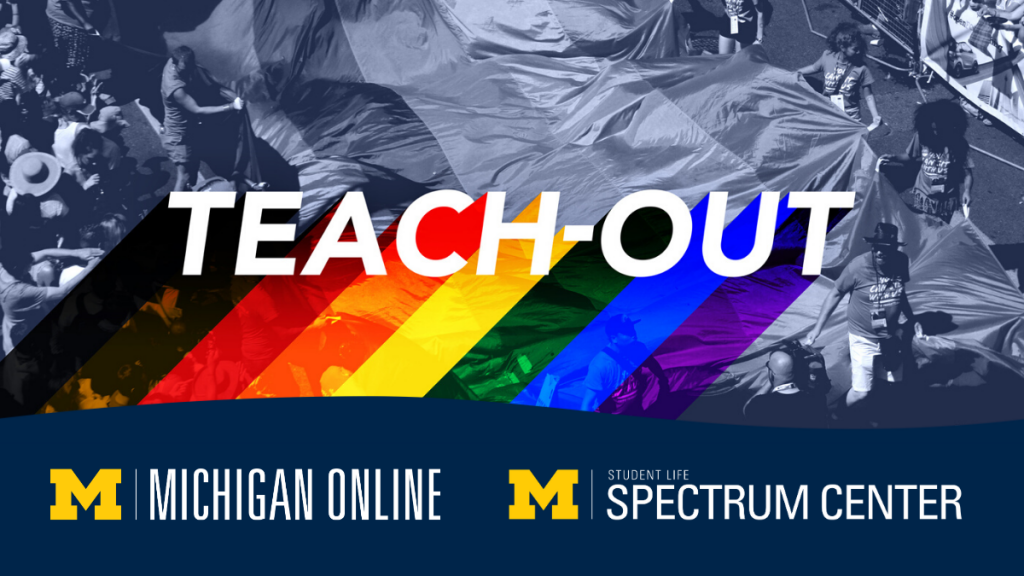 The Teach-Out's development reflected the unique positionalities collectively brainstormed between the staff of the Spectrum Center and the Center for Academic Innovation. From the Spectrum Center, Roman, (they/them pronouns) is a white, genderqueer femme who grew up in a rural space where the very acknowledgment of difference was discouraged. Their first experience of a Pride celebration was in Seattle, Washington where they attended university from 2007-2011. While they finally felt affirmed in their identities at Pride, they were also surprised by its superficial commercialization and the lack of historical acknowledgment and honoring of Pride's origin as a riot against institutions. Also from the Spectrum Center, Mark, (he/him pronouns) who identifies as a cisgender queer Asian man, experienced his first Pride celebration a couple of years after arriving in the U.S. at 18 to attend university. Attending his first Pride in Chicago, Illinois in late 2000, Mark was struck by the diverse backgrounds, expressions, and representations joining together to celebrate Pride.
By situating our own understandings regarding Pride and featuring the voices of others within the community, we were able to create a Pride Teach-Out that invited participants to create their own meanings of Pride. To demonstrate this approach, the Teach-Out invited participants to share words they associate with Pride, which we developed into the word cloud below.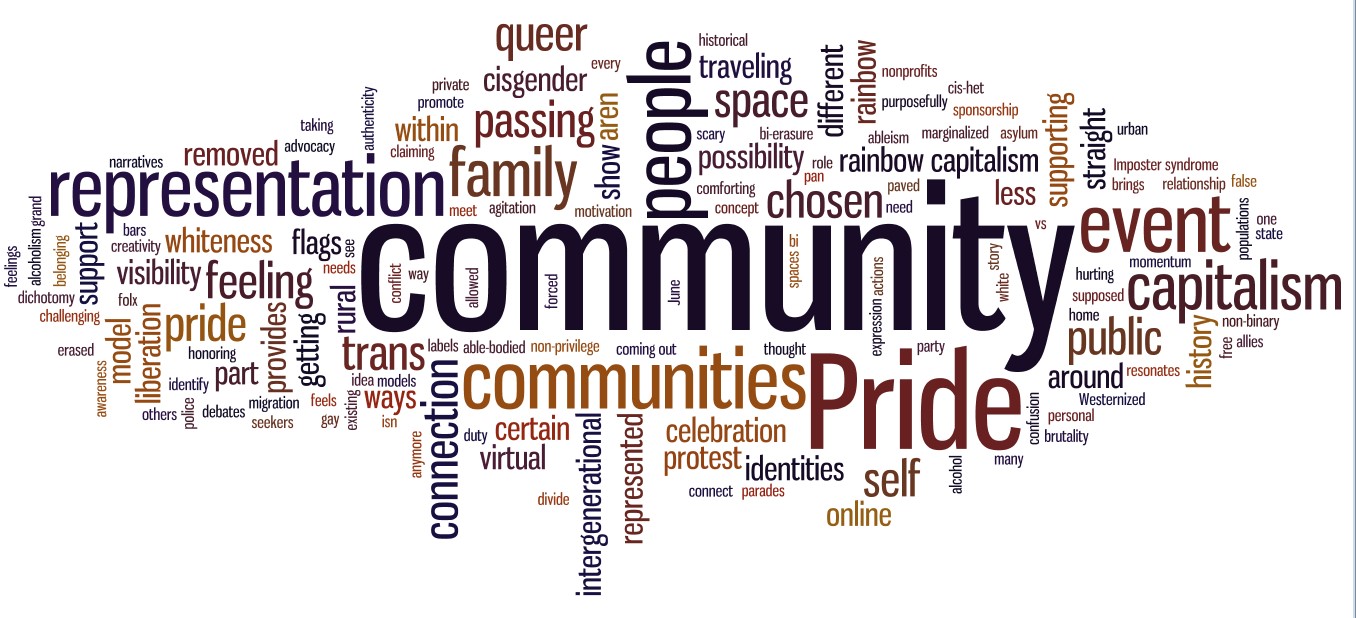 In order to have a better representation of Pride and what it means to the LGBTQ communities, we needed to gather multiple diverse perspectives. We were intentional in our decision on who to consult, and we assembled a variety of academic and local community perspectives in an attempt to describe Pride to the Teach-Out audience. We invited our guests, ranging from university professors, local drag artists, university students, and local community members, and filmed their perspectives. Additionally, we visited Affirmations, the LGBTQ community center in Ferndale, Michigan, to collect additional perspectives from local community members who were not affiliated with the University of Michigan. The abundance of knowledge and narratives collected made the experience a worthwhile epistemological journey; a process that allowed us to explore personal knowledge-based stories from our guest contributors around the topic of Pride. During the process of assembling the video recordings, we were able to develop discussion, probing, and reflective questions for Teach-Out participants to actively engage with the material within this online learning experience.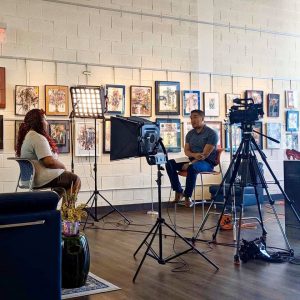 More recently, the COVID-19 pandemic has forced the cancellation of a number of Pride events this June and beyond. We invited additional contributors to share their thoughts on the cancellation of these Pride celebrations. We hope this brings another compelling perspective on an issue facing the LGBTQ community as they decide how to celebrate Pride this year.
The creation of the Pride Teach-Out was a collaborative highlight for the Spectrum Center, and it was unexpectedly rewarding to hear from so many diverse narratives within the LGBTQ communities. In developing this online learning experience, we experienced and relived a rollercoaster of emotions by simply hearing from our guest contributors. We want to conclude by inviting you to participate in the Pride Teach-Out by clicking on this link and also by asking you: What does Pride mean to you?"