Hannah Triester, Communications Fellow
With COVID-19 vaccines increasingly available on a global scale, many find themselves in a pandemic-induced purgatory. During this transition period, it is important to ask ourselves two questions: How do we process the losses and changes brought on by COVID? And how do we move forward having experienced a remote reality for the past year?
The new COVID-19: Processing the Pandemic Teach-Out from the University of Michigan's Center for Academic Innovation offers an opportunity for critical reflection on the paradigm shift of the past year and a half, and provides a forum to discuss what it all means for our collective future.
Join the Conversation | COVID-19: Processing the Pandemic Teach-Out
The Teach-Out, launched June 8, features leading experts in mental and public health, community engagement, and digital connectivity from U-M. Through readings, videos, and discussions, the Teach-Out examines the pandemic's ramifications and how people can address future uncertainty through community, connection, and understanding.
Brian J. Zikmund-Fisher, a professor in the department of health behavior and health education in the School of Public Health and a research associate professor of internal medicine at the Medical School, offers a short history of infectious diseases and their impacts on everyday life, the mitigation of these impacts by the advent of vaccines, and COVID-related lifestyle changes. Zikmund-Fisher also brings up a global view of the future of risk and public health, and how to consider the group when making "personal" decisions—even when numbed by broad-scale statistics and incomprehensible health data.
Another key factor as people process the past year is a sense of wellness. Kathryn K. Irish, a lecturer at the School of Social Work, covers the topic of mindfulness, especially as it guides where we hold value in our everyday lives. Taking this conversation further, Victor J. Strecher, professor in the department of health behavior and health education at the School of Public Health, describes how to translate our shifting values into positive purpose.
Ethan Kross, a professor in the psychology department and the Stephen M. Ross School of Business, in addition to director of the U-M Emotion and Self-Control Lab, offers another suggestion for post-pandemic introspection. He considers personal uncertainties amidst changing circumstances and details strategies for self-distancing, a mental tool which takes a broader view of these complex circumstances to manage our emotions and expectations.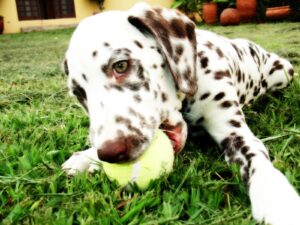 Read More | Teach-Out outlines Training Techniques and Steps You Can Take to Help Your Pet 
With so many people preparing to go back into the office on a more regular basis, there are considerations of what the new normal might look like in the workplace. Betsy Erwin, senior associate director and faculty associate at the Center for Positive Organizations at Ross, conveys the necessity of identifying and directly addressing strengths in other people, an interpersonal strategy known as strength-spotting.
And Katie E. Richards-Schuster, the director of undergraduate minor programs and an associate professor at the School of Social Work, takes on the broad implications of the pandemic. She talks about building a participatory future based on community engagement and digital activism among young people.
But our furry friends are not forgotten. JC Adams, a professional dog trainer based in Ann Arbor, draws on his 10 years of experience to offer guidance on dogs' transition to prolonged time alone inside the home, and increased social interaction outside. He details post-pandemic training techniques, and also delineates circumstances that require professional help.
People can join the free online Teach-Out and discussion on the Coursera platform via Michigan Online.