Parnia Mazhar, Communications Student Fellow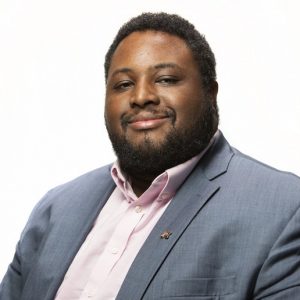 Ryan Henyard is the Faculty Experience Designer for the Center for Academic Innovation and has been working at the center for over a year. In his position, he consults on broader issues relating to faculty partners and assists in the planning and facilitation of events and workshops, discussion groups, and community groups. He works to create valuable innovation experiences for U-M faculty, with a focus on building community, ensuring faculty well-being, and creating mutually beneficial partnerships. Henyard is also actively engaged in the center's efforts to promote diversity, equity, and inclusion and is a DEI co-lead. Through this role, he serves on a number of campus committees and works with a wide range of partner units on outreach and social justice issues.
Henyard recently sat down and talked about his experience working for the Center for Academic Innovation.
This is just one example of a video narrated by Henyard, outlining ways people can practice gratitude. The video was made in conjunction with the recently launched Practicing Gratitude Teach-Out.
What has your recent experience been like as a DEI co-lead for the center?
One thing that has changed in my role in recent months is taking a more direct role in leading projects that align with our DEI goals, like the Police Brutality Teach-Out and subsequent Community Awareness Course, the Michigan Online Racism and Anti-Racism in America Collection and the Envisioning an Anti-Racist World DEI Challenge. I serve as a connector between folks at the Center, faculty innovators, campus units, and various opportunities, and do my best to build out our network of compassionate and effective collaborators.
What is something you have learned during your time as a Faculty Experience Designer that you would not have learned if you did not work at CAI?
I was already interested in MOOCs and had helped create them from the technical side of the equation, but I definitely learned more about the process of creating them collaboratively through working at CAI. I am really curious in general, and I deeply appreciate and value all of the little things I've learned during my time here. I pick up something from nearly every learning experience I take part in. I think of myself as a modern renaissance man, and in the past few months alone I've had the opportunity to use a lot of different skills towards projects – everything from creating workshops to narrating short-form video content.
What impact do you hope to make as a Faculty Experience Designer?
I hope that I can make CAI an inclusive and equitable place to innovate – for our team members, our student fellows, and our campus collaborators. I work hard to help us live up to our stated mission of ending educational privilege, and am optimistic that I can help us move further down that path.
What has been your favorite project that you have worked on for the center?
I'm really proud of what we created in the Police Brutality course. It served as a way for me to process feelings of pain and powerlessness, and I was able to see that vision through into an educational experience that helped thousands of people around the world progress on their journey towards a more just society. I generally can't help but live my values in every space I inhabit, and it was extremely rewarding to work with teammates and faculty partners who were willing to walk with me through the whirlwind rapid-response process. 
What memory stands out to you during your time at CAI?
Working with my Public Engagement teammates to brainstorm and plan the first Public Engagement Faculty Fellowship, and feeling immense gratitude for the chance to work with incredible people on work that felt deeply aligned with my values and commitments.
What has motivated you to continue working for the center?
It's incredibly motivating to work someplace that aligns with my values, and I relish the opportunity to do more work creating innovative experiences and innovations for marginalized communities. I look forward to doing more courageous scholarship and finding uncommon pathways to our goals!