Nathan Magyar, User Experience Designer
The Center for Academic Innovation focuses heavily on educational software development and online learning content production. Historically, these two arms of the organization have operated largely independently of one another. Gamut, however, is changing that narrative.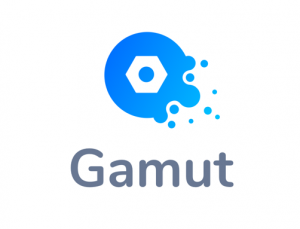 A new suite of online learning tools, Gamut is designed, built, and maintained by members of Academic Innovation's software development and online learning experience (OLX) teams. The core team includes two User Experience Designers, a Software Developer, a Behavioral Scientist, and two Learning Experience Designers (LXD). Each tool is a standalone web application, intended to enhance the educational experience for students and instructors alike. Under the hood, the applications use a technology called the Learning Tools Interoperability protocol. This allows them to easily integrate into any course on Canvas, Coursera, edX, or FutureLearn. 
So far, the Gamut team has created and launched three tools, each of which are available for use now: Sleep Tracker, Gallery, and Recommender. 
Sleep Tracker, the original Gamut tool, is a web application that supplements material used in the "Sleep Deprivation: Habits, Solutions, and Strategies Teach-Out," developed by Academic Innovation in collaboration with sleep experts in Michigan Medicine. The tool helps learners track their sleep patterns and introduces strategies for getting better sleep. 
Gallery is a digital space for students to share their work and provide feedback to each other. And thanks to LXDs' suggestions, it also comes with several instructor-facing pages so that teaching staff can customize the Gallery to fit their course's context and monitor student activity. Starting next month, the Gallery will also support grade pass-back functionality with Canvas. To date, the tool has been used to share visual, written, and mixed media artifacts in online courses such as "Python Basics", "Storytelling for Social Change," and "User Experience Capstone." More recently it was also launched in a residential course, Education 333 Video Games and Learning, where students used it as a repository for reflecting on, storing, and reviewing real-world examples of gameful learning concepts.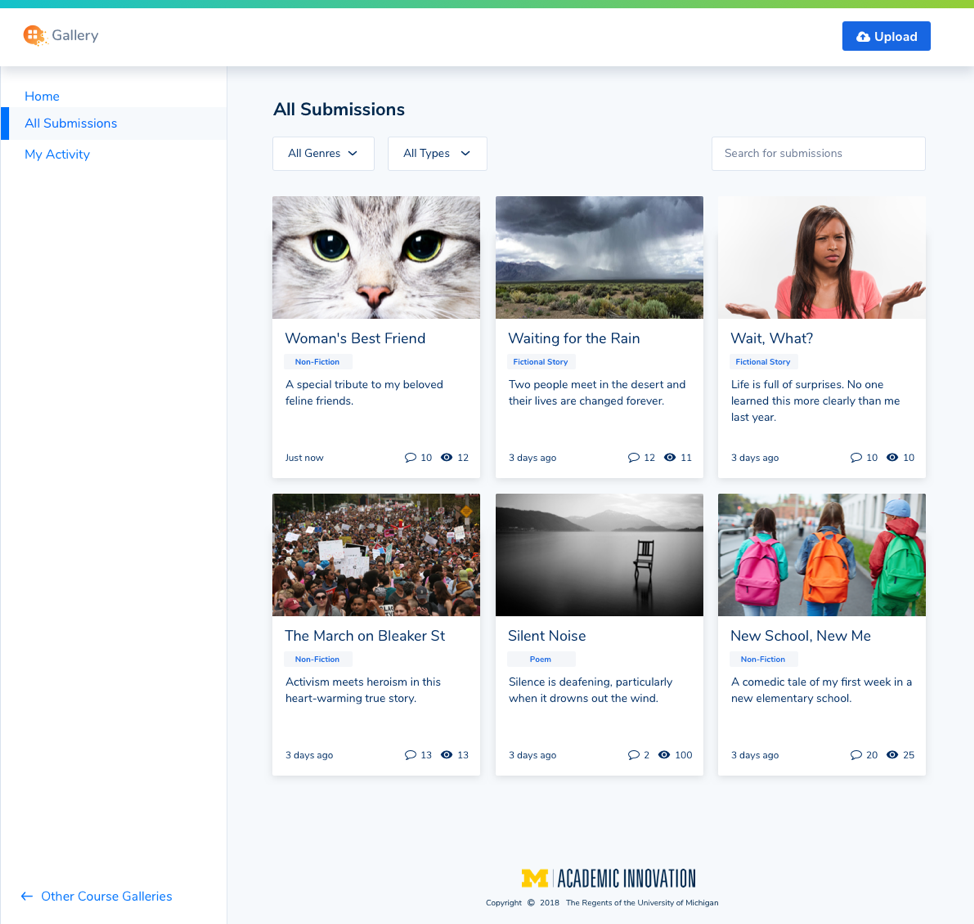 Recommender allows instructors to create a set of survey questions, which students progressively answer throughout the modules in a given online course. Once they have answered all the questions, students receive a piece of tailored content based on their responses. When creating this tool, the Gamut team partnered with Benjamin Morse, Design Manager from the OLX team. The use case they designed for was the "Sustainable Food Teach-Out." Throughout this Teach-Out, learners answered questions about their eating, shopping, and cooking habits and then received a recommended lifestyle change they could make in one of those areas. 
All of the above tools are available for immediate use by any U-M faculty or instructional staff. Readers from outside the university are also welcome to contact the Gamut team about potential usage at gamut-support@umich.edu.
But wait, there's more!
In the next few months, Gamut will release two additional tools: Write and Revise, and Goal Setter. Our team will also start work on a sixth application, Workbook.
As the name suggests, Write and Revise is a writing-focused tool. Students use it to enter and save a piece of original text, then return after they've learned about a new writing strategy (e.g., eliminating unnecessary words). After they've edited the piece according to the new strategy, Write and Revise displays a before-and-after view of their changes. It will debut in Academic Innovation's upcoming online course series, "Good with Words."
Goal Setter is a reflective tool that walks students through a four-step goal setting process. It was created in part after LXDs pointed out that fewer than 10% of online learners complete any given course. The Gamut team then sought to develop a tool to improve learner motivation. To start, students choose between creating a private goal that's just for them, creating a group goal that other like-minded students can join, or joining an existing group goal. Next, they set a due date for achieving the goal and reflect on why it's important to them. Finally, students enter a short motivational message to their "future self". The Goal Setter then automatically sends this message back to them once they're a few weeks into the course. Given that the tool is not specifically geared toward any one academic discipline, it will fit nicely in practically any online or residential course.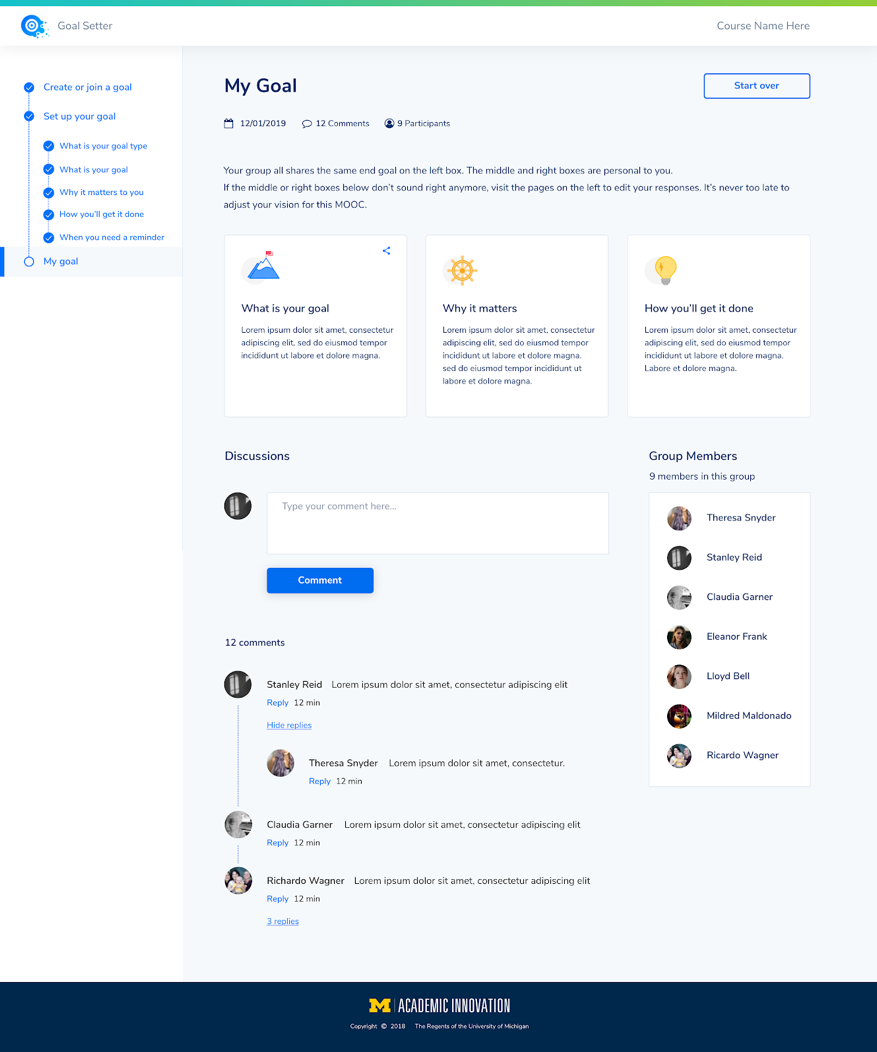 Workbook is Gamut's newest tool. LXDs and faculty often wish to supplement course material with reflective exercises or additional activities. Up until now, though, they have been limited to using downloadable documents. Students must then complete these worksheets by hand or on their own computer, outside of the course environment. Workbook intends to change that. Besides offering a more convenient platform for completing supplemental exercises, it will also include a gallery page where students can share their work with each other and provide comments. Features still under consideration include the ability to anonymize shared content and display formatted code as part of an exercise. The Gamut team plans to have the tool ready by summer 2020.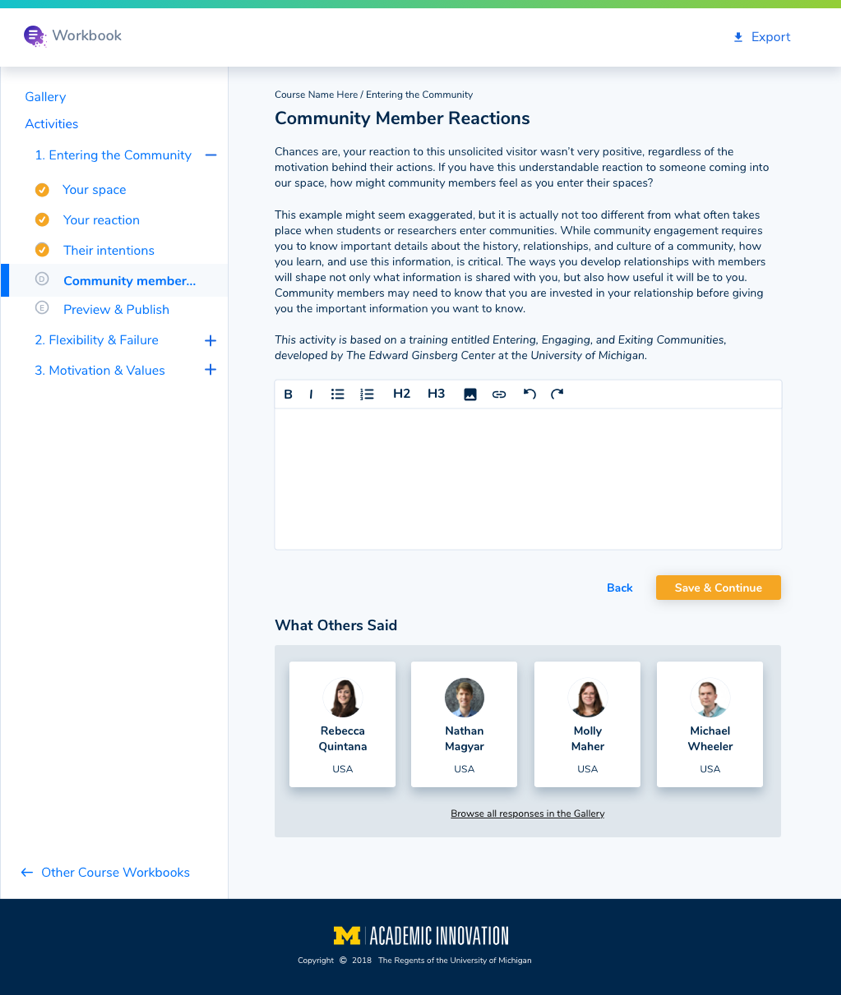 We at Academic Innovation are very proud to announce the creation of these tools, and we look forward to growing their usage in both online and residential courses at U-M. Gamut not only represents an exciting interdisciplinary partnership within our team, but also a new suite of opportunities now available to the larger U-M community. You're here to learn, and now Gamut is here to help.