'Visualizing Women's Work: Using Art Media for Social Justice' asks learners to consider the power structures on display in our public monuments

Hannah Triester, Communications Fellow
A University of Michigan professor might be most visible in front of a classroom, but semester-long, in-the-classroom courses are only one facet of an instructor's work. Outside the classroom, faculty also engage in their own research, practice, and passion projects. Melanie Manos, lecturer at the Stamps School of Art and Design, has been working on her "Visualizing Women's Work" project for years. But she wanted to blur the line between this personal endeavor and her classroom.
After a summer in the studio and some help from the Center for Academic Innovation, Manos' Online Course Visualizing Women's Work: Using Art Media for Social Justice is live on FutureLearn. Though her project, which illuminates the disparate representation of males and females in public monuments, is years in the making, Manos wanted to introduce the basics of her work to a wide-ranging audience. The course is framed around the identification of and creative response to gender bias in art history, but prioritizes the learning tools necessary for people of all experience levels and perceived degrees of creativity to actively engage.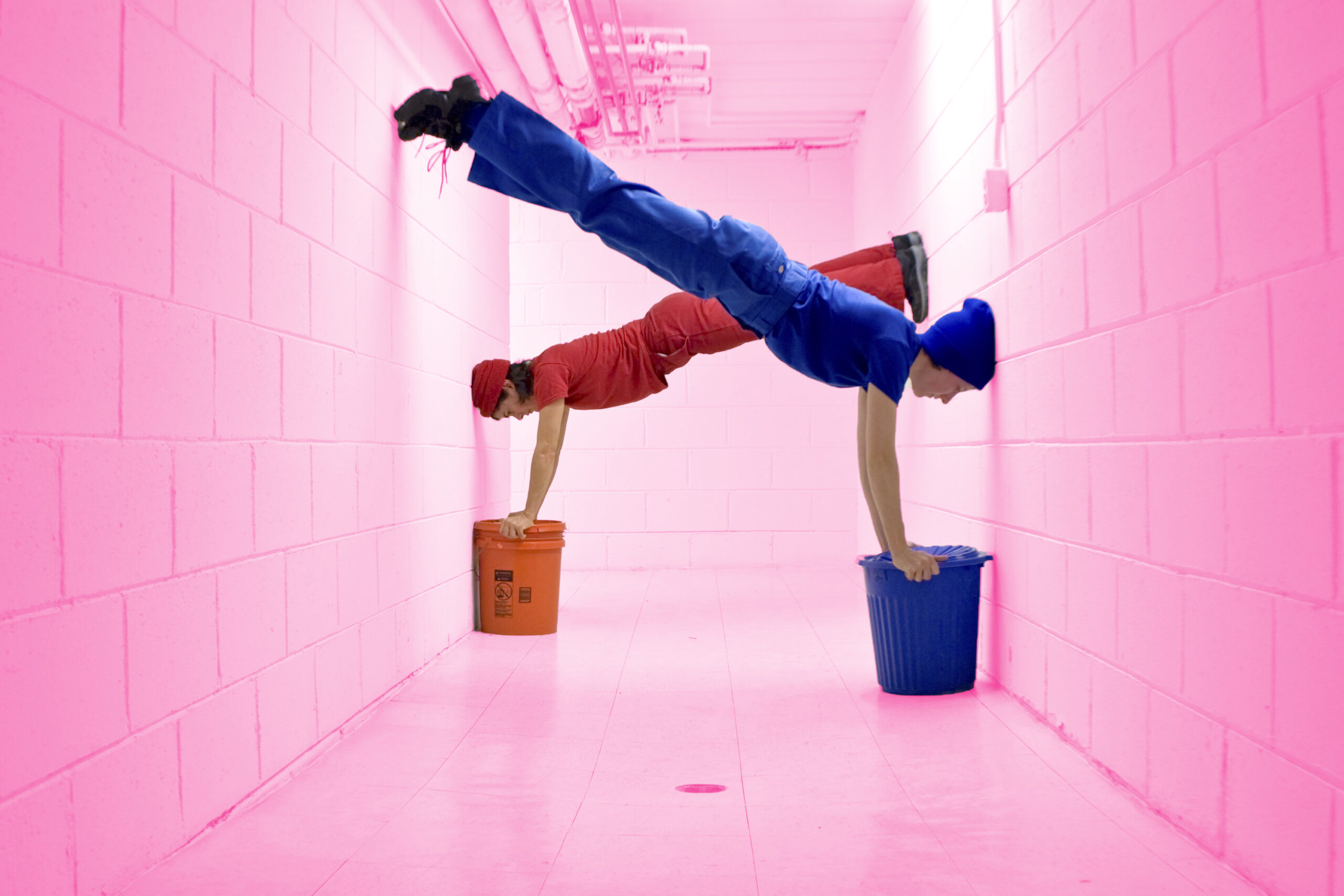 A Gateway Into Art Theory
Manos likened the creative learning curve to the natural tendencies of sports fans. Knowing the rules of the game—such as fouls, penalties, points, positions, etc.—enables a fan to notice team and player strategy, and to develop a personal stake in athletic performance, she said. The same goes for her learners: in week one, Manos teaches the form, content, and context of art pieces so that by week four, they can consider autonomously the social implications of public monuments and spatial design in their own communities.
Enroll Now | Visualizing Women's Work: Using Art Media for Social Justice
"I teach in the School of Art and Design, and I know that the students I'm going to teach are mainly art majors. This online course is designed for people who aren't necessarily art majors, and I really like that. I present information that serves as a gateway to the subject for people who haven't had the opportunity for focused art or art history study, and that can lay a foundation for more challenging work," Manos said.
Developing Your Visual Literacy
First, the course fosters "visual literacy" among learners. Then it asks them to consider examples of complex artworks that bring visibility to social justice issues, and to make applications to their own lives.
Developing visual literacy involves not just listening, but doing. Several of the lessons encourage hands-on engagement with items lying around at home. "Artists are researchers with materials," Melanie explained. Working with and manipulating a material helps artists to develop their voices, to realize what they might want to say to the world.
Empowered by a loose rulebook on how "to analyze art with words and language," learners are encouraged to experiment with process in this informal way, Manos said. One activity, for example, asks learners to imagine artistic statements that might be made with a single piece of paper—without traditional writing or drawing. Another translates nylons and a couple of tennis balls into a symbol of the patriarchy. And through the Center for Academic Innovation's Gamut Gallery tool, learners have a collective forum for sharing and responding to these creative experiments.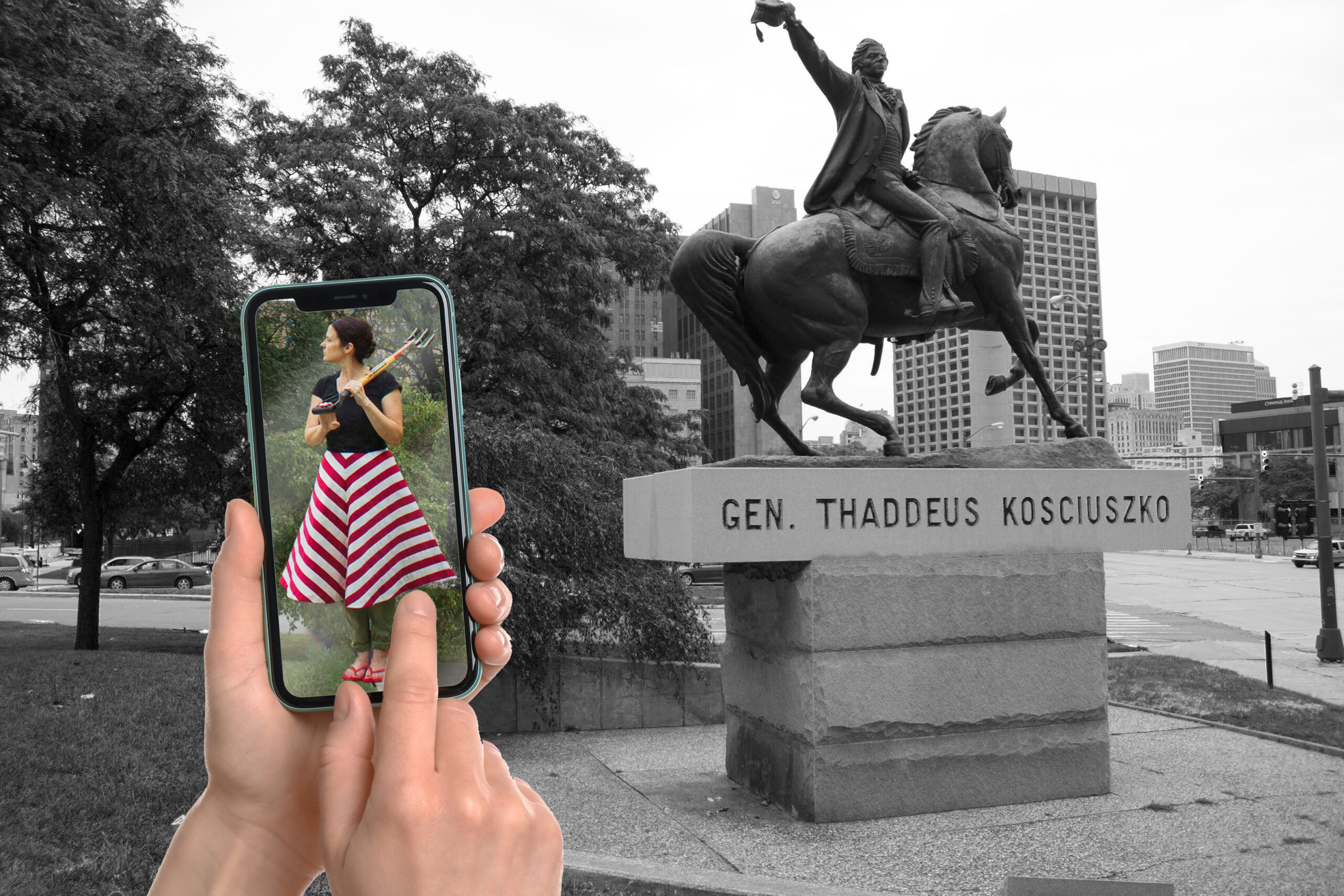 The crux of the course is formed by Melanie's guided analyses of interdisciplinary, global artworks through a social justice lens. From a collection of family portraits inspired by the artist's heritage and attention to displacement, to a live performance piece centered around women's experiences with violence, Manos communicates the multiplicity of avenues for art as a response to social justice issues. "I like to think of the many-sided die, and ask if we can look at this from another angle, another perspective," she said.
Power Structures of Public Monuments
With an emphasis on historical context, Manos points out how form and content are never arbitrary, but rather intentional displays of the power structures inherent to a place. In week four's "Guy in the Sky – Look up! It's a Bird, a Plane, a Monument of a Man!" lesson, Manos takes learners to Downtown Detroit (virtually) and examines an intersection of streets named only after white, male military generals. "Their perspective is a pinhole camera version of a society," she narrates. Manos then draws on data from her own VWW project to reveal the stark gap between male and female historical monuments in the same area. But the focus, she stresses, is not whether these dominating male statues should be taken down, or replaced with female figures; it's about the social conditions which enable a western idea of heroism that centers the male voice. The course also considers "women's work" in both compensated and uncompensated contexts, exploring the traditional devaluation of work traditionally done by women throughout history.
Learners are taught to recognize their environments as means for prioritizing one group over another. And through a wide definition of art, they are shown—through rich historical and contemporary examples—there is more than one way to respond to gender (and other) bias.
"We are saying to really look at these monuments and historical markers because we tend to ignore them after a while. It's about giving people permission to ask, why is this here?" and then to rewrite the stories accepted as givens for so long.
Join the Visualizing Women's Work project
The course concludes with an invitation to make personal the Visualizing Women's Work project. Learners, reminiscing on the important women in their lives, are to choose a meaningful context and plan the coinciding form and content of their creative contributions. Inspired by the variety of public displays brought to light throughout the four weeks, these plans will be uploaded in the online gallery for browsing among the learner community.
To advocate for women is to show respect to the women in our own lives. We can all play our part.
Learn more about and enroll in Visualizing Women's Work: Using Art Media for Social Justice. via Michigan Online. University of Michigan students, faculty, staff and alumni can enroll in the course free.