Hannah Brauer, Communications Writing Fellow
@brauhan
Student fellows power our work at Academic Innovation — their hard work and commitment help to further our mission to improve education at the University of Michigan and support lifelong learners around the world. This year, we would like to thank the 24 student fellows who are graduating this May and recognize their significant contributions to innovation at U-M.
Our graduating fellows are heading across the country after graduation, including JPMorgan Chase & Co., Carnegie Mellon University, and a start-up company in the San Francisco Bay Area. Some are even sticking around as post-graduate research fellows at Academic Innovation.
Xucong Zhan, U-M College of Engineering '19, is graduating after working as a Software Development Fellow. After graduation, he will work for Academic Innovation as a full-time Software Developer after his positive experience with the fellowship program.
"I got a chance to work on something I think is meaningful," he said. "It was encouraging to work with a lot of people with the same goal as me."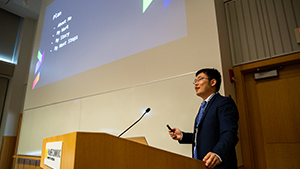 Zhan recounted his work with Academic Reporting Tools (ART 2.0), which allows students to easily research U-M courses and instructors. In a lightning talk at the Academic Innovation Student Showcase last month, Zhan presented his work and his experience using Django and Python to add new features to the tool. He said the Academic Innovation Student Showcase was among one of his greatest learning experiences, as it provided him with public speaking skills he could apply to future positions.
"I had never done something like [the lightning talk] before," he said. "The [public speaking] workshops helped me to decide my topics and present more confidently. Those were definitely helpful."
Wenfei Yan, U-M College of Engineering '19, worked as a Data Science Fellow this year and is now heading to Carnegie Mellon University to complete her Master of Computational Data Science degree. Like Zhan, the Academic Innovation fellowship program helped her with her communication skills.
"Working with the awesome people at [Academic Innovation], I got better at explaining my analysis to others, and I also became a more joyful person," she said.
Zhan worked on a case study for the Privacy, Reputation, and Identity in a Digital Age Teach-Out, which uncovered how digital reputation shapes social interaction.
"We explored the learner engagement pattern through the lens of the discussion forums," Zhan said. She identified the top keywords users mentioned in discussions and if learners were staying on-topic.
Brandon Punturo, U-M School of Information '19, also worked as a Data Science Fellow this year. Punturo shared his work with ViewPoint, a role-play simulation tool, at the Academic Innovation Student Showcase poster session. His project utilized Natural Language Processing to understand users in a policy simulation through the U-M Ford School of Public Policy.
After graduation, Punturo will continue his growth as a Data Scientist at JPMorgan Chase & Co. in New York. He said he hopes to work in a similar environment to Academic Innovation in his future job.
"I think that's the really cool thing about [Academic Innovation] — you're doing a lot of important work, but it's not a stressful environment," he said. "You feel like you're at home, even though you're at work."
The student fellowship program at Academic Innovation strives to provide students with work experience in their field as an equal member of our team. Since the program began in 2015, 89 student fellows have worked on foundational projects in software development, graphic design, UX design, data science, educational technology, and public engagement.
Marissa Reid, Student Program Coordinator, is proud of the 24 student fellows graduating this year.
"Student fellows are the backbone of Academic Innovation," she said. "They keep us moving forward and working toward our goals every day."
---
If you are interested in our fellowship program, there are various positions open for the upcoming academic year. We're looking for well-rounded, innovative, responsible, driven, and flexible fellows to help us design and develop digital applications that facilitate engaged learning at the University of Michigan.
Our fellows range from undergraduates, graduate students, doctoral students, and recent graduates. U-M student fellows are appointed for one academic term with the possibility of extending to multiple terms. Visit our student opportunities page for more information.