Disinformation expert outlines what you can do in your everyday life so you don't fall for "fake news"
Sean Corp, Content Strategist
Ben Nimmo has dedicated most of the past decade to spotting online disinformation, and he wouldn't even let something like being declared dead stop him. According to the New York Times, that is what happened in August 2017 when a Twitter account manipulated to look like an associate's said he passed away and was shared by more than 13,000 bots on Twitter.
Now, very much alive, Nimmo is director of investigations at Graphika, an online social media monitoring company. He works to identify and squelch disinformation before it spreads to all corners of the internet. His specialty, in other words, is spotting the real "fake news" proliferating online.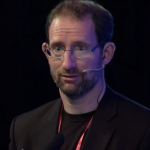 Nimmo is featured in two Teach-Out's offered by the University of Michigan's Center for Academic Innovation. He discusses disinformation online in the Russia Invasion of Ukraine Teach-Out and in the Disinformation, Misinformation, and Fake News Teach-Out.
Teach-Outs are free online events where people from all over the world can learn from experts on the world's most vital topics. It's name is inspired by the Teach-Ins at U-M in the 1960s.
One of the foremost experts on disinformation whether used to sway public opinion about war, elections or news stories, Nimmo outlines a rule of thumb everyday people can use to anticipate, spot, and react to disinformation from potential "threat actors." He calls it the "Four D's" — Dismiss, Distract, Distort, and Dismay.
Join the Conversation | Enroll in the Russia Invasion of Ukraine Teach-Out
The Disinformation, Misinformation, and Fake News Teach-Out helps people understand the difference between disinformation, misinformation, and fake news. Participants will better be able to understand the types of disinformation and how it is transmitted and received. They will also learn how to evaluate their own media consumption habits and combat disinformation in their everyday lives. The Teach-Out is available on both the Coursera and FutureLearn platforms.
Join the Conversation | Enroll in the Disinformation, Misinformation, and Fake News Teach-Out
Nimmo developed it when working at NATO as he witnessed a constant, coordinated stream of disinformation coming from Russia following the annexation of Crimea in 2014. He has utilized it many times since, including the 2016 U.S. presidential election race. He expects even more sophisticated techniques in the run-up to the 2020 election.
The Four Ds of Disinformation by Ben Nimmo
Dismiss
Dismiss is the first and is by far the most common technique for a threat actor to deploy. The threat actor will say "don't listen to them because" and then throw out an insult about the source. The attempt is to silence the entity speaking out and insult them to sew distrust in the source.
Distort
Distort is an easy concept to understand. If a person sees that the fact doesn't suit their preferred story, they will make up their own facts to retell the narrative.
Distract
If a conversation is uncomfortable or unfavorable, then someone can attempt to change the subject. A person can do that by starting a conversation about something else. Another method is to accuse the accuser of being guilty of the same thing. This technique can draw a false comparison between the critic and the one being criticized while also changing the subject.
Dismay
Dismay means to try and scare people off. This technique is often used when there is a policy debate. Using dismaying rhetoric can warn against dire consequences of an action hoping they will not pursue their line of inquiry or achieve a previously stated goal.
Once you understand The Four D's, Nimmo says, and you see a story that might be directed at a threat actor, you can ask yourself, "what are they going to say?" Once you have a better idea of what they will say, you can ask yourself how you can make sure their potential disinformation technique won't work.