Lauren Atkins-Budde, Associate Director of Design Management
@edusaurusrex
Sarah Dysart, Director of Online and Hybrid Programs
@SarahDysart
Learners have a lot of different motivations for learning, based on where they currently are in their lives and what their current values are, such as:
Having a personal interest they want to further explore
Supplementing a current learning program they're already in
Refreshing or gaining new skills early in their career
Preparing to move further in their current career
Moving to an entirely new career
For many learners, what's needed to get to their goal will include a formal residential or online degree program, but pursuing a degree requires a significant investment of time, energy, and money.
That's why we're incredibly excited about the stackable learning experiences we're creating with academic unit partners as part of our online and hybrid degree program portfolios. Degree program portfolios include an online or hybrid degree program, but they also involve creating open-enrollment learning experiences — such as MOOCs, course series, or a hybrid program like MicroMasters or MasterTrack certificate. These experiences are associated with degree content, but do not have an application or entrance requirement to participate. This lowers the barriers to experience what some of the degree-related course content is like.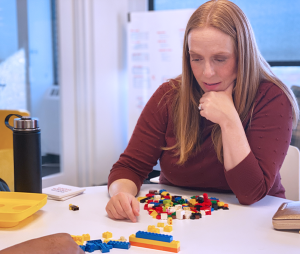 We believe creating easily accessible opportunities for learners to engage with degree-related content is critical to help them answer two essential questions: can I do this? and do I want to do this, and why? The first question, can I do this? gets at a learner's expectations for success, or their beliefs regarding their ability to successfully perform a learning-related task (Schunk, Meece, & Pintrich, 2014). The second question, do I want to do this, and why? helps explain an individual's values, or their beliefs about reasons why they might engage with a learning-related task (Schunk et al., 2014). Expectancies and values, combined together, are important for predicting an individual's future enrollment-based choices, persistence, and achievement (Eccles & Wigfield, 2002).
One way to increase a learners expectations for success — or their self-efficacy — is through participation in authentic learning experiences. Engaging with content in a low-stakes, low-cost environment can help learners build confidence in their ability to gain proficiency in a particular academic domain, and confirms their ability to learn in an online environment. Open learning experiences are a perfect way to do that.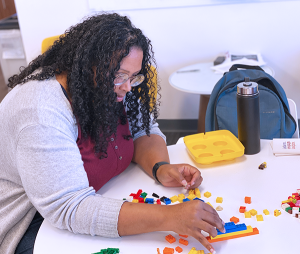 With open learning experiences, individuals can confirm that pursuing an educational pathway creates personal value, such as: personal development or enrichment; using a credential for career advancement; or affirming an aspect of their individual identity. And this increase in values comes at a low cost — open learning experiences are flexible, affordable, and convenient. For instance, MicroMasters and MasterTrack programs are low-cost and credit-eligible (if you apply and are accepted into the associated degree program), so they can lower the financial commitment and opportunity costs associated with earning a degree.
What are some of the scenarios in which learners leverage the open pathways into a degree?
MOOCs as Preparation for the Masters of Applied Data Science Online Degree
Let's say a learner, Jessie, has just completed an undergraduate program and wants to take the next step to achieve her dream to become a data scientist by applying for the University of Michigan School of Information's online Master of Applied Data Science degree. However, Jessie never did a lot of statistical or programming work in her previous program, and she's not sure that she has the skills needed to be successful in the program.
To test and improve her abilities, Jessie decides to enroll in the Statistics with Python Specialization, and then the Applied Data Science with Python Specialization. She was able to re-watch videos as much as she needed to, practice the assessments multiple times, and engage with other learners about how to best approach the content. She realized she actually remembered more statistical concepts than she thought and the extra practice made her feel confident in her ability to succeed in an intensive master's program. She applied to the Master of Applied Data Science program — and got in.
MOOC-Based MicroMasters As a Bridge Into the School of Social Work
Here's another example: Robert has been working as a social services assistant for three years and hopes to continue his schooling to become a fully licensed social worker. He loves the program and community at the University of Michigan School of Social Work, but he's unsure about the two-year residential program — the cost is a bit too much for him in terms of time and money.
Robert decides to enroll in U-M's Social Work: Practice, Policy and Research MicroMasters. He can take and pay for one online course at a time and use the experience to get a head start on some of the content — and figures that even if he doesn't get in, the MicroMasters credential will help him get further in his career. After completing the final course in the MicroMasters, he applies for the School of Social Work's residential program and is accepted! Because of his work in the MicroMasters, he's eligible to receive credit toward the degree program, and enters into the program with advanced standing — and less credits to complete on campus.
Teach-Out to MOOC to Masters of Public Health Degree: Finding a Passion
Finally, Priya has been working in marketing and communications for a few years.She likes it fine but feels like something's missing. Following national events in the news, Priya decided to join the University of Michigan's Preventing Gun Violence in America Teach-Out. She enjoyed discussing the issues with other learners and was particularly fascinated by the work and challenges presented by the faculty experts from the University of Michigan School of Public Health. After poking around Michigan Online a bit, she found a course from the School of Public Health on Foundational Skills for Communicating About Health. Interested in seeing how other fields approached communication strategies, she enrolled.
Throughout the next few weeks, Priya found she really loved the course, the approaches the instructor demonstrated on how to think about communication, and especially the idea of working within the public health space. After researching her options a bit, she decided to apply to the online Masters of Public Health degree from the School of Public Health.
In each of these cases, and many others, open learning experiences that stack into a formal degree program provides opportunities for learners to gain confidence in their ability to succeed, as well as confirm value in pursuing an educational pathway. Together, those two factors can contribute to an individual's motivation to pursue a formal degree, and can promote engagement, persistence, and higher achievement in learning experiences. We think that's a pretty big deal.
References
Schunk, D. H., Pintrich, P. R., & Meece, J. L. (2014). Motivation in education: Theory, research, and applications(4th ed.). Upper Saddle River, N.J: Pearson/Merrill Prentice Hall.
Eccles, J. S., & Wigfield, A. (2002). Motivational beliefs, values, and goals. Annual Review of Psychology, 53(1), 109–132.