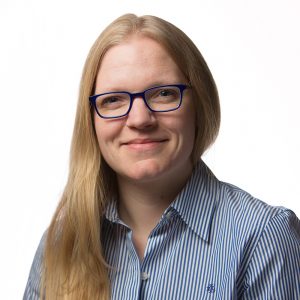 Cait Hayward, PhD, is the Associate Director of Research & Development at the Center for Academic Innovation. In this role, she manages the research and development portfolio at the center, with a focus on ensuring projects take advantage of the vast amount of data available to inform design, iteration, and prioritization. She also manages the data science and user experience research teams, and provides data analysis, research design, and creative problem to initiatives at all stages across the center. Prior to her role at the center, Hayward co-founded and ran the development of GradeCraft, an online learning management system for faculty and students.
We recently asked Hayward about her journey working with the Center for Academic as the Associate Director of Research & Development.
What is your favorite part about working at CAI?
I love the breadth of work we are engaged in and the way that that range gives us unique opportunities to conduct translational research on teaching and learning. We have such a remarkable chance to influence what the future of higher education looks like and I feel so lucky to even be close to that work unfolding. The people are also amazing – I love our balance of being mission-focused and focused on making the world a better place, being skillful experts intent on continually improving, and bringing humor and kindness to all parts of our work. I learn new things from my colleagues every day.
What has your favorite memory been thus far while at CAI?
There are so many great memories! A few from across the years … Launching something new is always special – that moment where a thing that didn't exist is first available and starts to shape lives that are interacting with it. I have this memory of Michigan Online launching as a platform in Spring 2018 – President Schlissel sent out an email announcing it, and we huddled around a screen and watched the analytics spike. I love the feeling of new connections being made.
There's something magical about hearing directly from users – they always surprise me, and motivate me to come back to our work with a fresh perspective. I have so many great memories of doing user feedback sessions with Stephanie Haley and ending the conversation just buzzing with new insights and ideas. I hope I always remember to keep the voice of our users close to our process.
After last year's (2020) Data Showcase, we invited attendees back to the new office space at 5th Avenue to eat heart-shaped pizza and socialize. It sounds so strange after the last year!. I remember being so happy with how the event went, and relieved it was done, and looking around the room at this amazing group of minds that had been willing to gather to think about educational data and all the things we can learn from it.
Why do you enjoy being Associate Director of Research & Development?
I have discovered that I love helping people make things happen, particularly things that involve problem-solving in service of improving our educational system. This job is really challenging in the terms of the sheer number of projects going on and the list of things that are critical to accomplish, but I love that I get to bring my whole self to helping realize ideas from across all of our partnerships. I also really enjoy the range of research in my portfolio, from traditional educational research, to user research, to market research – my goal in this job has been to establish a truly translational research team, and seeing that steady exchange of information come to life has been incredibly rewarding.
What projects or research have you done that you are most proud of?
I am incredibly proud of the work Liz Hanley has done creating learner journey maps, using cluster analysis to visualize engagement in learning experiences. They are such rich artifacts for understanding progress and identifying opportunities for iteration, and we are just at the beginning of figuring out how to use them and learn from them.
What does the future look like for you? Do you have any upcoming projects or initiatives you would like to share?
My objective for the year is to establish the right access points and processes to make doing translational education and innovation research at U-M easier (I realize that is the mission of a lifetime). There are too many important projects for my tiny team to be able to be the primary actors, but there are definitely ways we can document knowledge, problem-solve, and help wayfind. Two examples of projects that are intended to help with that include:
The Assessment Toolkit, which is working to build out customizable analyses to help schools and programs consider their own outcomes through an equity lens.
The Online Learning Data Warehouse, which is a centralized record of curricular design and learner engagement from the U-M online learning contexts, and we hope will power research into this area.