Parnia Mazhar, Communications Fellow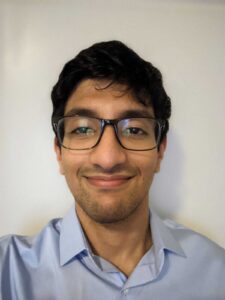 Aditya Shylesh is a Software Development Fellow for the Center for Academic Innovation and has worked for the center since May 2019. An international student from Muscat, Oman, he is currently in his senior year at the University of Michigan studying computer science. As a fellow, he works on GradeCraft, a gameful learning management system, by maintaining the codebase. He works on reported bugs and feature requests from users, makes deliberate business and engineering choices, and pushes updates to thousands of users. After college, Shylesh says he hopes to get industry experience in software development.
Shylesh recently sat down and talked about his experience working for the Center for Academic Innovation. 
What has been your favorite part about being a fellow at CAI?
I really value the opportunity to work on a software product that is used by so many people. Software development in the real world tends to look really different from what students are usually exposed to in the classroom, and I enjoy thinking through the complex problems that come up in our product to provide the best experience for our users.
What memory stands out to you during your time as a fellow?
I really enjoyed my excursion to paint the rock with the other fellows during the summer of 2019. I got to talk and mess around with a lot of people that day, and we managed to spray paint the CAI logo on the rock in record time! 
What is something you learned during your fellowship that you wouldn't have learned if you didn't work at CAI?
I got to work really closely with my mentor Erik [Barroso] throughout my time at CAI, and I think the opportunity to pair program and learn about collaborating closely to solve problems. Working with Erik and learning to hone in on the crux of a complicated problem while also considering all the possible interactions that making a code change would cause is a unique learning opportunity here at CAI that my computer science classes do not provide.
How do you think your fellowship has prepared you for your future career?
I think that my role at CAI has really helped me gain exposure to what I can expect a software development role would look like anywhere else. I got to learn, participate and contribute to the software development cycle for GradeCraft. Coming in with no such prior experience last year, I think that working on a product that is used daily by thousands of instructors and students has given me a lot of insight into how a professional software developer is supposed to think and what goes into creating lasting software.
What impact do you hope to make as a fellow for CAI?
Working on GradeCraft, I hope to make the lives of the instructors and students who use our software a bit easier and a bit less frustrating. In my experience, bad educational software has real consequences outside of just a frustrating user experience – it actively discourages students from learning and exploring their academic interests. With my work at CAI and GradeCraft, I hope to contribute, in any way big or small, to a better learning experience for students.