Parnia Mazhar, Communications Fellow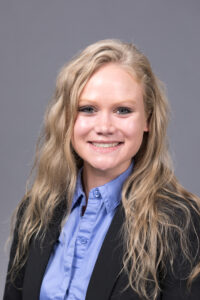 Maggie Mantel is a copyright fellow for the Center for Academic Innovation and has been working at the center since October 2019. Originally from Sugar Land, Texas, she is a third-year law student at the University of Michigan. As a fellow, she is often reviewing online materials for compliance with copyright law. This involves evaluating a work's status as open access, in the public domain, under a particular license, or a fair use.
She also writes memos on current issues in copyright law, assists in the drafting of copyright-related terms of use for U-M-developed software at the center, and writes scripts for short copyright educational videos. After graduation and taking the bar exam, she plans to become a transactional lawyer, hoping to do transactional legal work in the entertainment and media realm.
Mantel recently sat down and talked about his experience working for the Center for Academic Innovation.
What has inspired you to continue your role as a fellow for the Center?
I have been working at CAI for about a year and a quarter. I started in October 2019, near the beginning of my second year of law school. I have kept coming back for subsequent semesters because of the unique learning experience my fellowship offers, and because I'm excited to be a part of the innovative work the center does to increase educational access and develop new learning tools.
What has been your favorite part about being a fellow at CAI?
I enjoy many aspects of my fellowship, but one, in particular, is the opportunity to meet students, staff, and faculty from fields of study outside the law school. I think collaboration across disciplines is one of U-M's many strengths, and I've loved getting a glimpse of that collaborative work firsthand at CAI.
How do you think your fellowship has prepared you for your future career?
My fellowship has given me the opportunity to practice applying the legal concepts I am learning in the classroom. Working with Raven Lanier, my attorney supervisor, I have learned to make decisions on copyright questions and support those decisions with concise reasoning, a skill I believe I will continue to use and develop in my future career. I have also developed my legal research, writing, and contract interpretation skills.
What is something unique you learned during your fellowship?
Working as a fellow at CAI has given me an idea of what it might be like to be an in-house attorney, working on interdisciplinary teams to accomplish the center's shared goals – an experience that is not very common in law school.
What impact do you hope to make as a fellow for CAI?
I hope to have a positive impact on increasing educational access through my fellowship at CAI. For the center's 2020 student showcase, I presented my research on how universities can use open educational resources ("OERs") to help address the problem of unequal textbook access among students. I hope that, as a CAI fellow, I am joining with and contributing to the center's educational mission.
What memory stands out to you during your time as a fellow?
I remember attending a few dinner workshops with people from various media and arts departments of the university, which were arranged to discuss current copyright issues and their potential applications to our different departments. I really enjoyed hearing various perspectives on recent developments in the space, as well as meeting people throughout the university that I would not have otherwise met.