Hannah Triester, Communications Fellow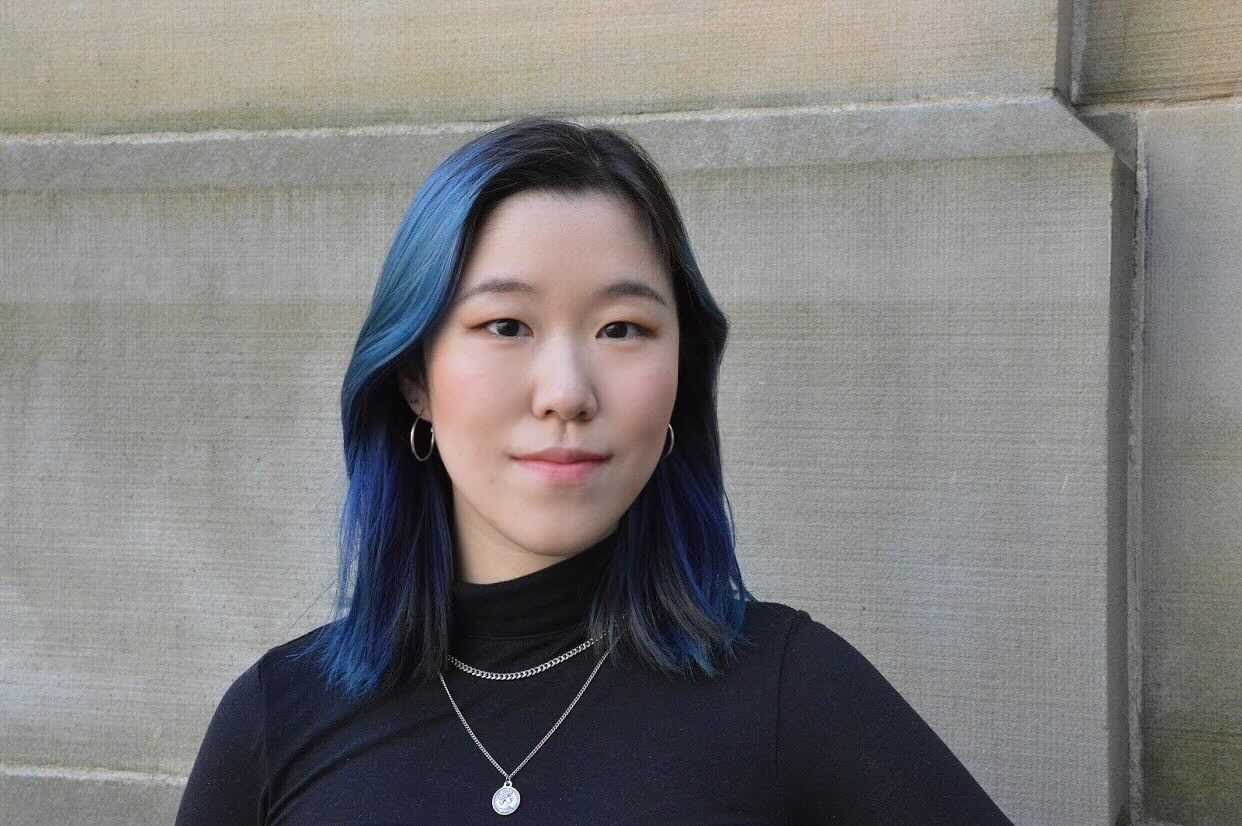 Sarah Chung is the Graphic Design Fellow at the Center for Academic Innovation. She is a rising senior at the University of Michigan studying Biopsychology, Cognition, and Neuroscience (BCN), with a minor in Community Action and Social Change. As a fellow, Sarah designs visuals for the center's and Michigan Online's socials and paid advertising content. She has worked on content for everything from Instagram posts and reels to Zoom backgrounds
Though she is a skilled designer, Sarah intends to focus on social justice work after graduation. She is planning to attend U-M's Master of Social Work Program and become a school social worker. Beyond her professional aspirations, Sarah enjoys traditional and digital drawing, procrastinating with video games, kendo, pretending she is a fashion star, and annoying her dog
Chung recently shared more on her experience working at the Center for Academic Innovation
What has been your favorite part about being a fellow at CAI?
With the same purpose that CAI develops in their tools, I have already learned so much in my time only half way through being a fellow. I have really enjoyed being able to meet and interact with so many other creative minds who are willing to teach me and push me in new directions. For instance, as a former front-end web designer myself, CAI's web developer took the time to teach me back-end information when reaching out that I was interested in learning more. When I dived into a personal goal of learning animation, my supervisor jumped at the opportunity to let me practice these skills by providing me with specific opportunities in this field. With amazing mentors such as these, it's difficult to choose just one favorite instance being a fellow at CAI.
What surprised you the most after you started your fellowship at CAI?
Never would I have guessed that there would be so many different departments under CAI that impacted me as a student without even realizing it! Many of the tools that fall under CAI were already things I had used daily in my life such as free Coursera courses, Atlas, GradeCraft, etc. Now, here I was helping to attenuate those tools for other students like myself to take advantage of in their academic careers!
How do you think your fellowship is preparing you for your future career?
Though I am not going into graphic design as a career, I find my skills to be at use in my experiences with social work. Oftentimes, design is overlooked in many organizations, whether they do not have the resources to invest in it or do not see a need to. However, I hope to change this stigma wherever I end up; to show that a little bit of design work can make a dynamic impact on people's perceptions and receptions positively. Design for me is a skill as naturally as breathing that can be applied to whichever career I end up in.
What's one design tip you want to share with other students?
As someone who had never taken design classes before, I was always anxious in my creative decisions throughout my academic career, feeling like an imposter at times. And while I still struggle with this today, I think what has helped me throughout my journey is not being afraid to reach out for help and tons of research. And by tons, I really mean tons. I spend the majority of my design process researching in the beginning to gain inspiration and direction when approaching a challenge. And that's totally OK! Design ideas rarely come in a split second, unfortunately. However, I like to call the process "scratching the surface" until you do feel that light-bulb moment! And so, don't be nervous to spend a lot of time gaining inspiration from the beginning. After all, the best ideas come from unexpected places.
What does being a creator mean to you?
Perhaps this is a question that many designers receive and ponder for a while. What does it mean to be a creator? I think it simply means to be myself. Art has followed me all my life as a daughter of two artists. Simply drawing on the walls as a child became an art piece to my parents. From then on, my imagination has taken me beyond my feasible mind of what I could create. I think I still struggle to answer this question today, but for now, a creator to me means to simply be myself.
If you would like to learn more about Sarah's graphic design experience and work, you can reach her at schungg@umich.edu.