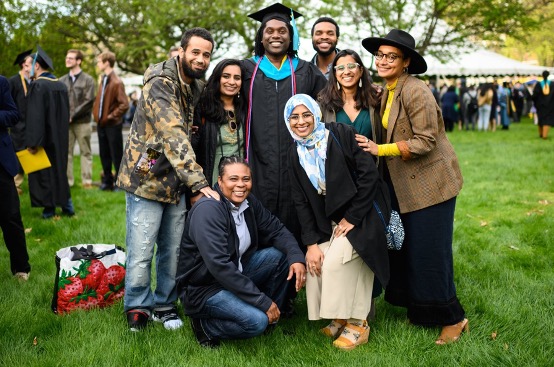 Students leverage their experience building courses, software, virtual reality worlds at CAI to land jobs after graduation
Sean Corp, Content Strategist
Working as a student fellow at the Center for Academic Innovation is not about fetching coffee, filing papers or filling time with busy work. Students at the center are asked to both contribute their expertise and explore their passions in a variety of areas from software development to graphic design, copyright law, building virtual worlds and conducting usability testing.
The students are finding innovative solutions to complex problems, and tasked with asking hard questions about what it means to be a part of a center that is helping define what it means to lead as a 21st century higher education institution. After all, who better to ask about what the next generation of students need than the current generation of students at University of Michigan.
But the student fellowship program at CAI isn't only successful because the center is able to connect with some of the best students U-M has to offer, it is successful because the fellowship program is built intentionally so that it can support those students through their academic careers and as they enter the job market.
Student Fellow supervisors recruit and mentor student fellows to build up their job skills, have the students involved in signature projects and encourage them to take part in the annual Student Showcase event where they build presentations showcasing their work on behalf of the center.
The event serves as a way to provide kudos to the students, give them practice at speaking and presenting, and helps them build material for their professional portfolios.
Impacting the Future of Education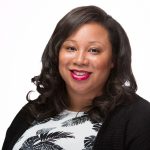 "Our students are so important to the work that we do, and we are proud to showcase their creative and insightful work. It is our way to recognize their impact," said Marissa Reid, student program manager at the center. "The Student Showcase platform is an enabling venue that allows our center to celebrate their accomplishments as some of the most talented innovative influencers on campus."
Reid also regularly invites former Student Fellows back to the center to give job talks about how they leveraged their work at the center to the first steps on their career journey.
Marcus Hall, currently an instructional designer at Institute for Public Private Partnerships (IP3) building online courses for clients in the global south, got his start helping the center build Teach-Outs at the center in 2019.
"My eight months really served me well," Hall told a group of current Student Fellows during a job talk. "It allowed me to work collaboratively across multiple teams and solve problems by building materials that are still used today including process documents on course design and contributing materials to the Teach-Out Academy Workbook."
Discovering a Passion
Joining the center allowed Hall, who earned dual masters in Public Policy and Information Science, to build early real-world experience to his degree in human-computer interaction from the School of Information. Crucially, though, it also gave Hall an early look at the next step of his career.
As he spent more time on instructional design, he found himself gravitating more to how learners engaged with the content and how that content could be more accessible and inclusive.
"I enjoy the only learning component of building a course but I love understanding people. User experience research, that's a little bit more my calling."
Hall talked to the Student Fellows about how to translate that passion and that center experience into a job offer out of college. He focused on ways to help students tell their story, how to build out a portfolio while still in school and how to connect with mentors in the industries you care about.
Landing a Job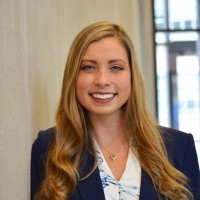 Another job talk featured Shaelyn Albrecht, who focused on what it was like to job hunt during the height of the COVID pandemic. Albrecht was drawn to user-centered design and worked at the center as a Quality Assurance Fellow and later a User Experience Research Fellow. Her roles allowed her to user her computer science background, her detail-oriented nature and a new passion for user experience and making sure content was reaching learners as intended.
She leveraged her center experience providing quality assurance for online courses and user experience research on educational technology products like GradeCraft, gameful learning software, into a role for IXL an ed-tech firm for both teachers and students in grades K-12.
"Looking for a job out of college is always difficult, I'm sure, and stressful, and COVID certainly compounded that," Albrecht said.
Some of her work for the center involved how to conduct user experience testing during COVID, a topic on the front of everyone's mind including her eventual employer. She was able to take those lessons on remote user testing, and other work involving group testing, product interaction maps and user interviews and build out her portfolio she was able to present (virtually) while on the job market.
"I'm not sure I would have been able to get a job in my actual field without being able to point to the impact and work experience I received while working at CAI," Albrecht said.
Student Showcase 2022
Now, though, Reid is focused on the future and helping students finalize their presentations for this year's showcase. The 2022 Student Showcase will be April 14. The theme of the showcase will be "A Year of Transformation."
Student Fellows will be presenting poster sessions and the event at the Michigan Union will be filled with staff from the center as well as other units on campus interested in learning more about the students' work.
"It's exciting to see all the work our students are doing, and even more exciting that we will finally be able to bring everyone together," Reid said.